Priming a shell is one of the basic skills of owning, using, and maintaining a firearm. Arming a shell yourself gives you complete control into the quality of said shell. If done correctly, it can also save you a lot of money in the long run. This is because you're re-using empty shells rather than buying new ones.
Besides being good for your wallet, they're also good for the environment. When reusing used shells, you're contributing less waste to the environment.
We've established that loading and priming your own shell is a great idea if you're a compulsive micromanager or saver. You can load and prime your own shells by using a priming tool. One of the best options is to use a hand priming tool because of it's ease of use and compactness.
However, choosing the best hand priming tool is not an easy process. There are a lot of things to keep in mind and also a lot of brands to choose from.
Worry not, after all, that's why you're here reading this article right? After reading this review, you'll know what to look for when buying the best hand priming tool. Besides, you'll also get our recommendation on the best tools on the market today!
TOOL
BRAND
EXPERT RATING
CHECK PRICE

Our Top Pick!


Frankford Arsenal Platinum Set Hand Priming Tool

Check Price

Lee Precision 90230 Hand Priming Tool

Check Price

RCBS 90200 Hand Priming Tool

Check Price

RCBS90201 Universal Hand Priming Tool

Check Price

Lee Precision 90700 Hand Priming Tool

Check Price
How to Use a Hand Priming Tool
Before buying your very own hand priming tool, you have to understand how this tool works. After all, it's useless to buy a tool you don't understand. Even if you're a seasoned professional, it's still a good idea to review the basics once in a while.
When priming your shell using a hand primer tool, there are several steps that you have to take
Choose the tray
Select shell holder
Apply pressure
Check depth
Operating primer
Choosing the Right Tray
The first step in correctly priming your shells is to choose the right tray according to the size of the primer. Incorrectly choosing the tray might lead to the primer sitting in an incorrect position, making your bullet a dud. Because of that, always make sure to choose the right tray and primer for your shells.
Selecting the Shell Holder
Not all hand priming tool allows all brands of shell holder to be primed, some can only prime selected shells. Because of that, always check the shell holder brand and see if your primer supports that brand. Skipping this step can be fatal because some priming tool simply does not support the shell holder and can't prime it.
Applying Gentle Pressure
This is the most critical step when you're trying to prime a shell casing. After picking up the correct amount of gunpowder, you need to push it gently to the base of the projectile. When pressing into the gunpowder, do it gently. Don't press it too hard because it may cause an explosion. Any sudden impact may trigger sparks and ignite the gunpowder.
Checking the Depth
After gently inserting gunpowder into the shell, carefully check how deep it has gone. It should not go down too deep or form any bulges. The primer's depth will determine the performance of the bullet when shot out of your gun.
Because of that, always make sure the primer is at an ideal depth. This ensures that you have a top quality bullet for every condition.
Operating the Primer
After checking for the primer's depth, put a tray under your priming tool and place the cartridge on it. Then, you should squeeze and release the handle of the primer. After that, the primed case should fall into the tray. This usually happens if you use a specific name brand shell holder. If you're using a universal shell holder, you need to manually remove each primed case.
---
What to Look For When Buying a Hand Priming Tool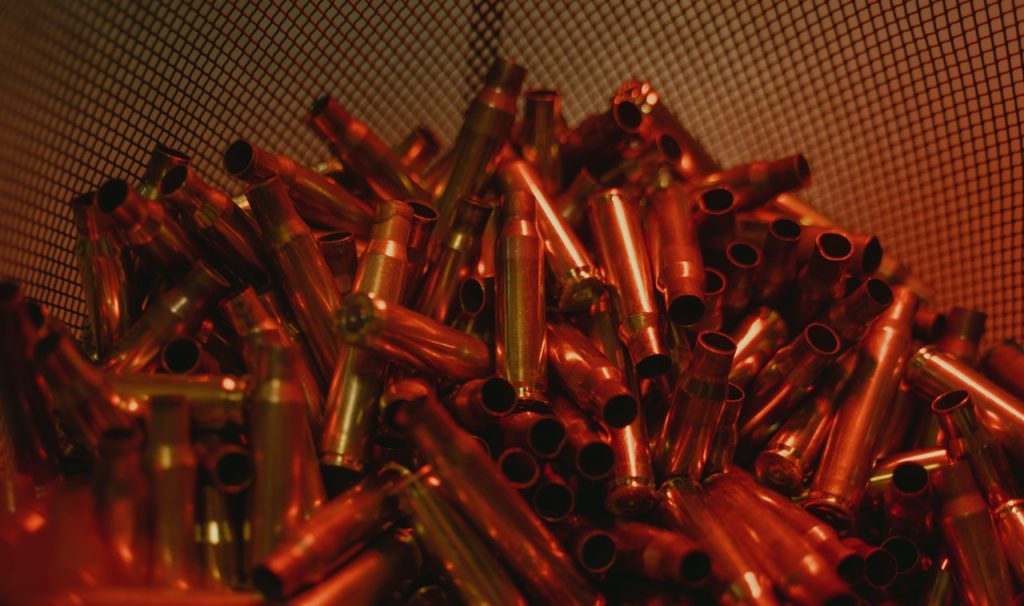 After understanding how a hand priming tool works, you then need to consider what makes a good priming tool. A good hand priming tool will ensure that your shell is well primed and in tip top quality. During big game hunting or survival situations, this can be the difference between life and death for you and your loved ones.
In general, there are 6 considerations that you need to analyze if you're looking to buy a hand priming tool. These considerations include accuracy, safety, durability, design, portability, and shell holding features. These are the main points that you should look out for so that you don't regret your purchase.
Accuracy
The main function of a hand priming tool is to reload and prime empty shells so that they can be used again. If the tool can't accurately insert the primer and prime the shell, then it's worthless for this purpose. Because of that, accuracy is the most important thing when buying a hand priming tool.
However, in this modern day and age, almost all hand priming tool have superb accuracy. A tool with sub-par accuracy is the exception, not the norm. Because of that, people usually focus on other aspects such as safety, durability, and handling characteristics.
Safety
Safety is the most important thing when handling firearms and explosive materials. This holds true for tools that are used to reload and prime ammunition. If you're not careful, one mistake can damage your limbs or even cripple you for life.
Always be on the look out for high quality well made hand priming tools. If it looks shoddily built or doesn't handle right, then avoid it at all costs. Also look out for production defects, some cheaper products have poor quality control, you never know when you'll get a defective tool.
When buying a hand priming tool, don't skimp on build quality and safety. After all, spending more money on buying a high quality hand priming tool is less expensive compared to a trip to the emergency room.
Durability
Ideally, a hand priming tool should be able to handle loading many thousands of rounds. It should also stay functional and usable for a long time.
Because of that, when looking to buy a hand priming tool, make sure the tool is made out of a sturdy material that won't break or bend due to regular use. Some firearm aficionados swear by priming tools that are made out of cast iron or heavy duty steel. They will last a long time and won't break due to repeated regular use.
However, keep in mind that you also have to maintain your tools so that they stay in top condition. Don't forget to clean it up after usage and store it in a dry place. You don't want to depend on a tool that's all rusted up right?
Design
The design of the tool is as important as it's build quality and durability. A poorly designed tool will be cumbersome to use and have poor handling characteristics. This might lead you to exert too much or too little pressure on the gunpowder, affecting the quality of the shell.
Because of that, always look for hand priming tools that feel good on your hands. The handle should be designed ergonomically to make it comfortable to hold. You should also check if the grip is contoured or not so that it fits well inside your hand.
In general avoid designs that forces you to use your thumbs to press down on the lever. Over the course of hundreds of shells, using your thumb like this will cause hand fatigue.
Portability
A portable hand priming tool that's easy to carry and easy to store is a nice thing to have. Because of that, when buying one, you should keep in mind it's weight and size. If you want a hand priming tool to pack on your EDC bag or on your EDC vehicle's trunk, find one that's small sized and lightweight.
However, if you plan on keeping it inside your home and workshop at all times, size and portability won't be too much of an issue. Just make sure that it's small and light enough so that you can comfortably hold it with your hands.
Shell Holders
Shell holders are an integral part for a hand priming tool. Some devices negate the use of shell holders while others require you to buy these separately. Hence, you need to check whether shell holders are included when you buy the tool or not.
Also, check if the machine is universal or needs a specific shell holder. If it's a universal one, you can use any size of shells without problem.
---
The Best Hand Priming Tool – Top 8 Picks
OUR #1 CHOICE
OUR TOP PICK: Frankford Arsenal Platinum Series Perfect Seat Hand Primer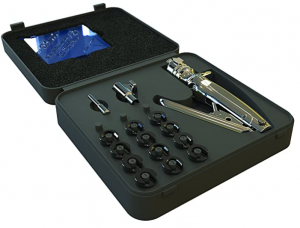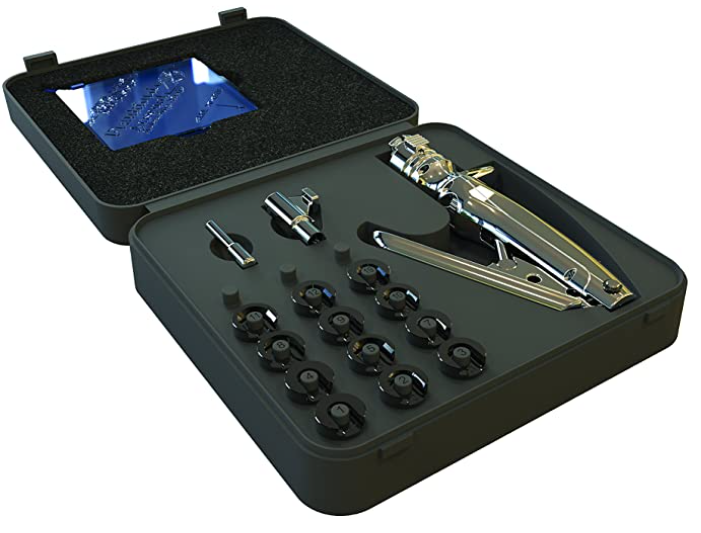 Product Name: Frankford Arsenal Platinum Series Perfect Seat Hand Primer
Product Description: The Frankford Arsenal Hand Primer allows you to break out of the confines of the reloading room and take your priming anywhere. With a hand operated, portable design, you can quickly and easily prime your brass from the couch. The primer tray automatically orients the primers for seating and features a hard stop that ensures you cannot crush a primer. This hand primer includes 12 shell holders to cover the most popular cases. It also has a self-righting primer tray that's able to hold 100+ primers. The Frankford Arsenal hand priming tool works with both small and large primers and the case includes 3 extra posts so you can store custom or rare collets in the same place. Made out of sturdy die-cast zinc with internal components made out of steel, this hand primer will stand the test of time. This tool is a must have for anyone that likes to reload shells by themselves.
Brand: Frankford Arsenal
Offer price: $$$
Safety

Durability

Value for Money

Accuracy

Design
Summary
The Frankford arsenal platinum series hand priming tool is one of the best hand priming tools on the market. It enables you to accurately fill shells with primer due to having a dial. With it, the depth of the primer seating is done with an accuracy of a thousandth of an inch. It also has a hard stop built in that ensures the primer won't go deeper than necessary. Because of that, there's no chance of over crushing the primer.
This tool is able to handle most types of bullets due to it's compatibility with 12 shell holders that are also included in the package. Hence you don't need to buy these separately. Plus, there are 3 additional spaces for extra shell holders in case the 12 slots are not compatible. Due to the versatility, you'd have a hard time finding bullets that this priming tool can't prime.
The overall design is a big step up compared to other hand priming tools on the market today, it's pretty easy on the eyes and the design is not too convoluted. The functional aspect is also excellent as the tray has been designed with ridges inside of it so that the primers area always seated in the right position. Plus, the tray can hold more than 100 primers at the same time to ease your reloading needs. The easy and simple thumb release technology embedded in this tool also makes changing the size of the shell holders a breeze.
Made from die-cast zinc, the body of the device is unbendable even under pressure, ensuring it lasts for a long time. The internal parts are made out of solid steel for durability. If you take care of this tool, it'll still be able to service your priming and reloading needs for years to come. You just need to clean it often and store it in a cool and dry place.
Portable and lightweight, the tool can be carried around with you so that you can change the primers and the shell holders from the comforts of your couch. It's well-designed handle fits in your hand perfectly so that you can prime away at your leisure without worrying about hand fatigue or cramps. Along with the hand primer, you'll also get a sturdy storage case to protect the shell holders and the tool. This enables the tool to be stored securely almost anywhere, be it in your car's trunk, your warehouse, or on a shelf at home.
However, quality comes at a price, and for this one, the price is quite steep. In fact, it's one of the most expensive hand priming tools on the market today. But don't worry, you get what you pay for in the form of a high quality hand priming tool.
If you're looking for a high quality hand priming tool that's highly accurate, safe, highly durable, and also ergonomically designed, look no further than the Frankford Arsenal platinum series hand primer.
You can't go wrong when picking this tool for your reloading needs, this is one of the best hand priming tools on the market today!
Pros
Highly accurate fill with a dial
Auto adjusting tray for accurate positioning of primers
Ergonomically designed
Made out of durable zinc and steel
Compatible with multiple shell holders 
RUNNERS-UP
LEE PRECISION 90230 Auto Hand Priming Tool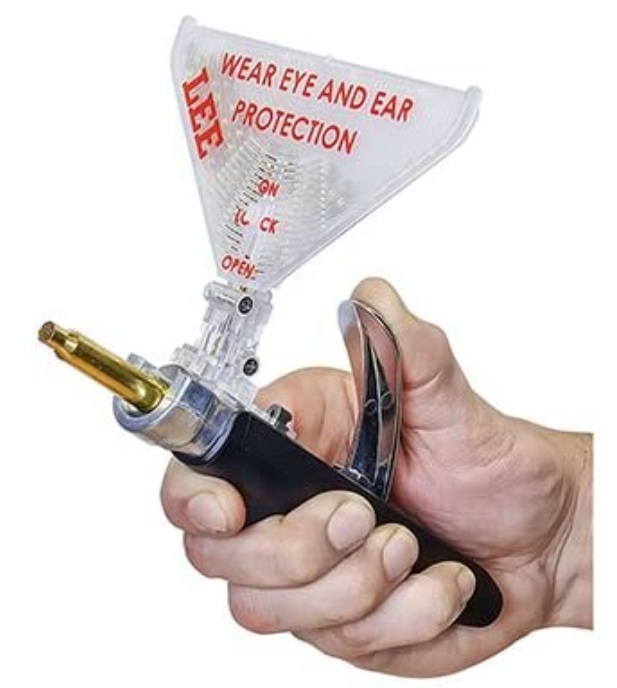 The Lee Precision 90230 auto hand priming tool is one of the most widely used hand priming tools on the market today. It's made by the legendary Lee Precision, a brand synonymous with high quality and ubiquitous gunsmithing tools.
Lee Precision 90230 features a revolutionary elevator pin that's designed to ensure the tray remains separated from each primer. This reduces the chances of the tray detonating and causing injuries to you or anyone near you when priming a shell. This product is also designed to be able to accommodate all types of primer to increase the ease of use and versatility.
This tool is a fresh take on the legendary Lee hand priming tool and has an improved design. The only parts that remain are the original body and shell holder. All others has been replaced with newer more technologically advanced parts.
One notable improvement is the triangle-shaped tray that is upsized and made to be compatible with all brands of primers on the market. The tray features a slide-on cover to accommodate both large and small primers.
Another improvement that's noteworthy is the design of the curved lever, it has two benefits. First, it's more durable and is claimed to be unbreakable, two, it provides your hands with a comfortable surface to grip when using the priming device.
Thus, the the handle doesn't need a lot of energy for it to be pushed, so you don't have to worry about hand fatigue. The small size of the product makes it easily portable, because of that, you can carry it along anywhere.
The Lee Precision 90230 is very easy to use and effective at what it does. You can easily handle the moving parts and swap between large and small primers by changing the pre-assembled insert. However, the Lee 90230 hand priming tool only supports shell holders made by Lee Precision. Because they're not included with the tool, you have to buy these separately.
If you're looking for an update to the legendary Lee Precision hand priming tool, look no further than the Lee Precision 90230 auto hand priming tool. It's small, compact, durable, and safe to use.
However, be mindful that there has been reports of slight manufacturing defects and quality control issues in a very small number of products. After buying these, always check if the tool works or not and be ready to return and claim a refund if it's faulty.
---
RCBS 90200 Hand Priming Tool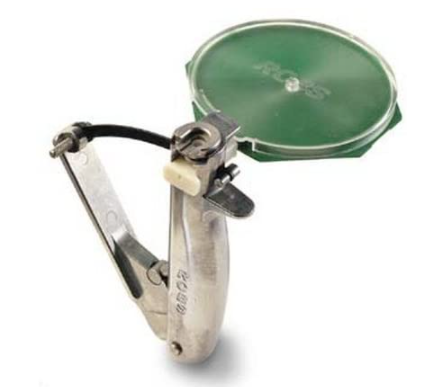 The RCBS 90200 is an upgrade from the previous model made by renowned gunsmithing tool maker RCBS. As with the previous model, It has the same safety gate that keeps the primer supply separate from the priming seat. This allows you to safely prime your shells without the risk of a tray detonation.
This tool also allows you to set the primers quickly and safely with the help of the primer plugs. They're compatible for both small and large-sized ones. To increase priming productivity and to reduce the need to refill, the tray can hold about 100 primers at the same time.
The RCBS 90200 is also well designed, the size and shape of the device is perfect for your grip. The weight and size also makes this tool very portable and easy to store anywhere. However, be mindful that even though it's ergonomically designed, most people will struggle to prime 100 primer's in one sitting using the 90200.
Because of that, you should take it slow and take a break when your hands start to feel fatigued or cramped. This way, you'll waste less primer because of human errors.
You don't have to worry about the durability of this product, it's mostly made out of cast iron, a common but durable material. However, don't forget to store it in a dry, cool, and clean place to prevent rusting and any other forms of metal degradation.
Because the RCBS 90200 is designed to use same-brand shell holders, it's advisable to use RCBS shell holders to prevent misalignment and other mishaps. However, these are not included when purchasing the tool so you'll have to buy them separately.
The tool includes a manual on how to best use the hand priming tool along with guidelines on how to prime a shell quickly and correctly. However be mindful that most people will need a few trial runs before they can successfully use this tool to it's full potential.
Overall, the RCBS 90200 is one of the best hand priming tools on the market today if you value safety and convenience. If you're in the market for a hand priming tool that has a great safety feature and is well built, you can't go wrong with the RCBS 90200 hand priming tool.
---
RCBS 90201 Universal Hand Priming Tool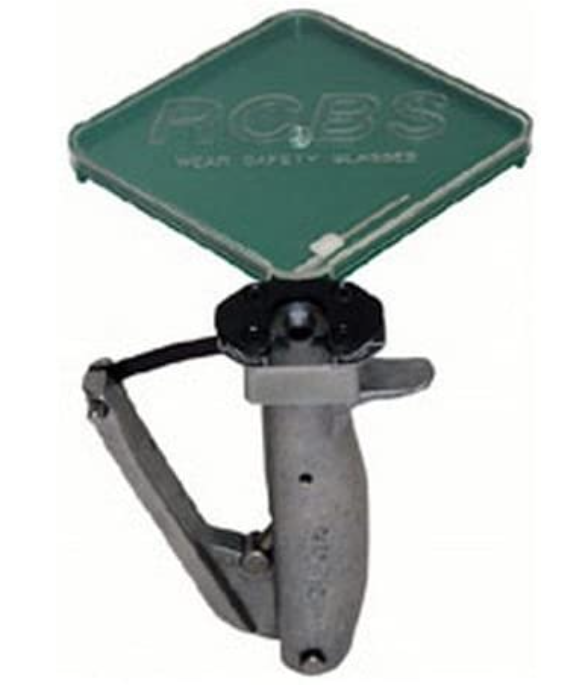 The RCBS 90201 is one of the best universal hand priming tool on the market today. If you're looking for a hand priming tool that can handle all shell holder types, this is the one you're looking for.
Because this is a universal hand primer, it negates the need for shell holders altogether. You just need to adjust the universal shell holder depending on the size of your shell. It has a highly adjustable set of jaws that can expand or contract to accommodate all kinds of shells.
Not having to buy different types of shell holder depending on the shell type you're currently using saves you money and time in the long run.
Having an adjustable jaw on the opposite side of the shell holders is advantageous in ensuring that the shell and primer is aligned correctly. This increases the safety because it reduces the chances of any accidents or mishaps happening during the priming process.
This hand priming tool also has a safety gate feature that separates the tray and the primer. Because of that, it severely reduces the chances of a tray detonation. However, you still need to keep adequate safety measures such as wearing a glove and a safety google.
The tool can also hold multiple primers at the same time so you don't have to worry about different primers getting into the tray. The removable primer tray also allows you to fit it into other devices and thus increasing the flexibility of the RCBS 90201.
One downside of this hand priming machine is that you need to remove each case manually after priming it. Thus, the overall priming process may be a bit slower compared to other tools. But this is the price you'll have to pay for extreme versatility and flexibility afforded by the RCBS 90201.
Overall, if you're looking for the best universal hand priming tool, the RCBS 90201 is the best one you can get on the market. It'll prime any type of shell accurately if you've set the jaws and adjustable shell holder base correctly.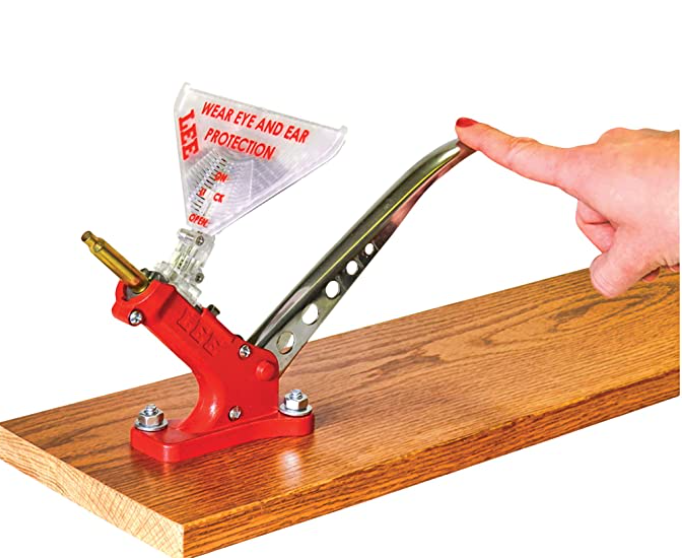 The Lee Precision 90700 is a unique hand priming tool because the product is designed to be a full-on priming station on your workbench. This model can be secured on to your workbench for increased stability, making the priming process smoother and more accurate.
It's very easy to fasten this tool to your workbench. It takes just a few minutes to put it together and a couple more to securely bolt it into place. This is helped by the fact that the 90700 already comes with all the nuts and bolts required to mount it on your workbench.
The tool is very easy to use, after assembling and fastening it into your workbench, you can immediately start priming shells within seconds.
The 90700 is designed to use Lee Precision shell holders, because of that, we recommend that you stick with it to avoid any mishaps. However, when buying this priming tool, it doesn't come with the shell holders so you need to buy those separately.
The primer tray can be set in 3 different positions, open, locked, and feed. The open position lets you load the tray with new primers. The locked position sets the tray on the primer but won't allow any primers to go into the holder. While the feed position allows a single primer into the holder, isolating it from the rest of the supply.
The default mode you'd have to use when storing it is in the locked position. This prevents any tray detonation or other mishaps happening to the primer.
Because of the innovative primer tray design, you'll have to get used to it. When you try shaking the whole tray to get the primers into position, you'll feel how it forces your hand to get into a folded position. This takes some time to get accustomed to. Also, the pockets in which the shell holders go is not tight on the holder. This means that the shell holder may fall occasionally.
The handle is easy to push down to allow you to apply the primers. Thus, the ergonomic design creates comfort and simplicity.
This tool makes priming a lot of shells very easy and straightforward. The design allows you to use very little force when priming the shell, even with just one finger. Moreover, it can easily be operated by both left and right handed users.
The clear downside of this hand priming tool is the fact that it needs a workbench or secured table to be functional. If you're out in the field or in a survival situation that doesn't permit being stationary at a place for too long, this will be a deal breaker.
However, if you're looking for a high quality workbench-mounted hand priming tool, the Lee Precision 90700 is one of the best you can buy on the market today!
---
Frequently Asked Questions When Buying a Hand Priming Tool
Here are several frequently asked questions when buying a hand priming tool. Check it out and see if your question has already been answered!
Q: Why Do I Need A Hand Priming Tool?
Answer: A hand priming tool makes it easier to reuse empty cases and cartridges by re-priming them. This saves money because buying pre-primed shells cost more. Another reason would be because some gun enthusiasts like to prime their own cases so they can control the quality better.
Some eco-friendly gun enthusiasts also like to tout the ecological benefits of re-using shells and reducing your waste to the environment.
Q: Can I use any shell holder on my hand priming tool?
Answer: No, if the primers do not have a universal shell holder, you will have to get the shell holders specific to the brand of the tool. From our recommended list, only the RCBS 90201 supports a universal shell holder while the Frankford Arsenal is simply compatible to most.
Q: What Is The Downside Of A Universal Hand Primer?
Answer: A universal hand primer allows you to use all brand and sizes of shell holders. Some don't even use shell holders and instead use a built in universal holder. However, due to the extreme flexibility and versatility of these types of hand priming tools, you need to manually remove each primed case at the end of the process.
If you want to quickly prime a lot of same-size shells, it's better to buy a matching brand shell holder and hand priming tool. If you want flexibility and versatility, opt for a universal hand primer.
Q: Is there any difference between mounted hand primers and portable hand primers?
Answer: Overall both tools get the job done. It mostly depends on what your comfortable with. If you want to be able to prime cases everywhere, the portable hand primer is a better choice. On the other hand, mounted hand primers provide increased stability and is generally easier to use.
Q: What Is The Depth That The Primer Should Be Positioned?
Answer: There is no specific measurement of the depth where the primer should be seated. It highly depends on the shell and the type of bullet. It also depends on what kind of performance you want out of your bullet. Over many uses, the user develops a feel for the right depth and position.
Q: How do I make sure that I don't crush any primers?
Answer: There are certain hand priming tool models in which you can set the desired seating depth. It means that you will never crush a primer again. If by any chance you have a priming tool in which you can't set any seating depth you'll have to feel for yourself.
Once you feel the primer is set at the correct depth you will have to release. Because of this, many primers will surely be at a different depth than others. As said before, the feeling correct priming depth and not crushing it comes down to experience and trial-error.
Q: What Are The Maintenance Tips For A Primer?
Answer: Maintaining your gear is very important, even the best hand priming tool won't be able to do much if it's rusted and broken. For starters, you should clean the primer tray regularly. Carefully dust the other parts so that they don't gather any residue. Using a drop of any light grease on the handle and the joints will keep the tool supple and ready for action.
Q: What Are The Safety Measures For Working With A Primer?
Answer: As you will be handling explosives when priming with a hand-held device, always follow basic safety measures such as wearing protective goggles to shield your eyes from any flying particles. You should also guard your ears by wearing hearing protection because in case there is a detonation, your hearing won't be affected by the loud sound.
Besides that, always store your primer in the box in which it came when you are not using them. Keep the package in a dry and cool place, away from heat and moisture.
---
Summary
Choosing the best hand priming tool for your reloading needs actually comes down to knowing what you need and knowing your budget. Our recommendation, the Frankford Arsenal is a fine piece of work that will never put you down, however it's quite expensive.
If your budget is limited, the Lee Precision 90230 and the RCBS 90200 does a fine job priming your shells, albeit without the extra flexibility and accuracy of the Frankford.
If you need a table mounted one for your workbench or at your workshop, consider the Lee Precision 90700. It's lighter, easier to use, and more comfortable compared to most table mounted hand priming tools in the market today. Besides, it's also very durable and well made.
Looking for a hand priming tool that has a universal shell holder? The RCBS 90201 is your best bet. It's pretty safe, well made, and is able to handle a lot of different shell sizes without any problem.