Clothing and insulation is very important during survival situations, especially in cold weather areas. Catching frostbite and hypothermia is death wish if you're out in the outdoors. When you are travelling in cold areas, having a suitable jacket can greatly reduce your likelihood of getting frostbites and hypothermia.
Don't think you're safe if you live in tropical or subtropical areas. Freak rainstorms and sudden cold waves can also get to you if you're not prepared.
Because of that, a jacket is considered an everyday carry item, just like a flashlight or multitool. If you're not carrying a great quality jacket, you're not seriously preparing for extreme weather.
No matter which climate you live in, the capacity of your EDC jacket to keep you dry and protected can be crucial in a survival situation.
In this article, we will review the 5 best everyday carry jackets you can buy on the market today!
JACKET
BRAND
EXPERT RATING
CHECK PRICE

Our Top Pick!


Rothco Special Ops Soft Shell Jacket

Check Price

Condor Summit Softshell Jacket

Check Price

Helly Hansen Seven J Rain Jacket

Check Price

Outdoor Research Helium II

Check Price

5.11 5-in-1 Tactical Jacket

Check Price
What to Consider When Buying an EDC Jacket
When choosing an a jacket for everyday carry, people usually look at several key indicators. These indicators include things such as
Build quality
Elemental resistance
Number of pockets
Comfort
Extra features
They are very useful when judging the quality and worth of an EDC jacket. Because you will be wearing these almost everyday, picking the best jacket with the best qualities becomes very important.
Build Quality
EDC jackets should be long lasting, durable, and provide great protection for the wearer. All of this are determined by the jacket's build quality. If it's built shoddily from poor materials, it won't be able to last a long time.
High quality jackets are usually made out of durable yet comfortable materials such as polyester, nylon, or other synthetic materials. They are then lined using wax, Gore-Tex, or other proprietary technologies so that they are waterproof.
Then, look at the stitching of the jacket. If they appear shoddy and of poor workmanship, then you know it's not a well made jacket.
Last but not least, look at the zipper of the jacket. A great jacket uses high quality zippers that will not break or get stuck in any condition. Steer clear from zippers that look plasticky or appear to be poorly made. They might get stuck during critical situations.
Resistance to External Elements
An EDC jacket's main purpose is to shield the wearer from external elements, be it cold, rain, snow, or wind. Because of that, the ability of the jacket to resist these elements are paramount. If your EDC jacket can't hold cold, wind, or rain at bay, then you should find another jacket.
A great quality jacket is also durable so that it can shield the user's skin from sharp objects. Some even have padding on the elbow and other high contact surfaces to provide cushioning and reduce wear and tear.
Pocket Availability
Availability of pockets and pouches are not critical but quite essential in an EDC jacket. More pockets means that you can store more EDC gear in your jacket rather than in your EDC waist bag. Jacket pockets usually have higher accessibility so you can react and access your gear faster.
However, carrying too many items in your jacket pocket is uncomfortable because the jacket will become bulky and heavy. Try to find the ideal balance between accessibility and comfort, there is no point in going to the extremes.
Comfort
There is no use wearing a high tech ultra-versatile jacket if it's not comfortable to wear. The best jackets have many features that increase wearer comfort. These features include an inner fleece liner for added warmth, extra ventilation, or the addition of moisture wicking materials.
Besides technology, the design and fit of the jacket is also critical in determining its comfort. Jackets that are well fitted will feel more comfortable than ones that are too small or too big.
Useful Features
Extra features are always welcome on an everyday carry jacket. Oftentimes, they increase the quality of life and makes the jacket more useful. However, not all features are useful in a jacket, some are just superfluous and there for the aesthetics.
Here are several useful features that you might want too look for in an EDC jacket. They increase the comfort and usability of the jacket tremendously.
Hood and other flaps
Adjustable Wrist Cuffs
Front Storm Flaps Over Zippers
Adjustable Hem
Pit Zips
Internal liners
Ventilation vents
However, not having them is not a deal breaker. Remember, they are just that, extra features that are nice to have, but I'm sure we preppers can live without.
Other features such as being conceal carry compatible is also nice to have if you're a firearm aficionado. However, there are specific jackets that are designed to conceal carry a gun comfortably. See our guide on the best concealed carry jackets to find out more.
Best Jackets for Everyday Carry – Top 5 Picks
OUR #1 CHOICE
OUR TOP PICK: Rothco Special Ops Soft Shell Jacket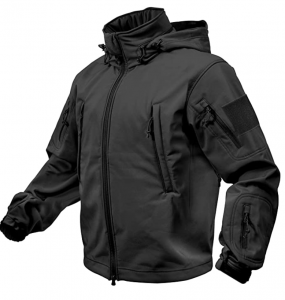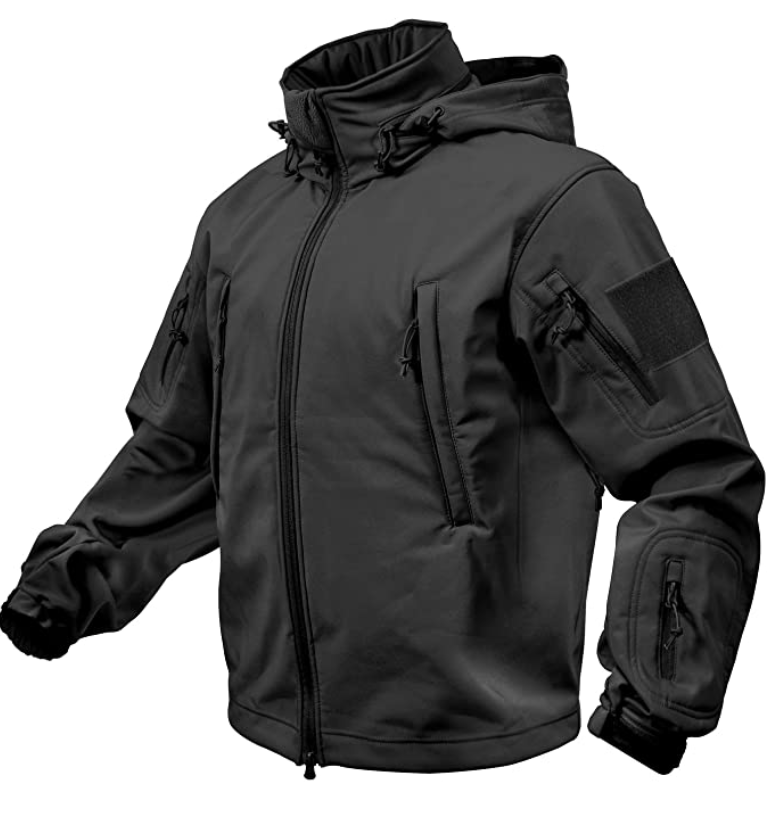 Product Name: Rothco Special Ops Soft Shell Jacket
Product Description: Rothco's Soft Shell Tactical Jackets feature a 3-layer construction that deflects wind, wicks away moisture and retains body heat; all with a waterproof polyester outer shell. Containing over 6 versatile zippered pockets, this tactical jacket is perfect for storing essential gear while you go hunting, hiking, camping, shooting, etc. In addition, the special operations jacket has a versatile hood that can be concealed within a zipper pouch in the collar and can also be detached from the jacket completely. Additional features include a fleece lined stand-up collar, double reinforced forearms, two 4" x 4" loop shoulder patches, underarm vent zippers, drawstring waist, and elastic hook and loop wrist cuffs.
Brand: Rothco
Offer price: $$$
Comfort

Resistance to Elements

Build Quality & Materials

Extra Features
Summary
The Rothco Special Ops Soft Shell Jacket is a very well made jacket for everyday wear. The jacket comes with a ton of pockets that helps you store and organize all of your EDC gear and then some. Coupled with a high quality backpack or waist bag, you can comfortably carry all of your EDC gear and even store this jacket inside of it. 
This jacket uses a 3 layer construction system to insulate you from the elements while still keeping you warm and cozy. It has an outer waterproof layer, a moisture wicking layer, and a fleece liner for added warmth. The jacket can keep you comfortable even during rainstorms or single digit temperatures. However, if you expect to be hit by torrential rainstorms or sub-zero temperatures, be sure to bring extra layers for added water resistance and warmth.
If you're looking for a high quality windbreaker, the Rothco Spec Ops doesn't disappoint. It's 3 layered construction deflects all but the strongest winds, ensuring you're always insulated from the elements. Even though it's highly insulated, multiple vents on the jacket will help you stay cool and comfortable during demanding physical activities.
Even though the jacket is not designed as a concealed carry jacket, it does have pouches and space on the side that can be used to store your gun. However, be mindful that it's small and initially not designed to hold a handgun, because of that, only compact guns can fit. 
Overall, the Rothco Spec Ops is a very good jacket for everyday use and it does nearly everything right. If you're looking for a well made jacket that's able to be used everyday while still being comfortable, the Rothco Spec Ops is a great choice. It does everything you would want an EDC jacket to do at an unbeatable price point.
Pros
Great build quality
Durable 3 layered design guarantees comfort during any weather
Many useful features such as a hoodie and hook
Multiple pockets
Suitable for concealed carry of firearms
Cons
Small size might warrant size-up
---
RUNNERS-UP
Condor Summit Soft Shell Jacket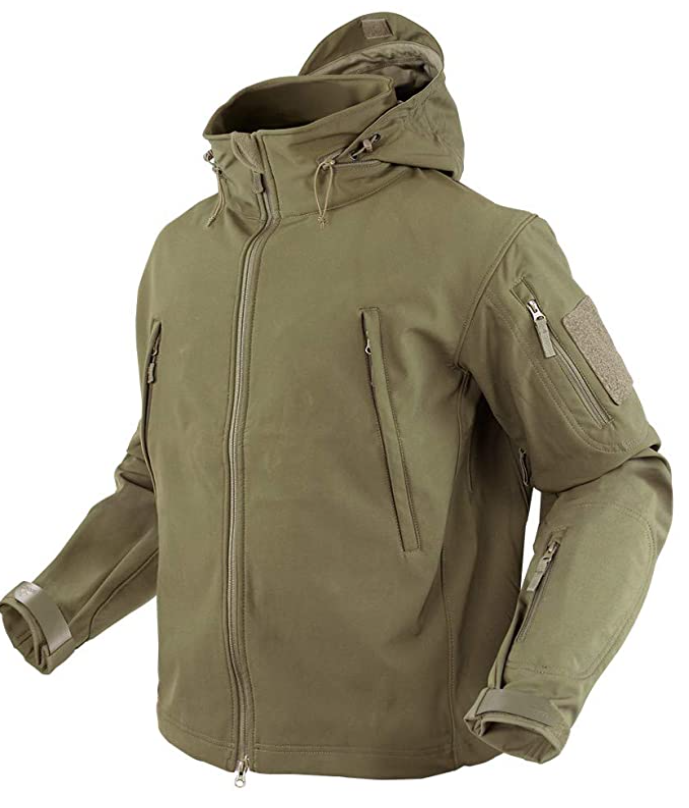 The Summit soft shell jacket is a high performance everyday wear jacket that's loaded with technology. It has many features that will help shield you from the elements while still being comfortable to wear. It is designed for a balanced combination of comfort, durability, and utility without the added bulk and weight. All in all, Condor's Summit is a great go-to EDC jacket.
The jacket has a 3 layer construction that helps it resist rain, wind, and cold while keeping you comfortable. The outer layer is made out of 100% polyester fabric that's coated with DuPont's Teflon coating for extra waterproofing and durability.
The middle layer is made out of a breathable mesh membrane to help regulate airflow and moisture. While the inner layer is made out of super fine fleece for added warmth and comfort. This jacket's multiple ventilation allows the wearer to engage in demanding physical activity without overheating.
Condor Summit also has multiple pockets that allows you to organize and store all of your EDC gear in a highly accessible place. These pockets are serviced by high quality YKK zippers that guarantees reliable operation during all conditions.
The three-layer integrated breathable shell helps resist colder weather elements and wick away moisture while maintaining optimum body heat. YKK zipper with dual sliders help user easily gain access to inner pockets and tools on tactical belt. Stow-away hood . Includes multiple pockets inside and out for utility and storage.
The Condor also has a stowaway hoodie that protects your head during extreme weather and packs away rapidly into zip-close compartment.
However, keep note that like most utilitarian EDC jackets, even though the Summit has DWR coating in the form of a Teflon layer, it will not be able to resist torrential rain for long. If you expect a long downpour without being able to seek shelter, bring a poncho or a raincoat that acts as the outer layer.
Overall, the Condor Summit is a very well made utilitarian EDC jacket that's suitable for most occasions, be it in the city, in the wild, or during survival situations. If you're looking for a reliable high performance and high quality jacket, you can't go wrong with the Condor Summit.
---
Helly Hansen Seven J Rain Jacket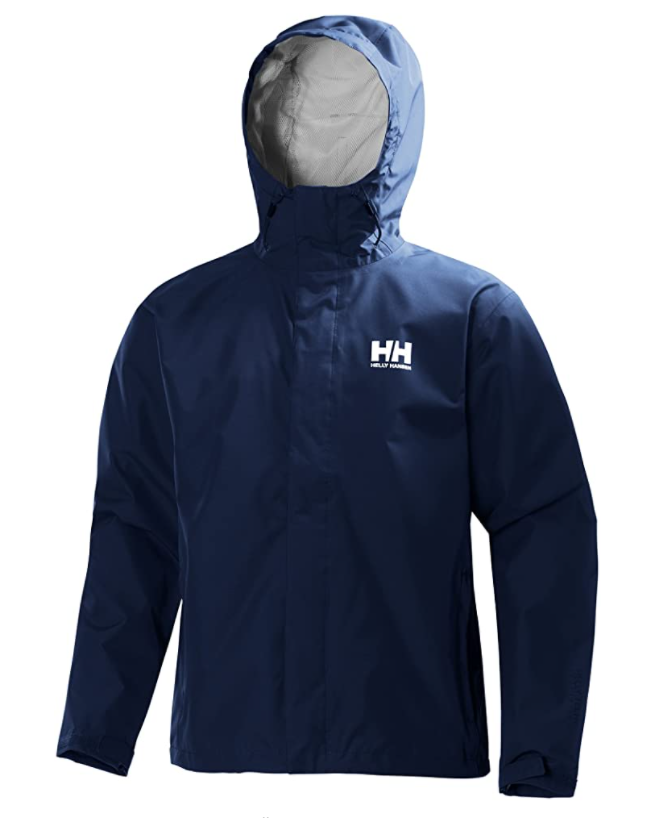 Helly Hansen is a Norwegian company best known for their rugged and weatherproof apparel, the Seven J Rain Jacket is no exception. This jacket is fully windproof and waterproof while being very breathable. This is achieved by using HellyTech 2 ply construction, a proprietary blend of materials by Helly Hansen.
For added rain protection, the jacket's seams are sealed so that they won't leak water during rainstorms. It also incorporates a storm flap to further prevent water from getting into the zippers and seams.
This jacket also incorporates a proprietary DWR (durable water resistant) coating to ensure it can effectively repel water. Because of that, the Seven J rain jacket is one of the few EDC jackets that have exceptional water resistant capabilities. This jacket can protect you pretty well even during intense rainstorms.
It even has a quick dry lining so that it won't stay wet for long after an intense rain. A nice feature if you frequently use public transports during the rainy season to get to work.
However, the Seven J rain jacket is just that, a rain jacket. It does not have an insulation layer such as fleece or down on the inside of the jacket. Because of that, you might feel cold if the air outside reaches single digit or even low double digit temperatures.
Luckily, the jacket is very thin and light, it's also quite roomy so that you can layer it with a base layer. If you want extra warmth, wear a fleece liner before wearing the Seven J.
You also have to keep in mind that the jacket is quite breathable, it's not as breathable as other EDC jackets because of it's inner Polyurethane layer and DWR coating. Keep this in mind when you're thinking of doing demanding physical activity with this jacket on.
Overall, the Seven J rain jacket is an excellent EDC jacket if you live in areas where it frequently rains and you need to keep dry at all costs. If you live in dry areas or further north where the temperature is freezing, we would recommend you to choose other jackets that are more breathable or have better innate insulation.
---
Outdoor Research Helium II Jacket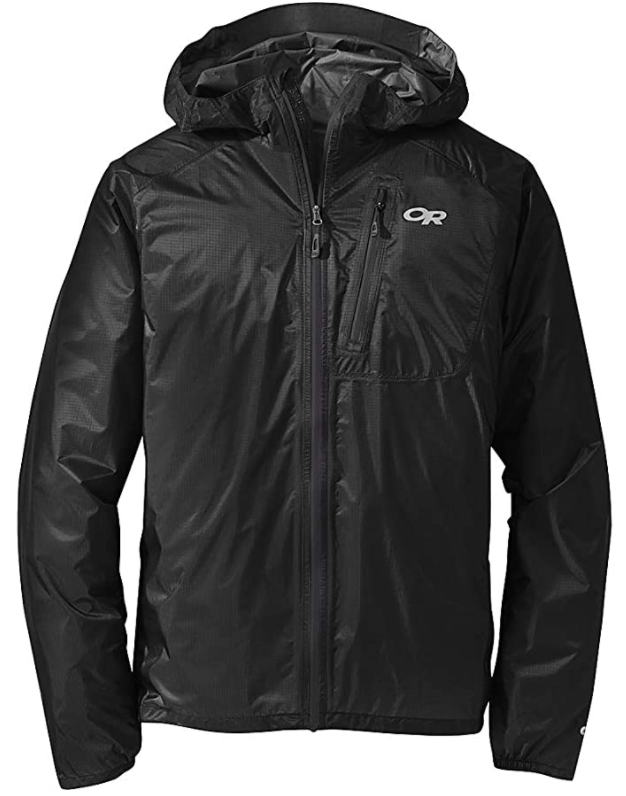 Outdoor Research's Helium II jacket is an ultralight rain jacket that is fully waterproof and windproof. It's designed to be quickly and easily packed into an EDC pack and then worn when the weather turns bad.
The Helium II is designed with 60D Ripstop nylon and Pertex Shield proprietary material. This makes it both windproof and waterproof while still being very light and thin. To further prevent water from leaking into the insides, the seams of this jacket are also sealed and taped.
Even though it's very light and thin, the jacket is very durable and solid due to it's ripstop nylon material. Weighing in at mere ounces, this jacket makes for an excellent utilitarian EDC jacket or an emergency rain jacket for the ultralight prepper
However, because this jacket is an ultralight thin jacket, it does not have any insulation lining such as fleece or down. Because of that, you might feel cold if you don't layer this with another warmer jacket.
Luckily, the thinness of this jacket makes it very easy to wear over anything, be it a fleece liner, down vest, or a tactical base layer for increased warmth and comfort. You can even wear the jacket above your t-shirt when doing chores in the rain and it will still feel light and comfortable.
Besides that, due to the extensive waterproofing that Outdoor Research has done on this jacket, the Helium II is not as breathable as other contemporary EDC jackets on this list.
If you live in an area where it rains a lot or frequently rains without prior warning, the Helium II is a great choice as an everyday carry jacket. It's light weight and compact size also allows it to be stowed neatly inside an EDC waist bag, a day pack, or in the trunk of your car.
Overall, if you live in areas that has high rainfall and rains a lot, the Helium II is a great choice for an EDC jacket. Heck, due to its weight and compactness, this is a great jacket for everyone that expects to get hit by the rain every once in a while.
---
5.11 Tactical 5-in-1 Jacket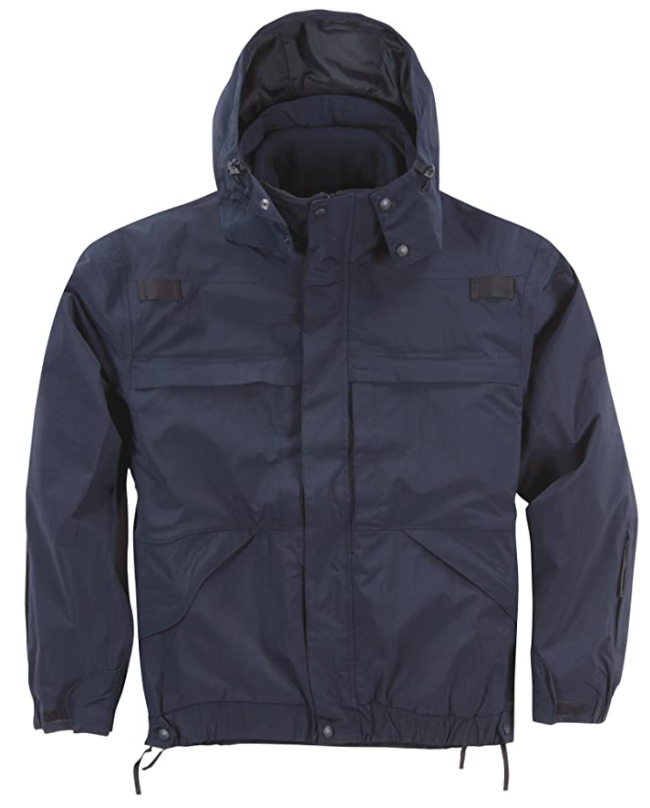 True to it's name, the 5.11 Tactical 5-in-1 Jacket comes with 5 distinct configurations that can be adapted to a lot of situations.
The jacket is made out of waterproof polyester hard shell that is treated with a proprietary DWR coating to increase its waterproof rating. To further increase it's ability to resist water leaking in during intense rain, the jacket's seams are also fully sealed.
It also has a removable hood that can protect your head from the elements. When not in use, it can be stored in the back pocket or rolled into the collar.
The inner fleece layer gives this jacket the needed insulation to brave cold weather up to the low double digit temperatures. But if you're going into subzero temperature, be sure to pick up extra insulation layers to keep the warmth in and the cold out.
This highly adaptable EDC jacket can be configured in the following manner
Jacket with inner fleece sweater
Jacket shell with no fleece sweater
Fleece Sweater without a jacket
Fleece sweater with sleeves removed (This makes it look like a fleece vest)
Jacket and fleece sweater worn separately
Because of it's adaptability and the ease of changing between configurations, this jacket is a true everyday carry jacket for any situation.
5.11's Quixip® system on it's sides allow for enhanced ventilation and breathability while also providing rapid access to firearms stored inside the jacket. The jacket also features zip-off sleeves and a side zipper for enhanced breathability and versatility.
The jacket also has several pockets to help organize and store items. However, keep in mind that these pockets are not that large and won't be able to store all of your EDC gear.
5.11's 5-in-1 is also quite bulky for an EDC jacket. This is expected because of the inner fleece linings and many features. The bulkiness works well however if you're going to conceal carry a firearm or other forms of weapon. You can safely store them in the pockets or on the inner side of the jacket.
If you're looking for a well made heavy duty tactical jacket that can fulfill many roles for a decent price, the 5-in-1 is a great choice.
---
How to Find the Right EDC Jacket for You
Now that you've seen the 5 best EDC jackets for everyday use, the next question is, which one would be the best for YOU?
The answer is a lot more complicated than a simple buy this or buy that. This is because everyone has different needs and wants. In order to find the perfect EDC jacket, first you have to analyze what you need and what situations you're likely to face.
If you are an active person and frequently does outdoor activities, it would be better for you to buy a highly breathable jacket. This will be your daily use jacket and will probably be your outerwear for most of the season.
However, if you're an office guy, it would be better if you bring an ultralight jacket such as the Helium II or the Seven J. You won't be using these as an everyday wear because you need to dress formally for the office. When not in use, these ultralight jackets are so compact that you can store them in your daypack or on your car. If it suddenly rains, you won't be caught off guard.
If you like to conceal carry a firearm, tactical jackets such as the Rothco Spec Ops and the 5.11 5-in-1 is a great option. The designer keeps gun handling and gun storage in mind when designing the zippers and compartments of these jackets.
All in all, always pick the right kind jacket for your specific need and situation. Don't be fooled into buying one because someone said that it's 'the best' without analyzing what you need and what he jacket offers.
At the end of the day, the 5 jackets that we've reviewed today are top notch and you would be hard pressed to find better quality alternatives at a comparable price point.