Do you need to chop firewood? How about removing a log that blocks the trail? The best folding saw for backpacking comes in handy during these situations. Unlike full-sized saws, a folding type can be stashed inside your bag without consuming too much space or causing injuries. Folding saws are versatile tools that will be very useful in the campsite or other backpacking adventures.
FOLDING SAW
BRAND
EXPERT RATING
CHECK PRICE

Our Top Pick!


Agawa Canyon Boreal21
Folding Bow Saw

Check Price

Silk GomBoy 240 mm
Folding Saw

Check Price

Sven-Saw 15-Inch
Folding Saw

Check Price

Bahco 396 Laplander
Folding Saw

Check Price

Opinel Folding
Camping Saw

Check Price
---
Uses of a folding saw
Many of us are just happy to go backpacking with a small tactical knife. It's functional, but wait until you get your first folding saw.
Folding saws are multipurpose and practical tools. If you're wondering whether you need one, the following uses may convince you:
Making a clearing. If you're camping on the spot with thick foliage, a folding saw will make it easy to clean the area. It can cut through thick stems and tough foliage that will take much effort when using a knife.
Building a shelter. If you're building a shelter from scratch, a folding saw will be one of the main tools to use. It can saw through logs that you need to put up a makeshift shelter.
Cleaning game meat. If you're hunting for food, a folding saw will be useful in cutting bones and large chunks of meat from your catch.
Alternative for an axe. Survival axes are large and cumbersome, which makes them impractical to bring while backpacking and camping. With this, a folding saw becomes a feasible alternative.
There are many uses for folding saws that you may encounter during your outdoor adventures. This is why it's always ideal to have the tool ready at your disposal.
---
Best Folding Saw for Backpacking – 5 Sharp Options
OUR #1 CHOICE
OUR TOP PICK: Agawa Canyon Boreal21 Folding Bow Saw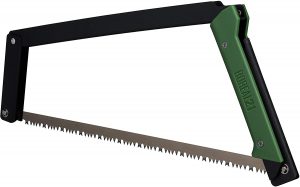 Product Name: Agawa Canyon Boreal21 Folding Bow Saw
Product Description: If you're looking for the best folding saw for backpacking, you should consider the Agawa Canyon Boreal21. This is a versatile tool that can be used for backpacking, camping, hunting, trail clearing, and more. It opens in an instant, so you can get the work done fast. Moreover, this has a packable length of 21" when folded. It's also considerably lightweight for just 18 ounces. Unlike other folding saws, this is a bow type but with a high-clearance frame that delivers large diameter cuts. I also like how it optimized geometry for efficient sawing strokes.
Offer price: $$$
Availability: InStock
Cutting Edge

Portability

Safety

Value for Money
Summary
This saw doesn't have loose parts, and it uses an automatic blade tensioning mechanism. Users don't need to touch the blade when opening and closing the saw.
Aside from that, this is made of an aluminum frame. The nylon handle is reinforced with fiberglass so that it can endure the toughest cutting tasks. Meanwhile, the blade is made of stainless steel that's been coated and hardened to make it durable.
Overall, this is weatherproof and rust-proof folding saw made for the outdoors. Its raker tooth pattern makes it a very efficient tool for almost any cutting task you have in hand.
Pros
Design prevents users from touching the blade
Hardened and coated steel blade
Fiberglass-reinforced handle
Cons
The fulcrum is made of plastic
---
RUNNERS-UP
Silk GomBoy 240 mm Folding Saw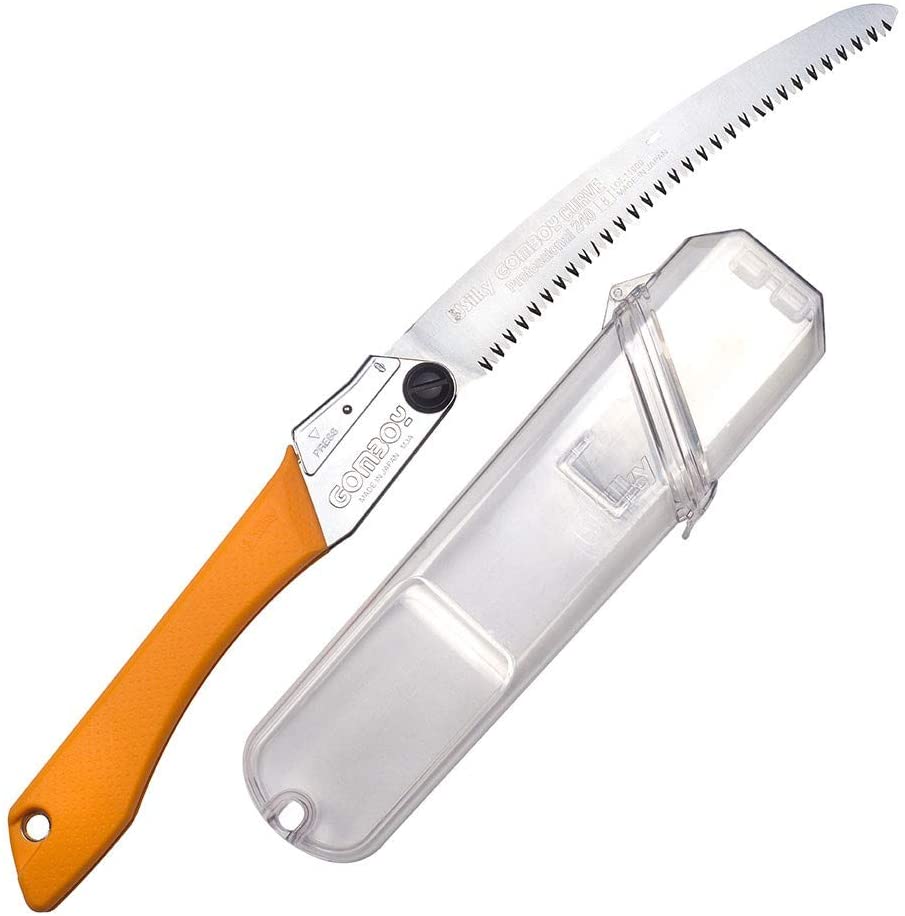 Another folding saw I swear by is the Silk GomBoy. This professional-quality folding saw is made of durable Japanese steel. It has impulse-hardened teeth bearing Silk GomBoy's patented Mirai-Me pattern.
Moreover, this has a curved blade to make it easier for you to cut and chop things. This saw is available in 210 mm, 240 mm, and 300 mm blade lengths to suit your needs.
Aside from that, this has a steel handle with a rubber insert. It's very ergonomic and offers an excellent weight balance to reduce hand strain.
The Silk GomBoy is bundled with a hard plastic carrying case to protect it against damages. For such a durable blade, this is a bonus that adds value to the purchase.
In addition, this folding saw cuts through wood like butter. It's insanely sharp, so you have to be careful not to cut yourself. As the first Japanese pull style saw I ever had, I'm beyond impressed with Silk GomBoy. This is a bad boy that can cut through almost anything.
The only thing I noticed is that the handle can be stiffer. The back has an over-molding that takes time to get used to.
---
Sven-Saw 15-Inch Folding Saw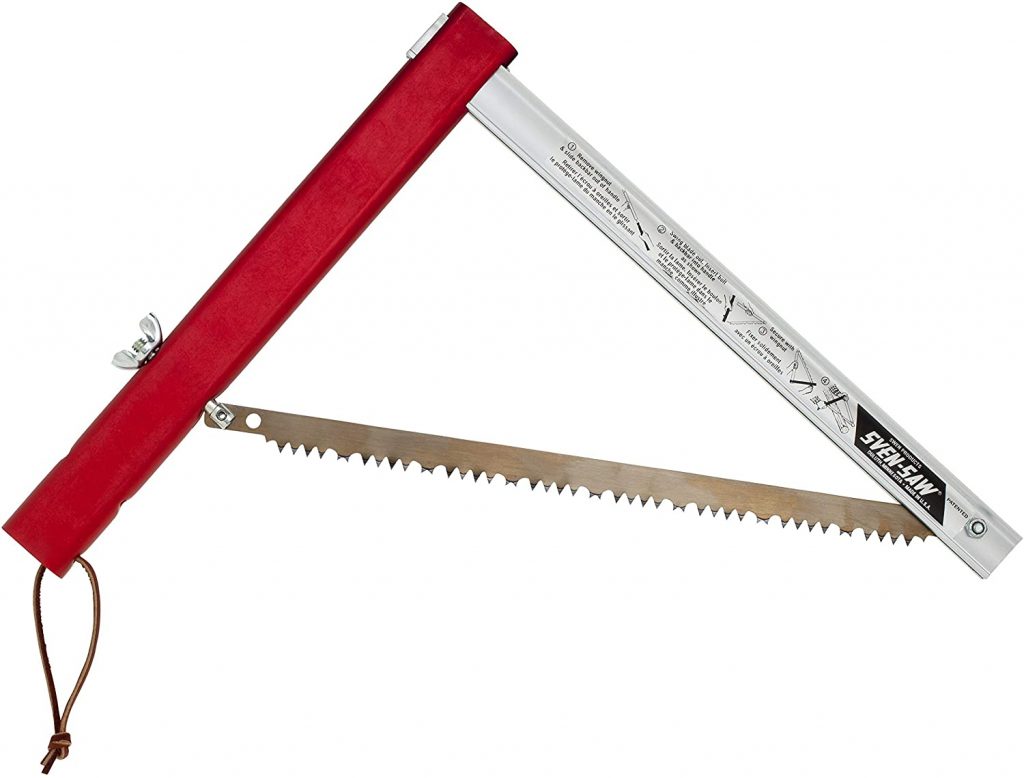 If you're looking for a cheaper bow saw, you should consider the Sven-Saw. This is a 15-inch folding tool made from durable steel, so it can withstand yard work as well as backpacking use.
This is only 11.1 ounces, which is very lightweight but not short of functionality. I also like the red handle that makes it easily visible.
From yard work to camping tasks, this bow saw will not disappoint. Its blade is made from hardened Swedish steel with an anodized aluminum handle and back bar. This material will not corrode, even if used on wet conditions repeatedly.
Moreover, this has an all-metal construction that ensures topnotch performance on all cutting tasks. Overall, this is a 15" saw, but you can also get it in a 21" version if you prefer a longer tool.
Sven-Saw is very popular, and this isn't the first time I've used one of their saws. It's actually a staple in our camping trips when I was a teen so that I can swear by the quality of their tools.
However, I just want to warn you about the edges of the saw. It's not really sharp, but there can be burrs that may scratch your backpack.
---
Bahco 396 Laplander Folding Saw

If you're looking for a small saw to carry, you should definitely consider the Bahco 396 Laplander. This has a rugged design, reminiscent of tactical knives. The blade is 7.5" long, but it can give longer saws a run for its money.
This saw has 7 teeth per inch suitable for cutting wood, plastic, foliage, and even bones. The blade has a special coating that resists rust and low friction. Its blade is also curved, which makes it 'bite' on wood easily.
Aside from that, this has a plastic handle with a textured grip. Even though the handle is plastic, its two-component material makes it durable against wear and tear.
Moreover, this is specially made for campers, wildlife enthusiasts, and survivalists. It's also equipped with a safety lock to prevent the saw from snapping open or closing during use.
I also like that this cuts smoothly on both push and pull stroke. This will save you time and effort from using saws that only work in a single direction.
If the initial blade of your Laplander gets worn out, Bahco sells spare blades, so you don't have to purchase the entire saw again.
---
Opinel Folding Camping Saw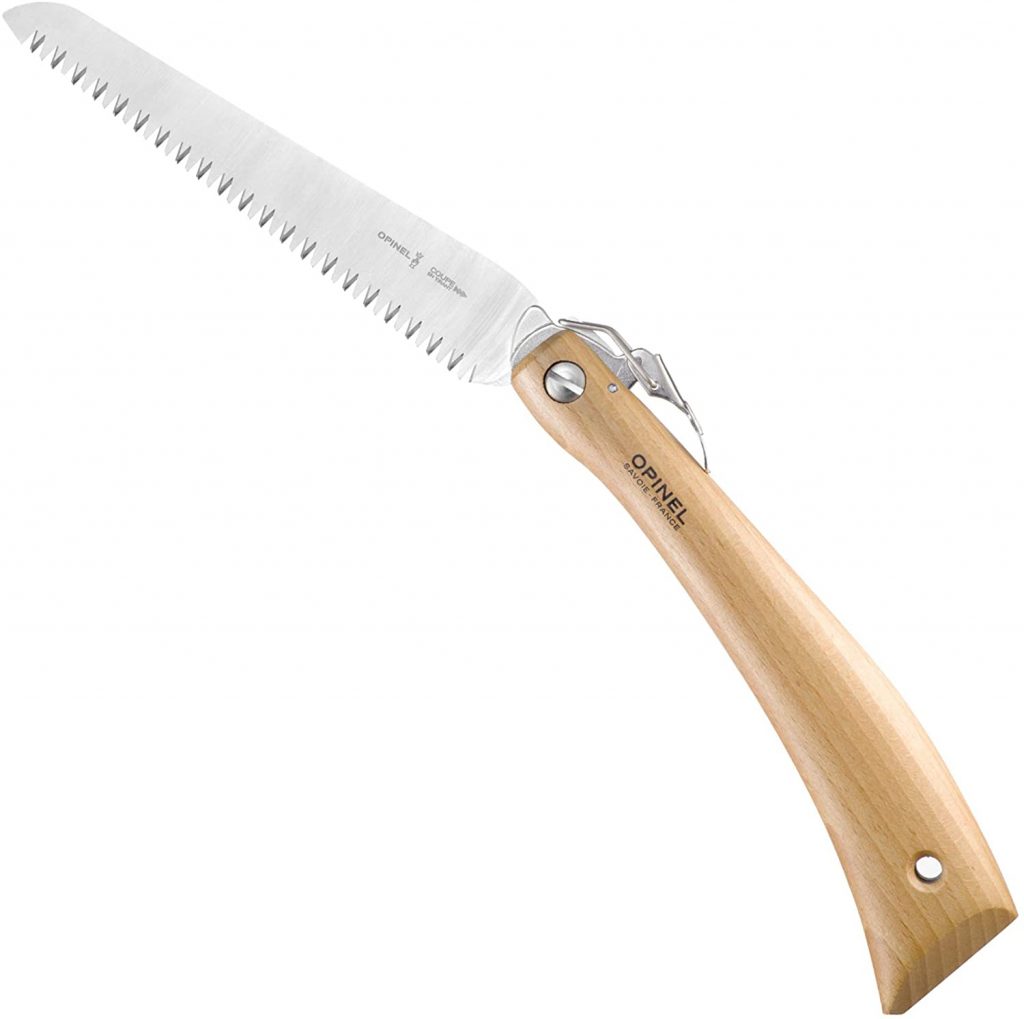 My last pick for this roundup is the Opinel Folding Camping Saw. This has a 7.125" blade with very sharp teeth that can cut clean into branches less than 10 cm in diameter. It's a handy tool for backpacking and other outdoor applications.
Aside from that, this has double row teeth that allow it to cut without snagging. The blade itself is made of carbon steel that can withstand tough material and regular use.
Moreover, this has a beechwood handle with an anti-corrosion coating. It's both a stylish and durable folding saw that will surely become useful on your next backpacking trip. The beechwood material is sourced from France to ensure its high quality.
The Opinel folding saw is made to last a lifetime, which I can attest to. I also like its angled blade that makes it easier to use. It's equipped with a safety hook to prevent the blade from snapping out of place.
Overall, this saw weighs 6.3 ounces with a total open length of 36.1 cm. There are no plastic parts on the saw, which says a lot about its durability. It's nice and sharp, though I noticed that the blade material is thinner than other folding saws I've had.
---
How to choose a folding saw
When looking for the best folding saw for backpacking, you must check the following aspects first:
✔️Pull vs. bow saw
Folding saws are available in two major types: bow saw and pull saw. A bow saw is composed of three segments that create a triangular shape when used, which is similar to how a bow looks. This is used for rigorous cutting and woodworking. You can also find a folding type that you can take on your backpacking trips.
On the other hand, pull saws are like folding tactical knives, but larger. It has a blade and a handle connected through a fulcrum.
Both these saws work well for camping and backpacking. However, if you want a tool that also doubles as a knife, you're better off with a pull saw.
✔️Size
The size of the saw is a very important consideration, especially if you're packing light. You can find saws with 7" to 15" blades to suit your needs. There's even a 21" blade for tougher and bigger cutting tasks.
Take note that bigger blades are made for thicker materials. If you need to cut logs and branches, you should invest in a long blade made of tough steel. Thinner ones may work, but it will take more time and effort.
✔️Material
For this part, we will discuss the separate material of the blade and the handle.
When buying a folding saw, make sure that the blade is made of high-carbon steel. This ensures that the saw can put up with the abuse of outdoor use. The blade shouldn't snap in two. Otherwise, it's just a waste of money.
On the other hand, folding saws are equipped with varying handle materials. Wood is a traditional choice since it's durable and can be sourced easily. On the other hand, there are composite and plastic handles. It's used to make the saw lighter and cheaper. As long as the plastic material is thick and durable, it should work just the same as wood.
✔️Blade tooth geometry
When it comes to folding saws, tooth geometry is one of the biggest considerations. Each brand has its own tooth patterns that cut through wood smoothly. The following are the most common type:
Plain tooth. This is the traditional pattern with symmetrically pointed tips. It works well in cutting and can be bought at a lower price.
M-tooth. This pattern has two plain teeth separated between gullets. It acts as rakers suitable for cutting dry and hardwoods.
Lance tooth. This pattern has a set of cutter teeth followed by an unset raker with a gullet separator. It's made for heavy sawing tasks.
Champion tooth. This pattern has large teeth shaped like almond tips. It's not pointed, but the edges are very sharp to cut tough timbers.
✔️Locking mechanism
Lastly, make sure that the folding saw has a locking mechanism to prevent it from snapping. This is a safety feature to keep the blade and handle locked in place while in use. It will also prevent the saw from opening while stored in your bag.
Some folding saws have a locking mechanism that allows users to adjust the angle of the blade from the handle. This makes the saw more versatile to suit different cutting needs.
---
Final words
The best folding saw for backpacking is the answer to all your cutting needs outdoors. Just make sure that you invest in a durable and reliable piece that will last long. With the five folding saws I reviewed above, you'll never go wrong. What do you think of these folding saws? Have you tried any of it before? Let us know below!