Owning a gun is a big responsibility. You have to ensure that your rifles and pistols are secured and away from unauthorized hands. The best rifle safe under 500 will help you secure your firearms without dipping into your savings. Take note that a gun safe can be a life-saver, especially if you have a young child.
GUN SAFE
BRAND
EXPERT RATING
CHECK PRICE

Our Top Pick!


Paragon Lock & Safe
7501 Gun Rifle Safe

Check Price

Moutec Biometric
Rifle Safe

Check Price

Barska Quick Access
Biometric Rifle Safe

Check Price
Since there are many options in the market, finding the best rifle safe can be challenging. Gun safes are also available in different sizes, features, and safety levels. If you're looking for budget-friendly options, I reviewed here three of my top picks based on the gun safes I own.
---
Why you need a rifle safe
While this question is a no-brainer for some, it begs more emphasis on why gun owners should invest in a reliable rifle safe. It's a matter of safety and more. The following are some of the reasons why you should get one:
Easy access to your firearm. It's very dangerous if you let your rifles sitting just about everywhere. It will also make it difficult to access when you need it the most. With a rifle safe, you know exactly where your guns are located and how to get them.
Protecting valuables. Aside from your rifles, gun safes can also be used to store valuable items like jewelry, bank cards, documents, and cash. Most rifle safes have space for these items.
Compliance with the law. You can be sued for negligent gun handling, especially if an accident occurs because of poor handling. Take note that there are strict laws about child access prevention when it comes to firearms.
Fire protection. Many gun safes are fire-rated, which means they can protect your rifles and other belongings during a fire.
Discounted insurance. Insurers will likely give you a discounted premium if they know that you're handling and storing your firearms properly. Take note that such discounts are only given to 'true' gun safes with a fire rating and high-standard security measures.
There are many other perks in owning a gun safe. It's an investment a gun owner will not regret. And if you're looking for the best options, the following are three of the safes I swear by.
---
Best Rifle Safe Under 500 – Top 3 Picks
OUR #1 CHOICE
OUR TOP PICK: Paragon Lock & Safe 7501 Gun Rifle Safe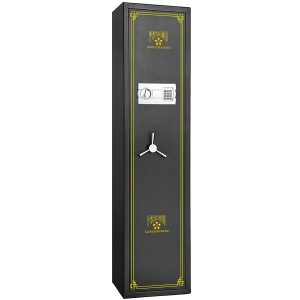 Product Name: Paragon Lock & Safe 7501 Gun Rifle Safe
Product Description: If you're looking for the best rifle safer under 500, you'll never go wrong with the Paragon Lock & Safe 7501. This safe has digital access using its built-in keypad. It also has an advanced internal mechanism that prevents forced entry. Moreover, this safe can house up to five rifles together with handguns and ammunition. It also has a top compartment where you can place other valuables you want to protect. This safe has steel construction and will arrive fully assembled. It weighs 100 lbs., which is the real deal if you're looking for rugged and reliable gun safes. I also like the concealed hinges of this safe, which prevents theft. Inside, there's an interior locking cabinet with a different set of keys.
Offer price: $$$
Availability: InStock
Safety Level

Capacity

Material

Ease of Access

Value for Money
Summary
As for the main lock, you can set a secret PIN of 3 to 8 digits paired with an electronic buzzer. You'll also receive two override keys in case the digital access runs out of power or bogs down.
Overall, this rifle safe is 57" x 13.75" x 11.75" on the outside. The door opens to the right at the height of 54.5". I also like the premium and professional look of the safe.
This is already a great bargain for such a level of security. While it's not fire-rated, your rifles and handguns will receive topnotch protection from unauthorized access. It's heavy-duty, too, and guaranteed to last for years.
Pros
Rugged build that arrives fully assembled
Internal mechanism that prevents theft
Programmable digital access
Cons
It's not fire-rated but not a big deal considering its price
---
RUNNERS-UP
Moutec Biometric Rifle Safe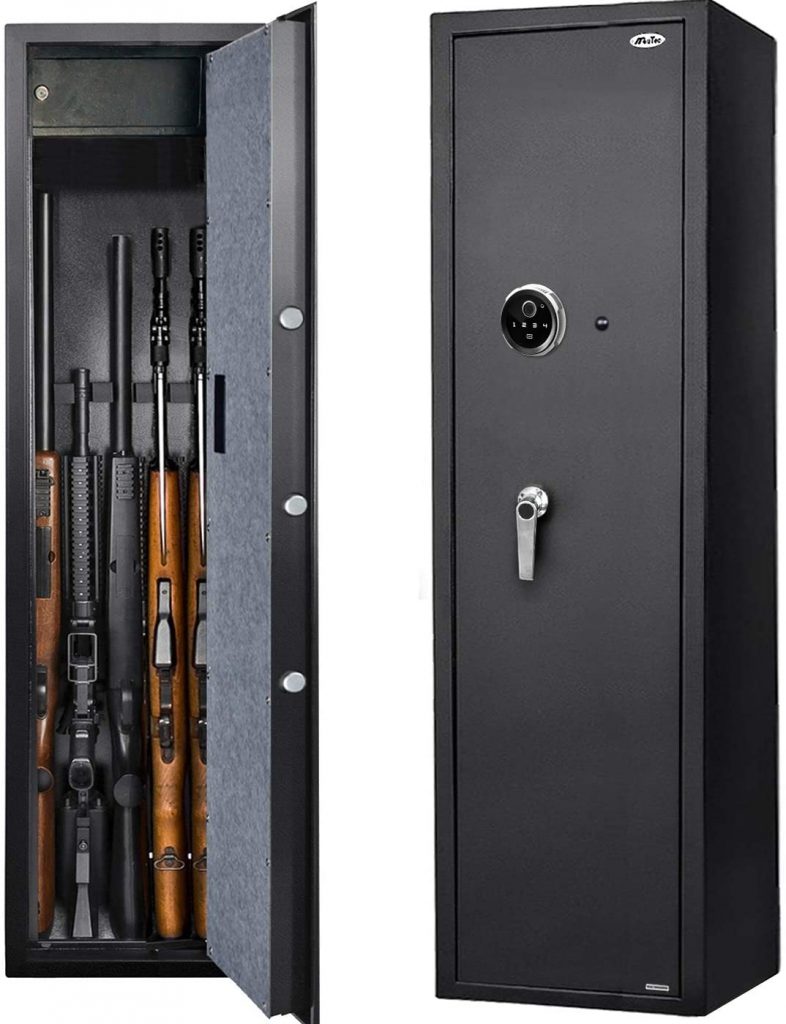 If you have more rifles to store, you should consider the Moutec Biometric Rifle Safe. This can store up to 7 rifles and a few handguns at once. On top, it has a locking compartment where you can store other valuables like jewelry, documents, bank cards, and so on.
This weighs 108 lbs., so there's no way a burglar can carry this out of your home. It's made of 14-gauge carbon steel construction, rugged to endure wear and tear.
Aside from that, this has an 11-gauge steel door that's 1.75" thick with a durable finish. The door hinges are hidden, so it can't be pried open. This has five solid locking bolts to ensure that your firearms are safe inside.
Moreover, this gun safe has a Smart Align Biometric Scanner for instant fingerprint detection. You can use your programmed fingerprint or a code to open the safe door. The keypad is illuminating, so you can easily access it even when the lights are off.
This Moutec Biometric Safe also has pre-punched mounting holes at the bottom and back. This allows you to fix the safe on your cabinet or the floor for added safety.
On your purchase, you'll receive the gun safe, four AA batteries, two inside box keys, 2 main spare keys, and four anchor bolts. The package also includes an instruction guide, so you can set up the access right away.
Overall, this gun safe is 57.2" x 15.7" x 11.8" on the outside. It has a wider profile than the one from Paragon but at a lower cost.
---
Barska Quick Access Biometric Rifle Safe

My last pick for this roundup is the Barska Quick Access Rifle Safe. This is a DOJ-approved safe with a high level of security.
This safe is equipped with a biometric scanner that allows access in just 2.5 seconds. You can also turn the silent mode on for stealth operation in case someone breaks into your house.
Moreover, this has a solid steel construction with tamper-resistant edges. This is equipped with three steel bolts to keep your firearms away from unauthorized access.
Aside from that, this safe can fit four rifles inside, but without the accessory attachments. Don't worry because there's a storage shelf on top where you can stash other valuables as well as ammo.
The good thing about this rifle safe is its compact and slim profile. It can easily fit on standard closets for discreet installation. The safe already comes with pre-drilled holes and mounting hardware so that you can fix it on a specific spot.
This Barska Rifle Safe is made of 14-gauge metal with a total weight of 62 lbs. I suggest that you mount this on a durable surface as the lighter weight makes it susceptible to theft.
Take note that this safe only uses biometric access with no keypad. In case the system runs out of battery, you can use the override keys or backup battery pack to access your safe.
Overall, this is a pick-proof, pry-proof, and saw-proof safe. You can also program up to 120 fingerprints to give access to other members of the family.
---
How to choose the best rifle safe
When shopping for the best rifle safer under 500, it's important to consider the following points:
✔️Material and construction
A reliable rifle safe should be made of at least 11-gauge steel. This material will make it difficult for burglars to pry your safe open. It will also take a lot of time and effort to drill through it.
Make sure that the hinges of the safe are hidden. This way, thieves will have a hard time accessing your safe. Overall, a rugged unibody is a top choice since it provides superior protection for your firearms and valuables.
✔️Security level
The gun safe you're going to buy must be secure enough to keep your firearms away from the wrong hands. Multiple locking bolts are just one of the best security features you can find. This locks the door tightly and will be challenging to open.
✔️Capacity and compartments
One of the most important considerations when buying rifle safes is its capacity. You have to consider how many guns you have as well as the other items you're planning to store in it.
Rifle safes can house at least 3 to 50 guns with the biggest option. However, the bigger the safe gets, the more expensive it becomes.
Aside from the capacity, there should be compartments and shelving inside the safe. This will let you store more items aside from your rifles. Also, a rack should hold the rifles, so they won't clatter and fall off when you open the safe.
✔️Access points
Rifle safes are either biometric or passcode protected. Biometric access is convenient, especially at night, when the lights are off. You only have to scan your fingerprint to open the safe and retrieve your firearms.
On the other hand, you can also opt for passcode protected safes. You can program a code, though it will take more effort and time to access during emergencies.
Whatever your choice is, make sure that there are override keys or a backup battery in case the system's battery got drained.
✔️Warranty 
Lastly, check the warranty of the rifle safe. While $500 isn't the most expensive option in the market, many manufacturers offer decent warranty terms to cover their products. This is a guarantee in case there are defects in the safe, especially with its locking mechanism.
---
Frequently Asked Questions
Q: Should I bolt down my safe?
A: Bolting your safe to the floor or wall makes it more secure. Attaching the safe to a fixed surface will make it impossible for criminals to steal it from your home. Since it's attached to the ground, criminals can't pry the door open easily. It's also added safety, especially if your chosen safe is a tipping hazard.
Q: Do thieves steal safes?
A: Thieves steal anything of value, especially safes. Burglars know that there's something very important stored inside, so they will likely target your safe. This is why you should consider securing it on the ground or wall.
Q: Where can I hide my safe?
A: One of the most common spots to hide a safe is in your closet. A bookshelf also works as long as it can fit your choice of safe. If you have a bigger safe, hiding it under the stairs is a good idea. You can also cover your safe with big furniture to hide it from plain sight.
Q: Where should I keep my gun at night?
A: Some gun owners keep their guns close to their beds at night. However, this can become disastrous, especially if the gun is loaded and placed on a vulnerable spot. Instead, I suggest getting a gun safe and place it close to your bed. This way, you can still access your firearms without compromising your safety. This is very important if your young child or someone else has access to your bedroom.
Q: Will my guns rust when I place the safe in the garage?
A: If your garage is unheated, your guns are more likely to develop rust. The moisture will linger inside, especially when there are sudden temperature fluctuations. Also, don't place your gun safe against the wall if you have an unheated basement. This will let the cold temperature and moisture seep through the steel material even more.
---
Final words
With the best rifle safe under 500, you can secure your guns away from unauthorized use. This is a very important part of responsible ownership, whether you own long firearms or handguns. Just make sure that you get a safe with the right capacity, feature, and durability that suits your needs.
What do you think of these gun safes? Let us know below!