As much as many of us dread the end of fall, someone has to chop the woods for winter. It's a tedious task, but it would be less of a chore with the best axe for splitting firewood.
SPLITTING AXE
BRAND
EXPERT RATING
CHECK PRICE

Our Top Pick!


Gransfors Bruk
Splitting Axe Collar

Check Price

1844 Helko Werk
Wood Splitting Axe

Check Price

Fiskars X46
Splitting Axe

Check Price

GEDORE Ochsenkopf
OX 648 Splitting Axe

Check Price

Husqvarna S1600
Composite Splitting Axe

Check Price
The right tool will make a big difference in your wood splitting experience. You'll be less reluctant to split wood for your fireplace if you have a sharp and efficient axe on your hands.
Below, I reviewed five of the best picks in the market. These are designed to cut through wood like butter. See which one suits your preference.
---
Best Axe For Splitting Firewood – Top 5 Picks
OUR #1 CHOICE
OUR TOP PICK: Gransfors Bruk Splitting Axe Collar

Product Name: Gransfors Bruk Splitting Axe Collar
Product Description: When it comes to the best axe for splitting wood, I always swear by Gransfors Bruk. Their guard model 422 is made to split all types of wood. It's forged and ground to produce a thin and concave blade. The Gransfors Bruk sports a durable Swedish steel 3" blade head. It's hand-forged for guaranteed quality and razor-sharp edge. Meanwhile, the blade is connected to a hickory handle that's ergonomically contoured for a comfortable grip. This axe has a 70 cm handle and weighs 5.25 lbs. It has the right weight distribution to make each swing powerful and efficient in splitting wood.
Offer price: $$$
Availability: InStock
Blade Quality

Handle Quality

Durability

Ergonomics

Value for Money
Summary
Moreover, the thin edge of the axe slices through the wood while the broader section pushes the wood pieces apart. The handle also has a protective steel cover under the axe head to shield it from damages.
Aside from that, you will receive a vegetable-tanned leather sheath to protect the blade. This is also bundled with a booklet, which includes more information about the axe.
Overall, this is a splitting machine. It bounces off wet wood and knots pretty well. It also works as an all-arounder, but you shouldn't use it as a wedge or for striking a wedge.
Pros
Made of Swedish steel
Hand-forged blade
Protective collar on the handle
Cons
The handle is a bit short, but it gets the job done
---
RUNNERS-UP
1844 Helko Werk Germany Saxon Wood Splitting Axe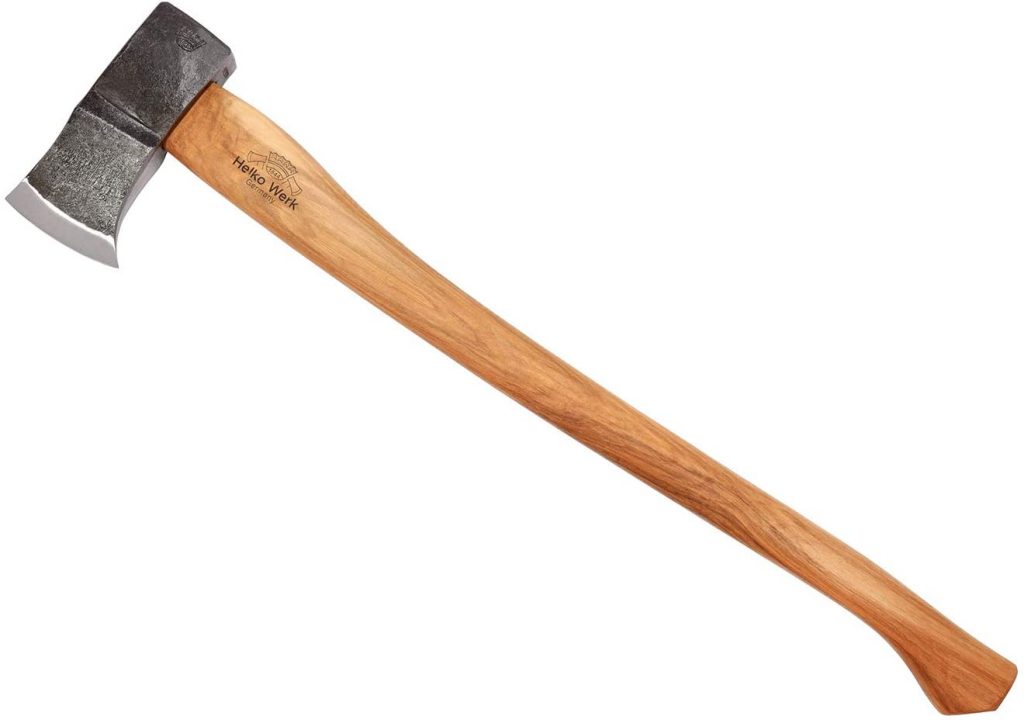 Another splitting axe that really does the job is the 1844 Helko Werk Germany Saxon. This splitting axe is handmade in Germany to ensure the right feel, balance, and control. If you have to deal with large and difficult logs, make sure that you have this axe on your toolkit.
This workhorse is made of C50 high-carbon steel with 53 to 56 HRC hardness. It's designed specifically to chop and split wood without the blade getting stuck.
Aside from that, this has an American hickory handle finished with linseed oil. It's also 150-grit sanded for a comfy yet tacky grip.
This 1844 Helko Werk axe also comes with a full-grain leather sheath as well as a 1 oz. of axe protective oil. It's an excellent package for such a durable and premium axe.
Overall, this axe weighs 8.5 lbs. (6.2 lbs. on the head) and has a 31" length. It's a topnotch tool to split knotted wood, so every cent is worth the splurge.
The only thing I noticed is the heavier weight. This makes the axe more like a maul, but in the hands of an experienced wood splitter, the added weight is actually advantageous.
---
Fiskars X46 Splitting Axe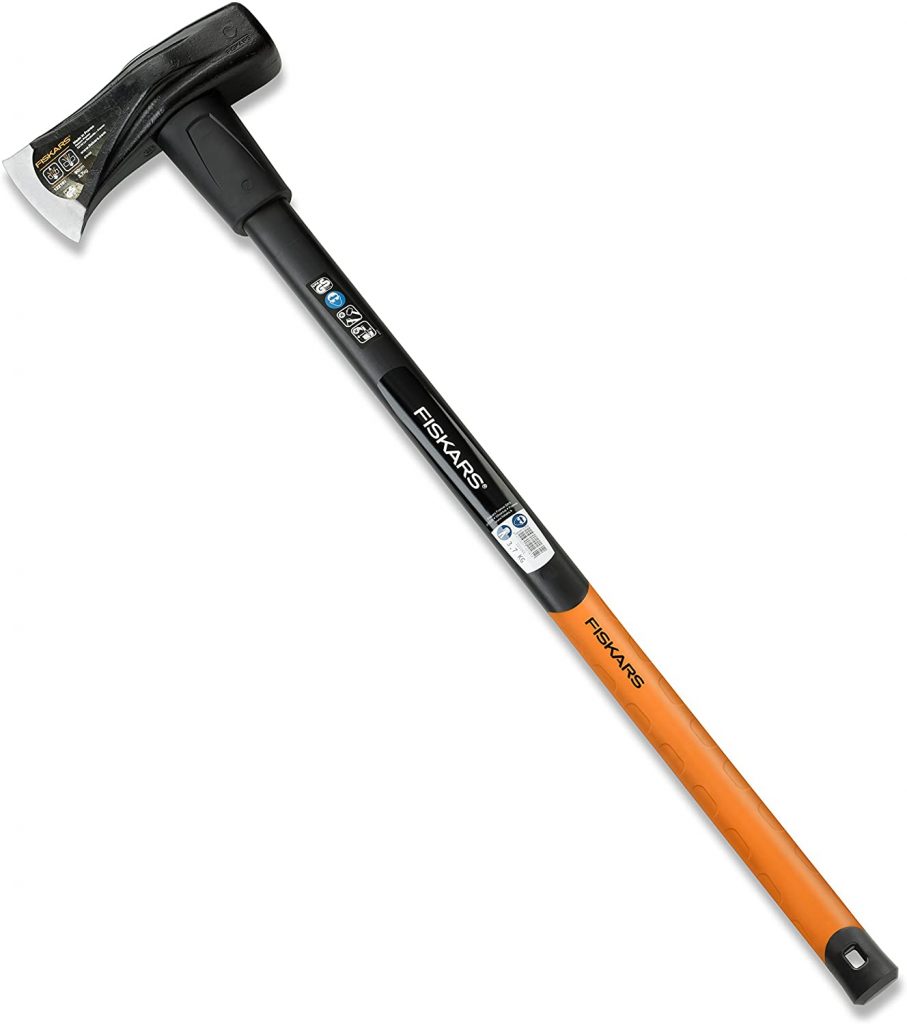 If you keep on wrecking wood handles, I think the Fiskars X46 Splitting Axe would be the best bet. This one is made to split and cut logs over 30 cm in diameter. Whether it's side branches, fireplace wood, or wood stoves, this would be a topnotch splitting axe.
Aside from that, the Fiskars X46 works as a 2-in-1 tool. It's a splitting axe that you can also use as a hammer. The axe head has a splitting blade on one side and a hammer on the other. It's a very versatile tool for outdoor and survival purposes.
Moreover, the blade of this axe has round corners to prevent splinters. It also has a lower blade corner that you can use to lift wood.
As for the handle, this axe is fitted with a fiberglass-reinforced plastic handle. The handle material has three layers: an outer elastomere, a middle polypropylene layer, and a fiberglass inner. It's very durable and will give wooden handles a run for its money.
Also, the handle has an anti-slip and anti-vibration coating. This protects your hands from the impact of splitting knotted and difficult logs.
Overall, this axe is 90.5 cm long and weighs 10 lbs. It's on the heavier side, but you can utilize the weight to split the toughest wood piles you have in your backyard.
---
GEDORE Ochsenkopf OX 648 Splitting Axe

The GEDORE Ochsenkopf OX 648 is made for optimum wood splitting results. Since it has a wedge-shaped blade, it requires less force to swing and cut through wood.
Also, this axe has a ROTBAND-PLUS that joins the handle and the blade. The handle is made of premium hickory wood with a rounded profile for added comfort. You can also purchase a spare handle complete with the ROTBAND-PLUS connection.
Moreover, this has a 6-lb. blade head that measures 5". Meanwhile, the handle is 800 mm for a total axe weight of 8 lbs. If you find this heavy, you can opt for the lighter version with a 2.7-lb. blade head.
Overall, this axe is very solid, and there's a handle sleeve to protect the user's hands. I also like the weight distribution, especially if you have a weak swing and grip. The price-performance ratio is impressive, though the protective cuff below the blade can be made tougher.
This is a high-class tool with a quality that's worth every cent. It's also much cheaper than the other splitting axes I've had, which is quite impressive.
---
Husqvarna S1600 Composite Splitting Axe

If you're on a budget, I highly recommend that you try the Husqvarna S1600. This is a composite splitting axe made for large chunks of wood.
It's made with a fiber-reinforced PA handle to make it durable against the toughest splitting tasks. It also has a hammer function that allows you to split wedges. I also like that the swing power is concentrated on the axe head, thanks to its light shaft.
Moreover, this is made of 2.65 lbs. of a steel axe head with a special coating to boost its cutting efficiency. The steel is drop-forged for topnotch durability. Meanwhile, it has a cushioned grip and thick pommel to prevent your hands from slipping.
Husqvarna is actually more popular for their chainsaws. But with this axe, I'm pretty sure the brand will have another product to be known for.
I also like the performance of the axe despite its cheaper price tag. The axe is easy to sharpen despite the head looking unpolished.
For this price range, the slight imperfections are very much acceptable. I can correct a few burrs, so this is well worth the price.
---
How to choose the best axe for splitting wood
If you're looking for the best axe for splitting wood, you must check these aspects:
✔️Axe type
Axes come in different types. The following are the widely available options in the market:
Felling axe. A felling axe is used to cut trees and chop enormous logs. It has a flared blade with a thin tip. It can be difficult to use for wood splitting because felling axes are made to be swung sideways.
Splitting axe. If you're looking for an axe to chop firewood, a splitting axe is what you need. This has a long handle with a chunky axe head. It's similar to felling axes, but the design is made for downward swings.
Tactical axe. A tactical axe is used as a multi-tool. It's not made for splitting wood, but it can be an all-around axe for minor chopping, prying, and hammering tasks. This is also an excellent weapon.
Hatchet. Like tactical axes, a hatchet is an all-around tool that is smaller than standard axes. It has a weighted head and flared blade for easier and quicker swings.
Tomahawk. A tomahawk has a straight handle that can be used for light chopping and splitting tasks. Initially, this axe was made as a weapon.
Throwing axe. This axe is made for foot soldiers as a weapon. It's small and not suitable for splitting wood.
Grub axe. A grub axe or mattock has a pointed tip on one side and an axe on another. This is used for prying and digging, but not for splitting wood.
There are many other axe types in the market, but splitting axes or splitting mauls are the ones you need for chopping firewood.
✔️Blade material
The blade material of your axe should be made of high-carbon steel that can put up against a lot of force. It should be forged and ground for added durability.
Since chopping wood requires a lot of force, a cheap blade will chip and shatter. It's important to invest in an axe that will last long.
Carbon steel and stainless steel are the most commonly used material for axe blades. Still, each material varies in hardness, which will define how easy it is to sharpen and how long it retains its edge. While harder axe blades are difficult to maintain, it's more likely to last longer than softer ones.
✔️Handle material
Another thing you should check is the material of the axe handle. The following are the most common options.
For the most part, you can choose between wood and composite materials. A wood handle is a traditional option since it gives the axe an aesthetic look. Also, it can be carved to suit a specific grip. Wood handles are also very easy to change if need be.
On the other hand, you can also find composite handles. These are made of synthetic material like fiberglass, plastic, and PE. It's used to make the axe shaft lighter, so the weight is focused on the blade. Also, synthetic handles are cheaper, though they can be challenging to replace.
✔️Single vs. double bit
The bit of an axe refers to its sharp edge that splits the wood. Axes can have either a single or double bit. A single bit axe is only sharpened on one side, while a double bit has both sides of the edge sharpened.
If you want a more balanced axe, a double bit is a good option. Nevertheless, a single bit axe works well, too, and very common to see in the market. The good thing about single bit axes is their heavier head that chops wood easier.
✔️Price and warranty
Lastly, check the price and warranty of the axe. While it's easy to opt for the cheapest find, these dirt-cheap axes will not last long. It's suitable only for mild to moderate use. But if you're dealing with large, knotted logs, you're better off investing in refined axes.
For expensive axes, you should look for decent warranty terms to protect your purchase. A return or replacement guarantee is always a topnotch guarantee to have at your disposal.
---
Final words
The best axe for splitting firewood will make the job easier and faster. You can now say goodbye to dull and inefficient blades that do nothing but make your back and hand hurt. Above, I reviewed five of the best splitting axes that you can get, so you'll not loathe chopping wood as much as you do before.
What do you think of the splitting axes above? Share your experience below!