During an emergency, a hand crank radio can be vital for keeping you informed of what is going on, especially in situations of changing weather, and when the electricity is likely to sputter out.
The best hand crank emergency radios can power on manually, not needing electricity or batteries.
Depending on the quality of the radio and its internal dynamo, the amount of power you get from the hand crank is going to vary from each radio model. You will want an emergency hand-crank radio that can hold a charge well so you are not constantly winding it up.
The radio must also perform its essential functions, which is to receive weather alerts, and in most cases pick up other terrestrial broadcast signals.
Unlike regular radios, hand crank emergency radios can receive broadcasts from VHF or very high frequency public service band stations. Owners of emergency hand crank radios may tune in to specialized weather frequencies or calibrate the unit to alert them when a weather or disaster warning is broadcasted.
For more regular programming, you can listen to basic AM/FM stations just like a regular radio.
Many hand crank emergency radios have extra emergency features like a built-in torch, a USB port to charge your smartphone, a clock, or an emergency alarm. Some may even have solar panels or another secondary method of self-charging.
| Product Image | Product Name | Expert Rating | Check On Amazon |
| --- | --- | --- | --- |
| | Kaito Emergency Radio Voyager Max KA900 | | Check Price |
| | Eton Sidekick Ultimate Camping AM/FM/NOAA Radio | | Check Price |
| | Kaito KA500 5-way Powered Weather Alert Radio | | Check Price |
| | American Red Cross Emergency NOAA Weather Radio FRX3 | | Check Price |
Hand Crank Emergency Radio to the Rescue!
If you have experienced the failure of electricity in a storm or lost a cell phone signal while camping, you likely know the frustration (and desperation) of not getting updates right when you need them.
Emergency radios are designed to cope with situations such as this. By receiving emergency broadcasts and bringing you up to date on severe weather, they allow you to never be without critical information.
Whether you are planning a camping trip or putting together an emergency kit, consider including a hand crank emergency radio. This guide outlines these radio's features and what to look for when you're searching for the best hand crank emergency radios.
Hand Crank Emergency Radio Features
This is a list of various logos, acronyms, call letters, and labels you will likely see when choosing an emergency radio. Some of these are very important and will help you choose the best emergency radio for your specific needs.
NOAA and Public Alert
NOAA or the National Oceanic and Atmospheric Administration broadcast on seven special frequencies in Canada and the US. Look for their logo to make sure your unit will pick up most of the alerts.
Radios that bear the NOAA Weather Radio All Hazards logo are certified to get alerts from the Department of Homeland Security (DHS), the National Weather Service (NWS) as well as from authorized regional Emergency Operation Centers.
NOAA has 1000 transmitters that reach all 50 states, the U.S. Virgin Islands, adjacent coastal waters, Puerto Rico, and the U.S. Pacific Territories. NOAA broadcasts need a special radio receiver or scanner capable of picking up their transmission. NOAA broadcasts are in the VHF public service band at seven frequencies from 162.400 MHz to 162.550 MHz. This is an actual NOAA alert.
The "Public Alert" label on an emergency radio means that the radio's development was in cooperation with the Consumer Electronics Association in conjunction with the National Weather Service.
Governmental agencies in general do not do give endorsements for specific brands or manufacturers, but they do advise buyers to purchase a radio that has both the NOAA All Hazards logo and the Public Alert label.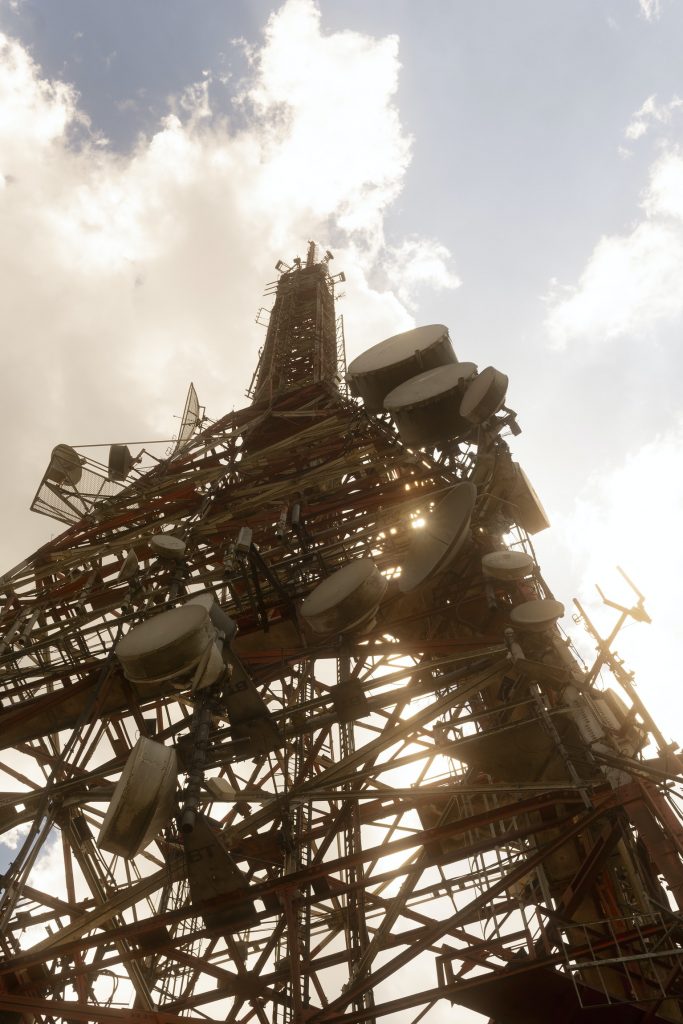 IPAWS
IPAWS stands for the Integrated Public Alert and Warning System. The IPAWS system is under FEMA or Federal Emergency Management Agency, management. IPAWS broadcasts three major kinds of alerts namely imminent threats, presidential pronouncements, and AMBER (missing person) alerts.
NWR
NWR stands for National Weather Radio. This indicates that the emergency radio can receive regional stations that report weather-related news 24/7. If you're living or travelling in areas that are prone to weather related disasters, this frequency is a must.
EAS
EAS stands for Emergency Alert System. A radio with this symbol means it picks up broadcasts concerning national emergencies and regional warnings, including AMBER alerts.
SAME
SAME stands for Specific Area Message Encoding. This feature enables radio listeners to block alerts meant for other parts of the country. If the SAME feature is on, radio owners will only get alerts about their county or nearby counties.
This is a nice feature to have so that you're not bothered by alerts for other areas, but it's not a critical feature for surviving a disaster or emergency situation.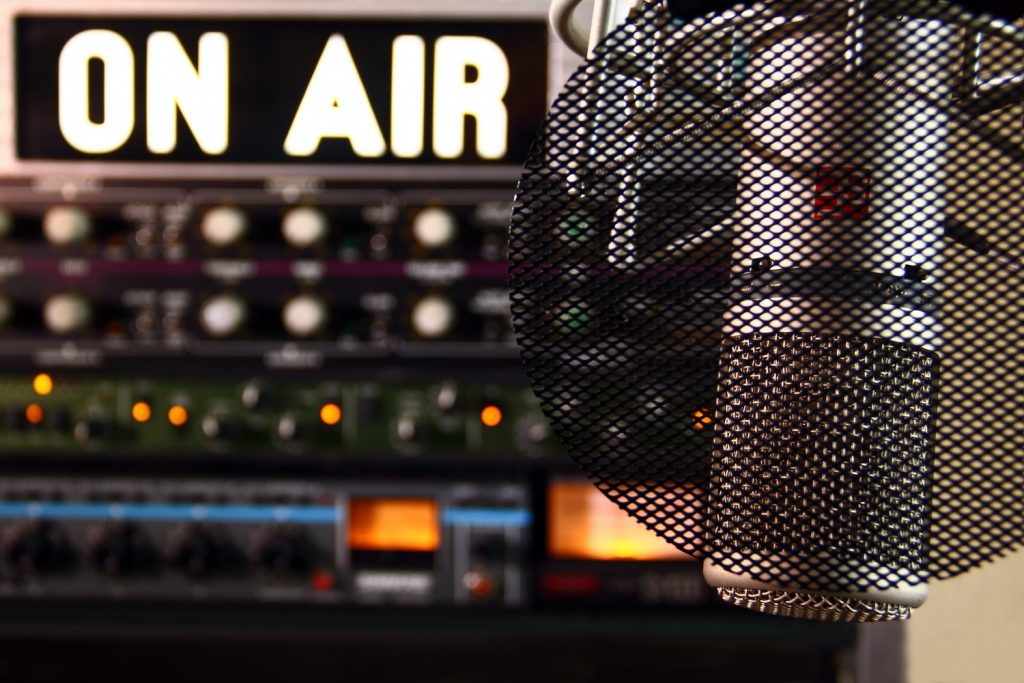 Power Sources
The main feature of an emergency radio is its ability to run on alternative power sources. After all, what good is an emergency radio if you cannot use it? Most emergency radios are multi-powered, having two or more sources for staying on.
While this post will take a close look at hand-crank emergency radios, here are the other ways to power up an emergency radio. Sometimes, hand crank radios also have these as alternative power sources for more flexibility.
Car Charger
Some radios comes with a power option that allows you to plug into your vehicle so you can charge the device while on the road via the lighter port. This is handy if you keep the radio in your car at all times or you travel by car a lot.
AC Power
Being able to plug the radio into a regular AC outlet allows you to run the radio when you have electricity, thus saving battery consumption. This is nice to have if you're planning to use your emergency radio for everyday use.
Battery
The vast majority of emergency radio run on batteries, however, if your radio is exclusively battery-powered, be sure to keep extra batteries ready. During emergency moments, exclusively battery powered radios would not be able to survive for long due to battery shortages.
Solar Power
These emergency radios have solar panels that get power from the sun. This is a great option if you're living in sunshine states such as Florida or Texas, but not a great option if your living in a cloudy state or further up north such as in Canada.
Hand Crank
Since batteries eventually run out and solar power may not be available during storms or at night, a hand crank is a great backup power option. The hand crank radio may seem like old school, but that is a misconception.
These devices are more applicable and more dependable than ever. They are multi-purpose and are one of the most reliable items in your emergency supplies arsenal.
Hand crank radios are classified as emergency kit essentials by emergency authorities. The updated emergency crank radios can receive NOAA weather alerts, have sustainable power, and emergency light. In a time of too much reliance on cell phones and the internet, these emergency radios can be a lifeline for information if modern information sources become unavailable.
These radios are essential whether you are off the grid camping or in an emergency. Hand crank radios will work when everything else has failed or run out. Hand crank radios are also more reliable than cell phones and the web. Cell sites and networks are prone to service interruptions due to foul weather, mechanical failure, solar flares, or sabotage.
When extreme weather results in a power failure, hand-crank radios are excellent for staying powered up and informed. A hand-cranked electrical generator is the source of power in a hand-crank radio, along with a rechargeable battery to store the generated energy.
Other Features
The hand crank emergency radios offered today have multiple features and options. A word to the wise: use these options minimally as they draw power and may compromise their main purpose, which is to receive vital broadcasts. Here is a list of some common extras on a unit.
Cell phone charger
Sometimes, emergency radios have cell phone chargers. These act as another back-up power source for your smartphone in case you need to call your loved ones or to send emergency messages to the authorities.
Speaker options
Some emergency radios have external speakers that allow you to share the broadcast information. However, use headphones or earbuds whenever possible to save batteries or when you need to be quiet.
Digital clock
A lot of emergency radios come with an attached digital clock. A convenient feature that can help you keep track of time during an emergency situation. Some radios even come with alarm clocks.
Flashlight
Emergency radios sometimes have a flashlight feature. This is good as a back up for your torch. However, don't use this feature if you're saving up on battery power because it will rapidly drain the power from your radio.
Blinking light or strobe
The flashlight feature above can also come with handy blink patterns that can help emergency responders identify your location. Handy in case you need to make distress signals or call someone's attention.
Listener language options
This is a capability to listen to emergency broadcasts in languages besides English. This might be important if you live in an area where emergency broadcasts are not always broadcasted in English.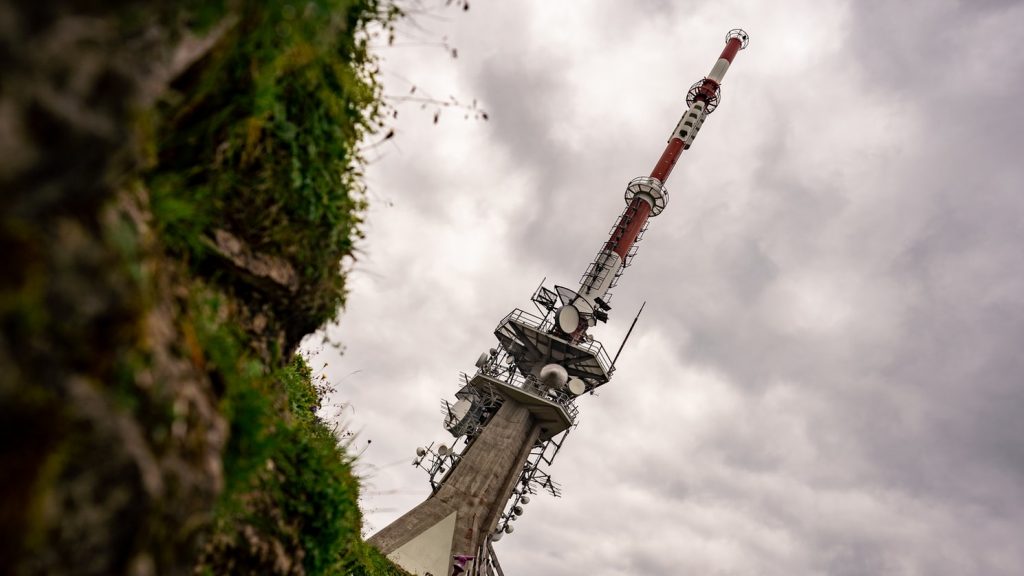 Shortwave reception
Some radios can pick up shortwave (SW) broadcasts. Shortwave stations are not emergency information and alerts sources, but listeners can tune in to broadcasts from all over the world.
Impact-resistant case
Most outdoor oriented radios such as hunting radios and emergency radios are now equipped with impact resistant casing that is reinforced with extra plastic, rubber, or other padding that can absorb shock.
This gives you just a little bit more ruggedness in outdoor environments. A great feature to have during an emergency situation where the radio can be smashed around during the frenzy.
Water-resistant case
Provides added protection from the rain or an accidental water spill. A great feature to have when you are camping or outdoors. This is especially important if you live in areas where it frequently rains or for when you're prepping for weather related disasters.
Our Top Pick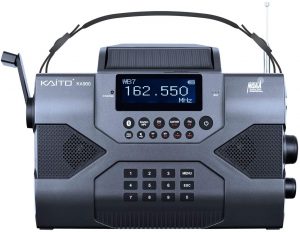 Product Name: Kaito Emergency Radio Voyager Max KA900 Digital Solar Dynamo Crank Wind Up
Product Description: The KA900 Voyager Max is a digital portable receiver meant for both everyday and emergency purposes. As an emergency tool, it has various modes to power up. Among those methods is an AC/DC adapter option (NOT included), and a built-in rechargeable 2,000 mAh lithium battery that is chargeable with the optional AC adapter. Other modes are hand cranking or a USB power source. There also is a patented flip-up 180-degree solar panel that gives power to the radio. With its unique design and versatile features, the KA900 is not only an ideal choice as a regular radio but also an invaluable gadget for traveling, camping, backpacking, and emergency preparedness purposes. It has a wide range of band compatibility including AM, FM, shortwave, and NOAA weather stations. One can conveniently tune into the 7-weather channels pre-programmed and numbered from 1-7 by turning the tuning knob. Furthermore, when the radio is set at the "Alert" mode, it will automatically activate when senses the alert signals emanating from NOAA. The KA900 has superb sound quality owing to dual 1.5-inch speakers. It has Bluetooth technology that allows wireless streaming of content from a Bluetooth compatible device like an mp3 player. You could also connect an audio device directly to the 3.5mm input jack or insert a micro-SD memory card as a source with up to 32 GB of content.
Build Quality

Materials

Value For Money
Summary
One of the best hand cranked emergency radios now in the market. It is feature-packed, offers awesome functionality, and is very durable. Suitable if you are living or are travelling to areas with rugged terrain and poor weather.  
Pros
Feature loaded
Versatile power sources
Superior audio quality
Eton Sidekick Ultimate Camping AM/FM/NOAA Radio with S.A.M.E Technology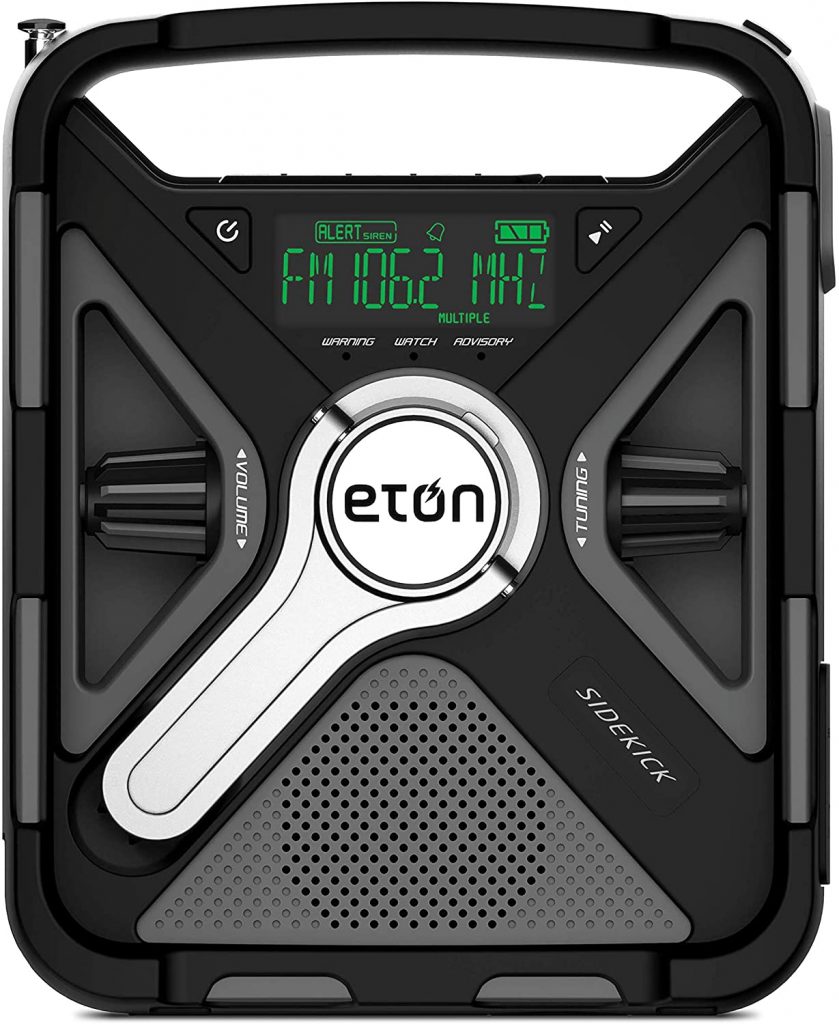 The Eton Sidekick is a weather alert radio that is tough, rechargeable, reliable, and even solar-powered. It is splashproof, has a smartphone and tablet charging ports, Bluetooth streaming, and equipped with S.A.M.E. Technology.
Thanks to a rechargeable lithium battery, solar panel, and hand-crank power generator, this radio is an indispensable companion at home or outdoors. 
Flick the "alert" function on and the radio automatically receives NOAA emergency weather alerts for your area.
The Sidekick also has S.A.M.E. Technology for added geo-targeted alert power. Simply input your S.A.M.E. County Code and when there is an advisory it will be visible with red, orange, or green lights as it broadcasts the report. Input as many as 25 locations so you will be safe and informed. 
There is also an AM/FM digital radio with a display and alarm clock. If you desire more the sidekick is Bluetooth compatible and has an auxiliary-in to plug in an external content source.
A headphone jack is also provided, and the super-sized solar panel will charge the battery completely in 5-6 hours. You could also crank the hand turbine for four minutes and you will generate enough power for 10-15 minutes of news or music and weather.
Likewise, you can opt to use the Micro-USB cable to charge the unit's built-in rechargeable battery.
You also get a nice ambient light with the radio as an extra feature that might help during emergency uses. This feature rich radio is one of the best hand cranked emergency radios you can buy.
Kaito KA500 5-way Powered Solar Power, Dynamo Crank, Wind Up Emergency AM/FM/SW/NOAA Weather Alert Radio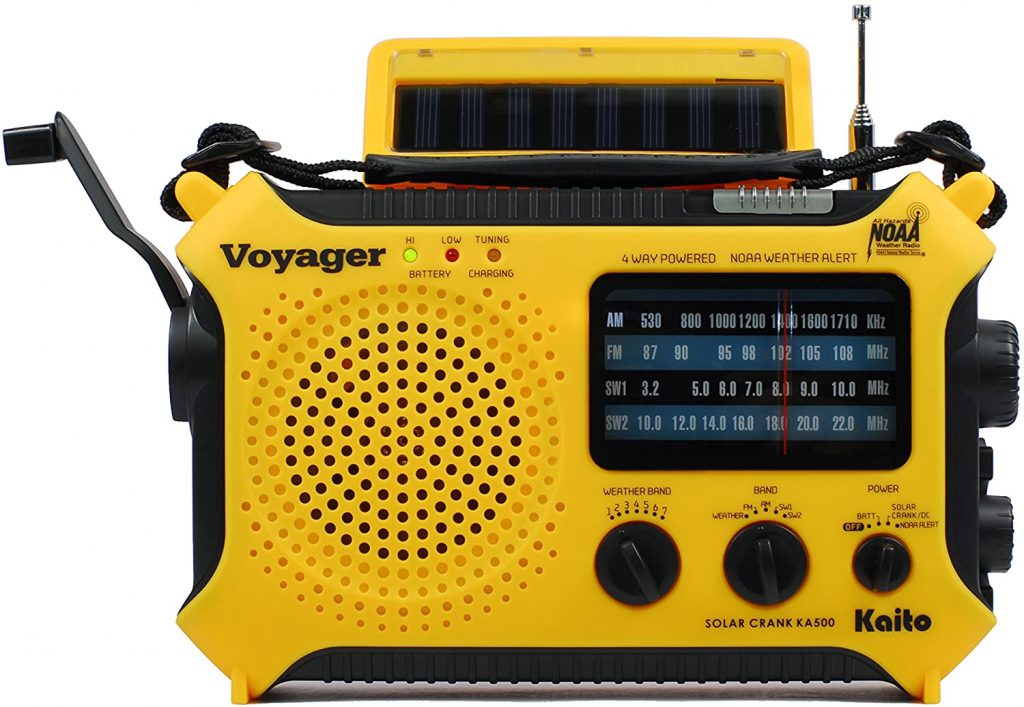 The Kaito KA500 Voyager is a portable receiver meant for both daily use and more specific applications in rugged terrain.
As an emergency tool, it has different modes to power up such as hand cranking or a USB power source, a patented flip-up 180-degree adjustable solar panel, AC/DC adapter (sold separately), and a built-in rechargeable battery that is charged using the optional AC adapter.  
Due to the the Kaito KA500's many power source and rugged construction, It is a great radio choice for any outdoor activity and excellent for emergency use.
The KA500 has a wide band reception range including shortwave, AM, FM, and NOAA weather stations. The 7-weather pre-programmed channels are numbered from 1-7, for easy access.
Set the unit to "Alert" mode, and it will automatically activate once it picks up alert broadcasts from NOAA. This rugged emergency radio is one of the best multipurpose hand cranked emergency radio that won't break the bank.
American Red Cross Emergency NOAA Weather Radio FRX3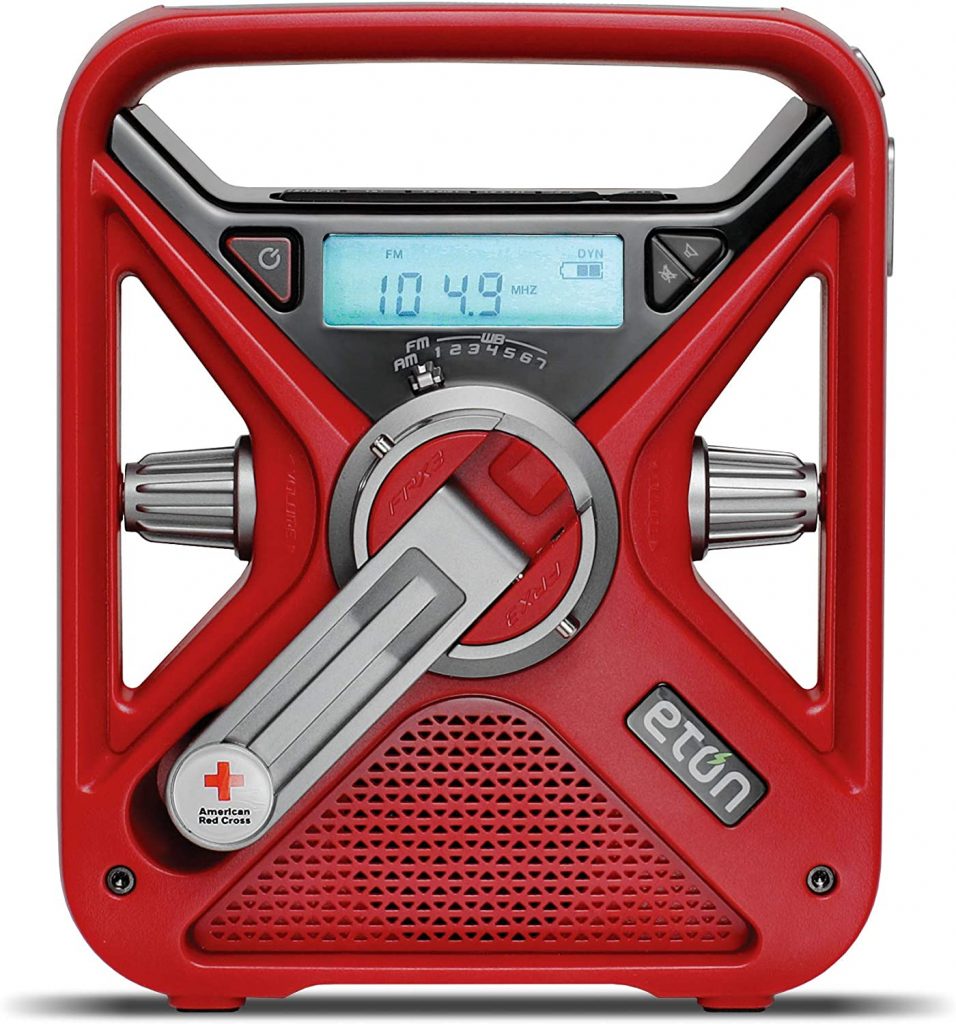 The Eton made American Red Cross emergency radio leads the way for emergency preparedness. You can be ready the Red Cross way with the FRX3, a multi-powered and multi-function weather alert radio. 
This unit gives vital access to news and information during emergency situations. Stay updated with this AM/FM/NOAA weather band digital radio. The FRX3+ also comes with an alarm clock, LED flashlight, and a phone charger.
Switch the 'Alert' function on and the radio automatically broadcasts emergency weather alerts intended for your areas like severe storms or twisters.
You will never be powerless as the device has multiple source modes. You can even charge your smartphone with it.
Be knowledgeable with the freshest updates and news from the FRX3 digital radio. Enjoy direct access to weather updates via the NOAA bands and the "Alert" feature.
This full-featured rechargeable weather alert radio also has a solar panel power alternative and a hand crank turbine power generator that ensures you can power-up all the time.
Frequently Asked Questions
Here are several frequently asked questions when someone wants to buy the best hand cranked emergency radios. Check below and see if your questions are already answered!
Q. Can a hand-crank radio be used every day?
Answer: Yes most certainly. Hand crank radios will be able to do what regular radios are capable of doing. They also offer many more functions such as alternative power sources and usually a more rugged exterior.
Q. Are hand-crank radios expensive?
Answer: Not particularly. The higher end of the model spectrum will cost around $100 while mid-priced models will hover in the $50 range. Great value considering their many functions and capabilities.
Q. Are hand-crank radios difficult to use?
Answer: Not at all. Simply acquaint yourself with the many features it has by going through the owner's manual carefully. It just like any multi-function device.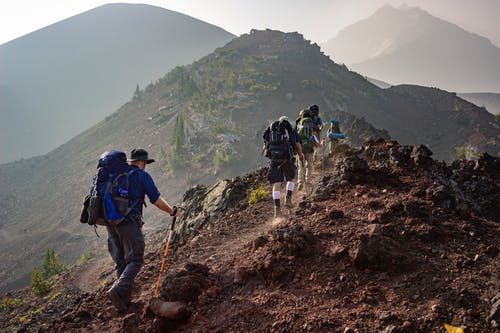 Hand Crank Emergency Radios – The Failsafe Alternative
A hand-crank emergency radio is a neat gadget that combines multiple power sources and functions in one compact unit. It is amusing to have one, but in an emergency, it could prove to be an invaluable item.
From keeping you informed via NOAA broadcasts, charging your phone, to providing light, this is truly a well thought out device. Its many redundant features help define its unique role in a crisis scenario.