A sleeping bag is essential for camping. It forms the basis for the sleep system you build for a comfortable night of slumber. A sleeping bag liner enhances your sleeping bag and it is a very worthy purchase, as these little additions to your outdoor kit are often overlooked. If you camp in icy temperatures, a sleeping bag liner for cold weather is surely going to be useful for you.
These sleeping bag liners add warmth to your sleeping bag as well as home-style comfort. They also make your sleeping choices more versatile, since during warm nights you could use the liner by itself. A liner works by acting as an inner layer to your sleeping bag. It is usually made of a thin cloth and is intended to be a barrier between you and the actual sleeping bag itself.
| Product Image | Product Name | Expert Rating | Check On Amazon |
| --- | --- | --- | --- |
| | Cocoon Silk Mummy Liner | | Check Price |
| | Big Agnes Sleeping Bag Liner | | Check Price |
| | Sea to Summit Thermolite Reactor Series Sleeping Bag Liner | | Check Price |
| | ALPS Mountaineering Mummy Sleeping Bag Liner | | Check Price |
| | RAB Silk Ascent Sleeping Bag Liner | | Check Price |
| | Sea to Summit Premium Silk Travel Liner | | Check Price |
Advantages and Features of a Sleeping Bag Liner for Cold Weather
Flexibility
A sleeping bag liner is not only beneficial for warmth in cold weather, as it is also terrific for warm weather. Rather than pack your hefty and bulky sleeping bag around that will be too hot and overkill, you might just need your liner. They are very light and the majority of them can pack down enough to fit inside a small backpack pocket.
If you happen to be camping in summer when nighttime temperatures are a bit too hot for your sleeping bag but a tad too cool for sleeping in the open air, a sleeping bag liner can give you that exact warmth and comfort needed to get in some nice slumber in the outdoors.
Conversely and depending on the thickness, a sleeping liner can provide added insulation and a lot of extra precious warmth inside your sleeping bag. For instance, a sleeping bag rated at 35 degrees, with the addition of a 10-degree liner, could then be rated at 25 degrees.
Washability of Sleeping Bag Liner For Cold Weather
Sleeping bags are cumbersome to wash. Taking them to the dry cleaners is also expensive and time-consuming. Besides, some cleaners might not know how to treat a sleeping bag and can damage it's loft and insulation qualities. In contrast, sleeping bag liners are easily washable at home and save you effort and money.
Still more on the cleanliness subject, by using a liner for sleeping, you will inevitably minimize the amount of dirt, grime, and other filth that you bring into your sleeping bag. Protecting a $600 bag with a $45 liner makes a lot of common and financial sense.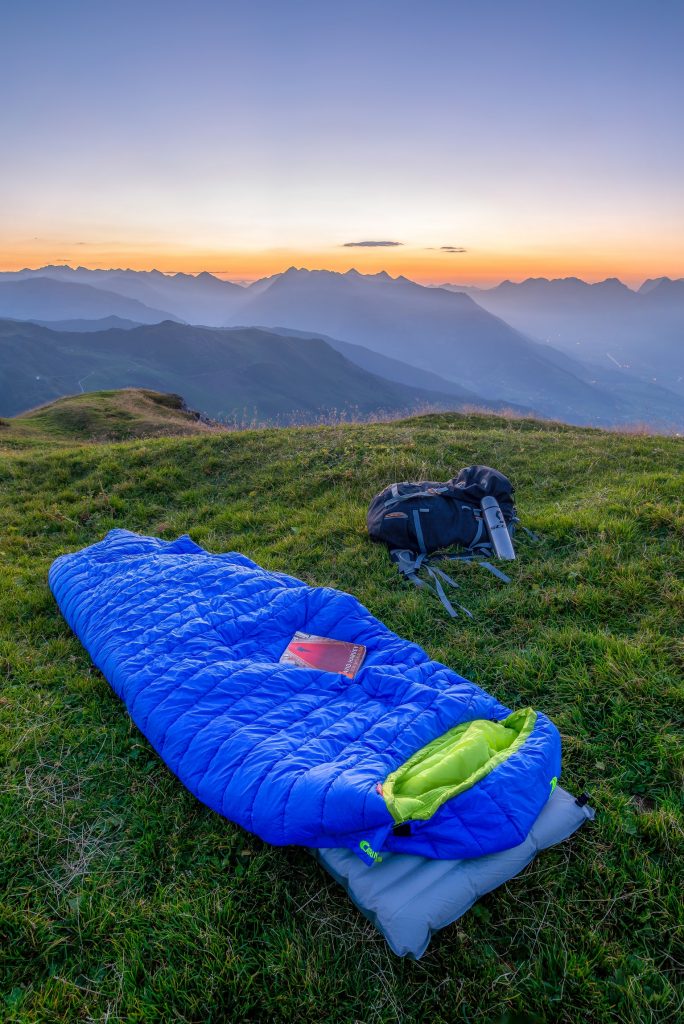 Hygiene
Let us be honest. Outdoors enthusiasts can sometimes be lax on hygiene habits. It is not really our fault since one's bathing choices are far from ideal when out in the wild. As a result, even if we are finicky about bodily cleanliness when in the outdoors, sleeping bags tend to attract and collect odor. Liners mitigate that issue by offering a washable "layer'. This extends the life of your sleeping bag by minimizing the washing, thus protecting the materials.
Added Comfort
The majority of backpacking fabric is synthetic. Most sleeping bag material is synthetic and many hikers yearn for the feel of bed sheets at the end of a long hike. A soft sleeping bag liner to snuggle up inside is the next best thing when you are camping.
Qualities To Consider In A Sleeping Bag Liner For Cold Weather
Weight
Apparently, a 30-degree thermal liner will be heavier than a 10-degree sheet. Think and weigh how much of a priority the thermal properties are to you before buying a heavy liner. Even the heftiest liners should not weigh more than a pound.
Shape
Should I get a tapered or rectangular liner? You can get liners that are rectangular in shape that are more spacious to sleep in. You could also opt for tapered around the head and feet, which will pack lighter and more compact. Some models are also made with an adjustable drawstring around the top to tighten it around your head.
Convenience
This has to do with the ease of maintenance. Silk fabric liners are usually easy in terms of quality and compact size. To keep them in good condition you will have to hand wash them. Polycotton and microfiber liners, on the other hand, can all be washed in the machine along with the rest of your gear.
Good Value
Having already spent a lot of money on your sleeping bag, you want to be sure to line it with a layer that will offer the best in terms of the performance to price ratio. If a liner is expensive, check that it is of premium quality and has the endorsement of satisfied customers in user reviews. Do the same if you find a very inexpensive liner. Try to investigate what it is missing that other liners have such as double stitching, antibacterial properties, a hood, and small compact size, for instance.
Materials
There are many kinds of liner materials like silk, cotton, fleece, merino wool, and polyester combinations that are the most used. Cotton is a favorite simply because of the way it feels on the skin. The downside is it is slightly heavier and useless when wet. Silk is very lightweight and ultra-comfortable, but less hard-wearing. Fleece is inexpensive and warm, but bulky and heavy. Merino wool is ideal providing lightweight, warmth, and comfort but carries a hefty price tag. Polyester blends range all over the market on materials.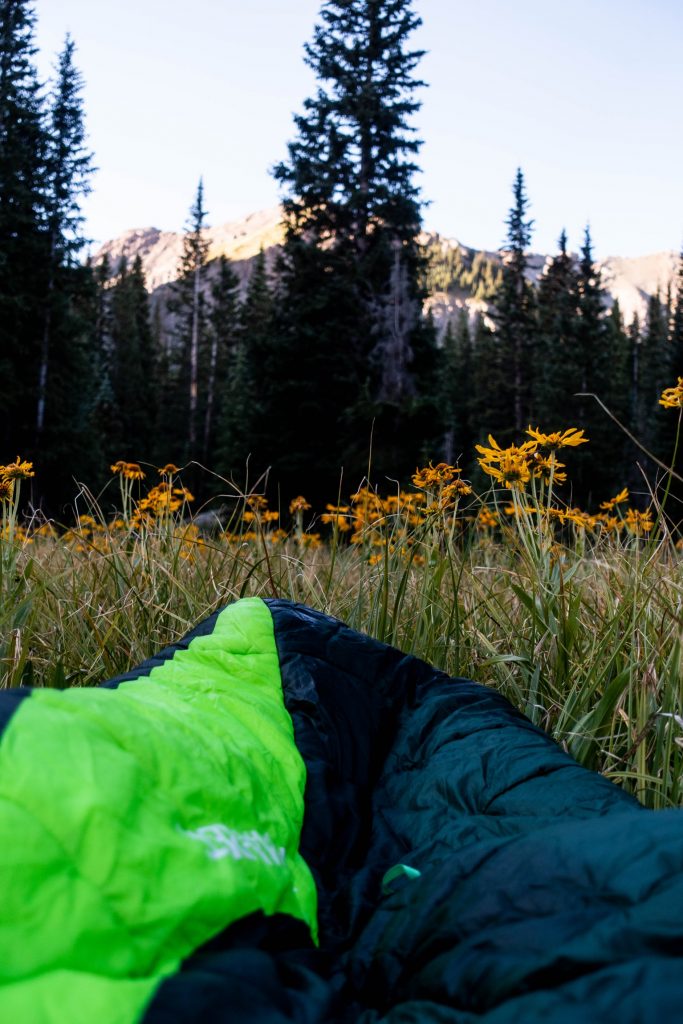 Heat Rating
The majority of companies will give some kind of temperature rating in the specifications. This number is the additional amount of warmth a liner can provide. The warmest backpacking liners are given a rating of up to 15-25 degrees.
Breathability
All sleeping bags can get quite hot, hence you want a liner to help wick any moisture away from your body. Not a dealbreaker, but look for sleeping bag liners with a "CoolMax" trademarked feature if you have a tendency to perspire.
Bug Protection
If you enjoy cowboy-style camping with no tent, a lot of critters and bugs active at night on and around you can be a nuisance. There are sleeping bag liners that come with insect-resistant coated fabrics to repel any unwanted nocturnal creatures.
Our Top Pick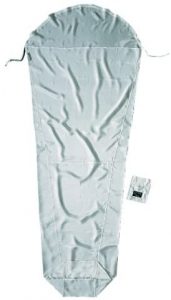 Product Name: Cocoon Silk Mummy Liner
Product Description: Coon Silk mummy liner is a cold weather sleeping bag liner made out of silk fabric. Our high quality silk is the optimum fabric for minimizing packing size and weight. Silk is soft against your skin and responds well to changing temperatures - it feels cool in the summer and is warm in the winter. Mummy Liners made of silk are easy to hand or machine wash and dry quickly. Woven with a grid-like structure of strong silk threads, Ripstop Silk is more durable and resistant to tearing than regular silk. This sleeping bag liner will keep you warm and cozy in all but the most freezing conditions.
Build Quality

Materials

Value For Money
Summary
The Cocoon Silk Mummy Liner is our top pick thanks to its sturdy qualities and lightweight. It is very popular among hikers and mountaineers. It uses premium-quality silk and comes in two models, namely regular and ripstop. The ripstop model is made of silk that is made stronger with interwoven threads at regular intervals for improved tear resistance. The material folds very compactly, is breathable, moisture-wicking, and fast-drying.
Cocoon says that this product brings up to 5°C of added heat to a sleeping bag. It is however important to point out that such ratings do not apply to all users as some folks get cold faster than the others, owing to metabolism. The Cocoon Silk Mummy also has a drawstring hood and packs super compact. It fits very into mummy sleeping bag shapes.
It uses premium quality silk, an optimum fabric for minimizing packing size and weight. Silk is soft against the skin and reacts well to a range of temperatures. It is cool in the summer but is warm in the winter. Mummy liners constructed of silk are easy to machine or hand wash and dry fast. Woven with a grid-like pattern of strong silk threads, ripstop silk is more sturdy and resists tearing better than regular silk
All in all, there is hardly anything to criticize about the Cocoon Silk Mummy Liner. If you're in need of a high quality sleeping bag liner for cold camping, this should be on your radar.
Pros
Lightweight
Sturdy for silk
Packs compact
Comfortable
Hood with drawstring
Cons
Recent minor quality control issues
Big Agnes Fleece Sleeping Bag Liner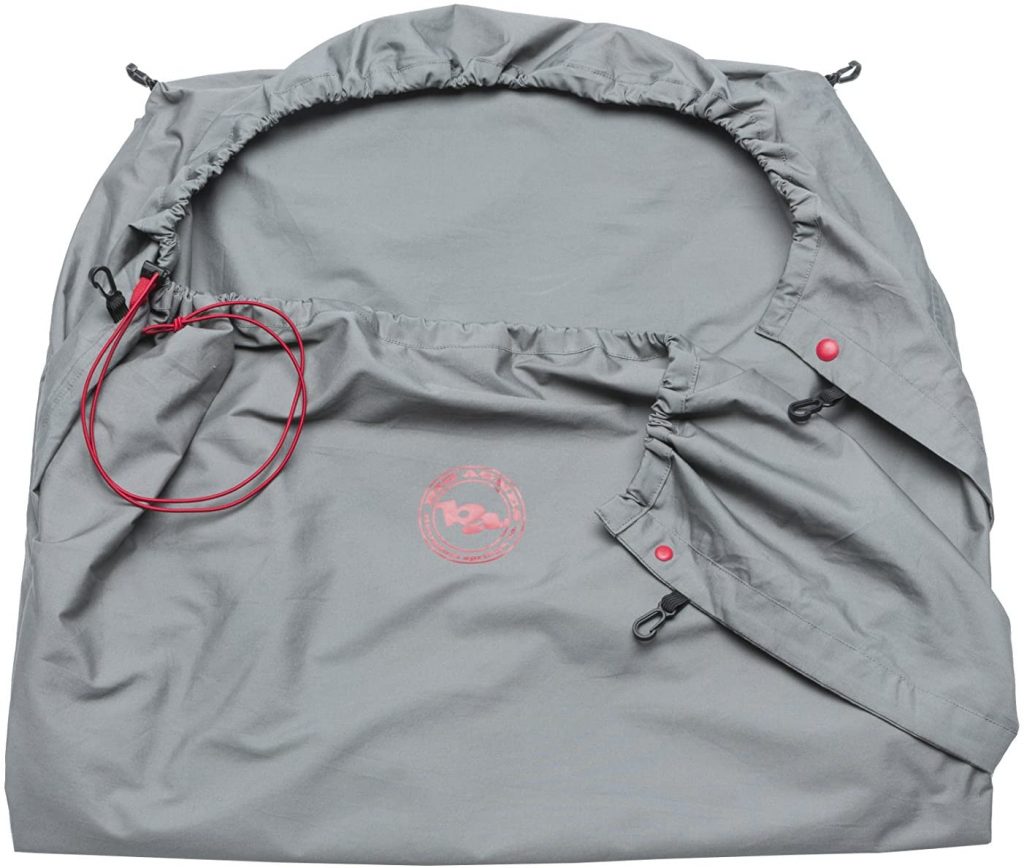 The Big Agnes Fleece Sleeping Bag Liner is meant for use on its own on warmer nights or to improve the temperature rating of your regular sleeping bag. This comfortable fleece liner is reversible, allowing it to go inside right or left zipper oriented sleeping bags.
Hooks placed at the head and foot of the liner are securable to the sleeping bag to keep the liner attached. The top opens to a wide 42" so you can get in and out with ease. There also is a simple drawstring hood that allows you to nestle in and keep cold drafts out.
The Big Agnes sleeping bag liner is constructed with Polartec recycled microfleece, a material that can add 5-10 degrees of heat to your sleeping bag's existing temperature capability.
If paired with a high quality sleeping bag, this well made sleeping bag liner will keep you warm and cozy anywhere you camp. However, be aware that Big Agnes fleece liner is quite bulky and heavy compared to lighter options made out of other synthetic materials. This is what you get for an ultra soft and comfy fleece liner.
If you're in the market for a high quality comfortable sleeping bag liner for cold camping and don't mind carrying a heavier pack, this is the sleeping bag liner for you.
Sea To Summit Reactor Thermolite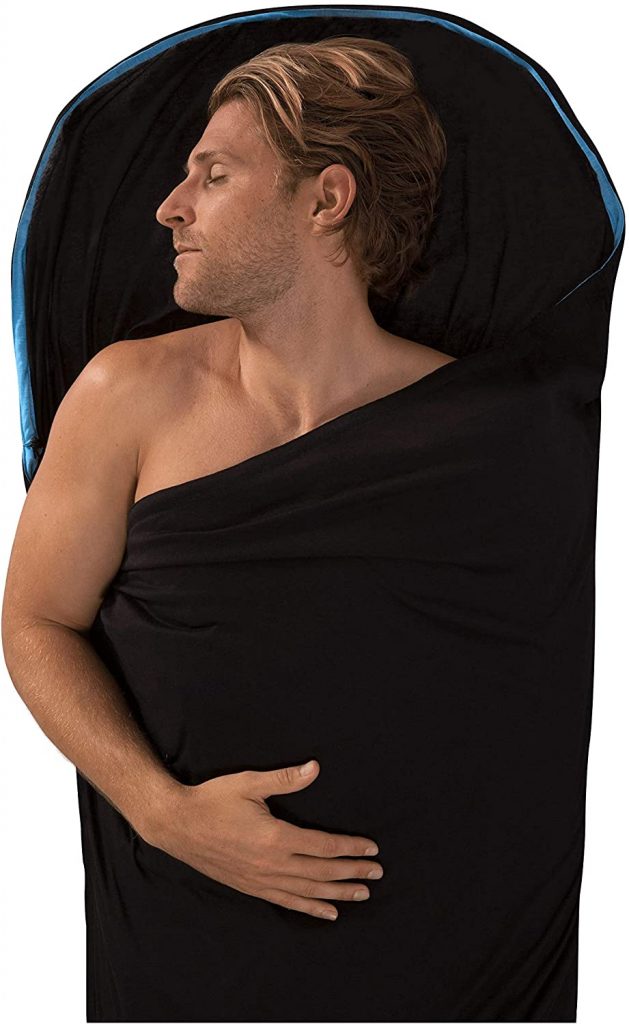 The S2S Reactor Thermolite is a high quality sleeping bag liner for cold conditions that's very compact and lightweight for it's insulation capabilities.
This sleeping bag liner is said to elevate your sleeping bag's temperature rating by up to 15 degrees Fahrenheit. A capability worth spending on and which makes it a real contender for the best-insulated sleeping bag liner in the market.
In addition to its stellar warmth-improving rating, the Reactor packs to a compact size. It is 3 x 5 inches, weighs a mere 9oz, and is 210cms long. Side by side against other high-end liners, the Reactor is able to keep up. It is also a good option for taller folks thanks to an extra 10cm from top to toe.
If you're an ultralight camper, this sleeping bag liner is miles better compared to others because of it's packability, weight, and compactness.
However, due to the ultrathin synthetic fabric that is used by the Reactor, it lacks a soft and cozy feeling that you'll get from fleece or silk liners. This might be a problem if you're a picky sleeper that can't sleep in anything other than cozy liners.
All in all, the sea to summit reactor Thermolite is a great lightweight sleeping bag liner that's perfect for ultralight campers. Due to it's compactness, you can also store this as your EDC gear in your vehicle's trunk.
ALPS Mountaineering MicroFiber Mummy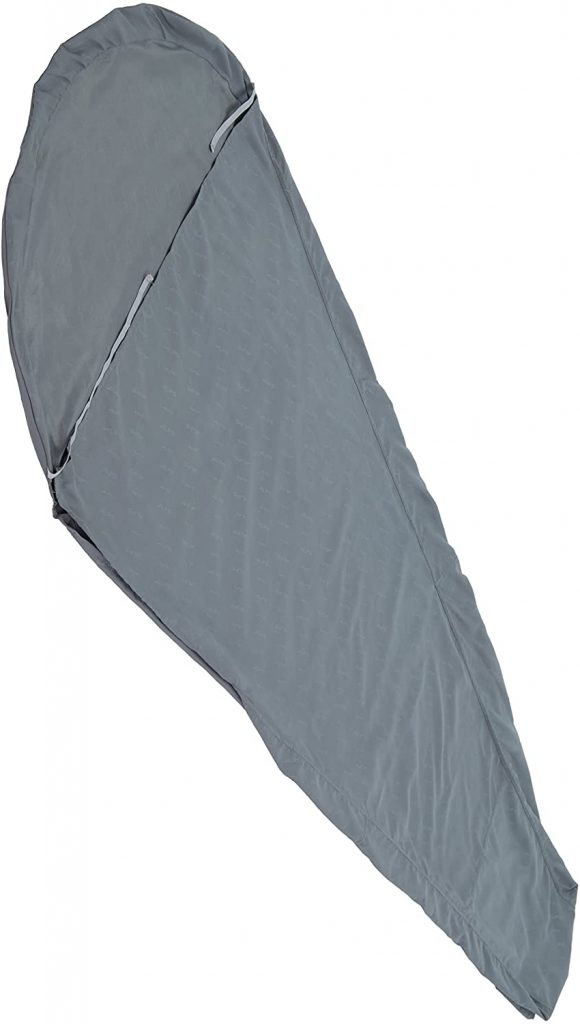 ALPS MicroFiber Mummy has an ultra-cozy, comfortable feel. As far as price goes it is the middle ground between high-end silk options and budget models.
This liner is made out of brushed polyester and microfiber that's quite soft. Because of that, it's very cozy and comfortable to sleep in, especially when it's cold outside. It also has a decent insulation that can give you around 5 – 10 degrees to your sleeping bag's temperature rating.
Size wise, it is a bit narrow in the foot area and slightly heavier than most models similarly constructed. It packs down to a very compact 3.5 x 6.5 inches and offers a slightly more generous layer than other ultra-thin liners. However, this sleeping bag liner is quite heavy. Because of that, ultralight campers should find other lighter sleeping bag liners for their cold weather camping needs.
All in all, this is a very good choice for those seeking a well-made mummy-style sleeping bag liner that offers great value for money.
Rab Silk Ascent Sleeping Bag Liner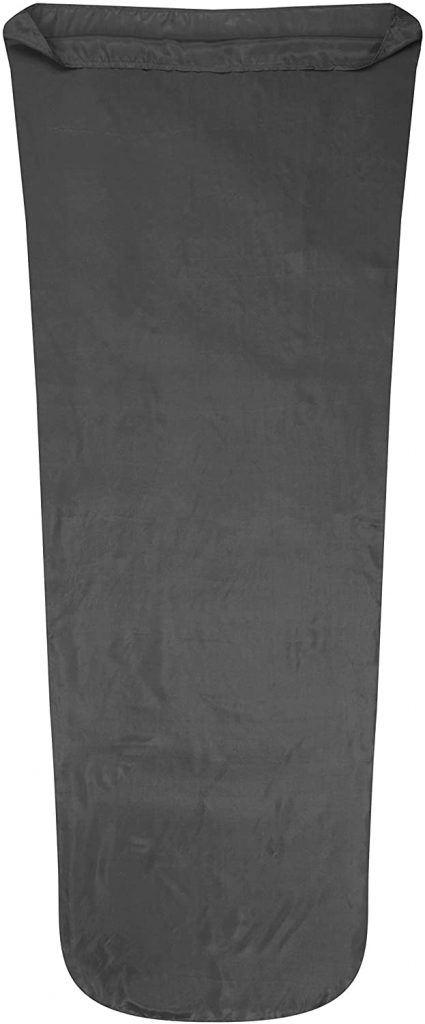 If you are a tall person or perhaps just desire a bit of extra length for comfort's sake, the Rab Silk Ascent Sleeping Bag Liner is a model you should take a look at. Spanning a length of 89 inches, this sleeping bag liner has a minimum of 5cm more length than any of its competitors out in the market.
It's also very soft and comfortable due to being made out of silk. For picky campers that likes to sleep luxuriously, this is a great option. The silk lining insulates you quite well, giving you plenty of warmth on a cold night out in the wilderness.
For ultralight campers, the RAB ascent is a great choice because of it's weight. You can carry this in your pack without worrying that it'll weigh you down.
While this is a pricier option than most, the pillow insert and extra length make it arguably one of the best sleeping bag liners for backpacking. The only downside to the RAB Ascent is the price unless you think the size, weight, and comfort justifies it.
Sea To Summit Premium Silk Travel Liner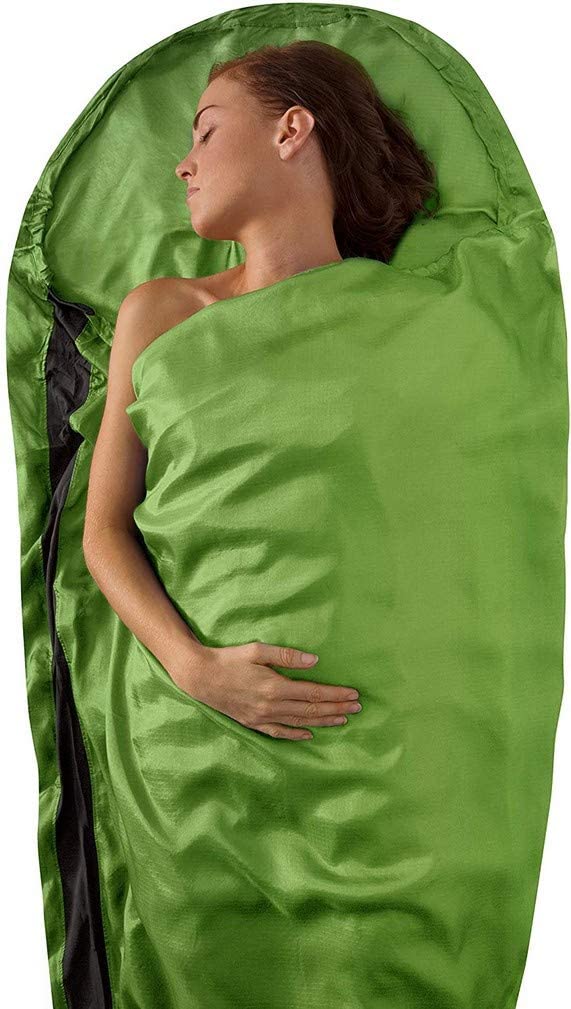 Although the lofty price tag of the S2S Premium Silk Travel Liner could make you frown initially, a closer look at the details might just convince you that it is that good.
This liner is of extremely good build quality. The soft silk material also makes it very comfortable to sleep in, very important after a hard day outdoors.
It has an integrated hood, a compact pack size, double-stitches, and stretchy side panels. It weighs in at a scanty 4.6oz. But possibly the best feature, however, is that it contradicts the two usual disadvantages of silk liners. In general, silk liners are notoriously easy to rip and need handwashing.
However, this liner is made of ripstop silk and is machine washable. This makes the silk liner more durable and easier to clean after being used. That fact along with the built-in hood makes this one of the best backpacking liners in the market.
The light weight and compactness also helps it court the attention of ultralight campers. If you're an ultralight camper, this will fit well in your sleeping system. Along with your sleeping bag, this will provide warmth and comfort during cold nights at the woods.
FAQs
Q. Are sleeping bag liners thick?
Answer: No, they are not. Sleeping bag liners are usually a sheet of cloth with a zipper and they resemble a sleeping bag.
Q. Do I need to have a sleeping bag liner?
Answer: No, you do not need one, but they are an excellent addition to any sleep system as they offer many advantages as outlined earlier in this post.
Q. Can I use a sleeping bag by itself?
Yes, you can. In warmer months or unexpectedly warm evenings, a sleeping bag liner will suffice for insulation.
Q. Are sleeping bag liners expensive?
No, they are not. A sleeping bag liner will set you back anywhere from $10 to $60, depending on the model.
In Conclusion
Sleeping bag liners are great for everything from standalone summer blankets to winter insulation layers. Whatever your needs are, a sleeping bag liner is a very inexpensive add-on to your sleep system that carries many benefits. It is definitely something that you should add to your gear, offering even more versatility to your current sleeping options.