Are you the one who does your family grocery? Do you know how to stock food for a month? If you are the one who does your grocery, then you must be aware of the things and food your family needs. For preppers and survivalists, its very important to learn how to stock lots of food, especially if you're a family.
Storing food at home is not only because you don't want to buy repeatedly but also for emergency purposes when it's impossible or unsafe to go outside. Whenever there is a natural phenomenon such as typhoons, tornadoes, and other disasters you can't easily look for food. When that happens, you don't need to panic as you have a lot of resources already stored inside your house. 
There are a lot of ways you can do to preserve and store your food at home. In this article, we will discuss things that you need to consider when stocking up food for your family.
What Are The Things You Need To Consider When You Stock Food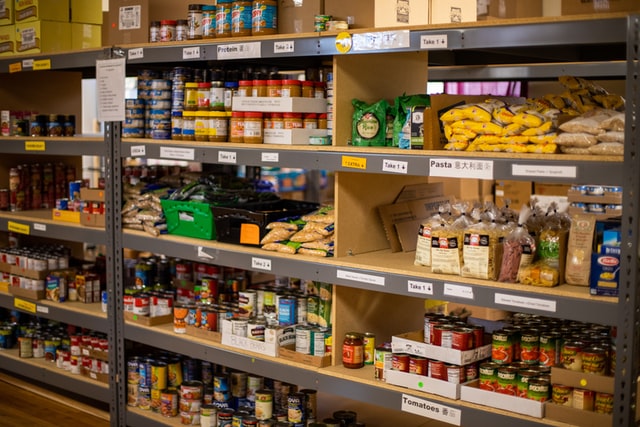 Make Your Own Plan
This is one of the most important things you need to understand, it's impossible to predict everything. Because of that, you need to plan and be disciplined when following said plan.
When you want to stock your food, you have to know what are the foods you need in a month. You also have to estimate how long it would last, and most importantly how much would it costs. This helps you in balancing your budget and creating a realistic plan.
After that, you should also have a general meal plan if you're not the type to make detailed plans. This is beneficial so that you can plan what you're going to cook for the next month in advance. A meal plan is even more important if you or a family member is on a diet.
One of the best ways to plan food will be to create checklists. Through this, you'll be able to identify things that you need from the most important one the the least important. You'll also be more organized when hitting the supermarket.
In general, planning is never easy and is quite boring. However, it's the lynchpin of a successful food stocking programme.
What Your Family Wants to Eat
It's very important for you to know what your family wants and needs to eat. This will help you create a meal plan and also a shopping budget for the next month.
When stocking food, you should stay away from foods that you know no-one likes. On the other hand, you should buy foods that everyone likes. However, you should also plan the nutrition profile of your meals to prevent you or your family from having any form of nutritional deficiency.
You also need to consider some food allergies issues, ensuring that everybody at home can taste every meal you prepare. 
However, it is more practical if you choose to have canned goods. The reason behind this is because canned foods can last for a long time. Another good choice would be frozen foods such as hotdogs, sausage, bacon and many more. You can have this during breakfast with the whole family. They're easy to store and also retain their nutritional and taste profiles.
Remember, stick to your budget!
Buy Meat and Expensive Foods on Sales
It is important for you to be thrifty in buying foods for the whole family. Prepping isn't just about having the most complete set of tools and stock, but also to do it in a cost efficient way. There are a lot of supermarkets which can offer a sale on the various kind of food.
You should capitalize on these sale opportunities to stock up on expensive yet very nutritious foods such as meat. Meat is one of the most delicious and nutritious foods around. It's very important for you to have meat proteins in your diet to supplement other foods.
However, you can't eat meat all the time as it is not good for your metabolism. So, you just need to have at least half a month's supply of this. You can use meat in almost any kind of food, grilled with vegetables or mixed in a soup, you just need to be creative.
Next, is to invest in the containers where you can store the meat properly. We recommend Rubbermaid Brilliance containers as they're very high quality and easy to store.
Most of the time, it is an advantage to label the container of what cut type your meat has. Through this, you are able to distinguish easily and avoid wasting time looking for the particular cut.
One of the most effective ways to preserve your meat is to freeze or dehydrate that meat. Stored inside a freezer or dehydrated, meat will store for months without spoiling and losing their nutritional profile. However, keep in mind that fresh meat always tastes better.
Buy Canned Goods
Canned foods are an essential prepper food as these goods help you to save money and will also last a lot longer compared to fresh foods. Most canned goods will store for over a year if packaged and stored well. Because of that, this can be a part of your emergency food supply.
Canned goods are one of the best options you can have whenever you want to do camping and other outdoor activities. They are very convenient and will enable you to serve food quickly and efficiently.
Even if you decide to stay at home all the time, you are able to feed your whole family with only canned foods. But, it is not recommended to always eat this kind of food due to the high salt content or fear of preservatives. Some just simply don't like the taste of canned goods.
So, one of the techniques most people use is that they combine canned goods with fresh food to create an easy to prepare meal that's also tasty.
Make a List When Doing Groceries
Having a grocery checklist will help you decide which items that you need to buy and items that you don't really need. This list will help you shop faster, more efficiently, and to prevent getting distracted during shopping. It'll also help you stick to your meal plan and budget plan.
All in all, having a shopping list is very important for preppers and survivalists. Don't go shopping without one!
Make Your Meal Plan
As we've said before, its very important for preppers and survivalists to plan ahead when trying to stock up food for one month or more. Having a detailed meal plan will help you create your monthly budget and also monthly shopping list.
In addition, if you have a meal plan at home for a month, then you are able to serve the needed nutrients for every member of the family. You really need to have a meal plan especially if you have kids with you at home so that you won't have to brainstorm for cooking ideas on the spot.
---
What Are The Foods You Should Stock In Your Pantry
Rice
This is one of the most important foods you need to stock at home. For Asian people, this is essential as they can't eat without a bowl of rice in every meal. However, in some European countries, they are more accustomed to eat bread or cereal. But generally speaking, rice has a vital role not just to satiate your hunger but also to fulfill your nutritional needs.
Besides that, rice is also very easy to store, you just need to pick a storage spot that's cold and dry. Stored properly, rice can stay fresh for months or even years, depending on the moisture level and type of rice. Because of that, rice is a staple when you want to stock food for a month at home.
Garlic, Onions, and Other Spices 
These two are basic ingredients to flavor every dish you could ever think of to make at home. However, you can also spice it up a notch by storing ginger, chili, and peppers as needed. They'll help add a zest of flavor to your home cooked meals.
However, be mindful that these type of foods are very hard to store properly. For you to prevent any damage when storing this at home, you need to put this in a dry place and at the same time in a safe place. Keep out of reach of children for them not to play with these ingredients. 
Crackers
This might not be an essential food and is not that healthy. But it might be needed especially if one of your hobbies is watching movies. Crackers are needed for various activities. When you want to play a game at home, and when your children are bored they can eat this but not all the time. 
What you need to do in storing this at home is to get a glass container for you to put all the crackers in. You can label it, store this in a dry and cool place at the same time. Through this, you are able to save a lot of space and the crackers will not become soggy.
When you have crackers at home, you don't need to go to the supermarket all the time just to satisfy your cravings for a sweet or salty treat.
However, keep in mind that crackers are a form of snack, not meal replacements. Don't stock on crackers hoping that they can replace hearty meals. It might satiate your hunger but it won't fulfill your nutritional needs.
Canned Goods
As we've said before, buying canned goods is a very easy and convenient way to stock food at home. They'll last a long time if properly stored. You can have this wherever you want outdoor activities with the whole family. When you want to go on camping, hiking, and other activities.
If you have an unexpected guest but you don't have a dish to serve these canned goods are a good choice. What you need to do is to microwave it or serve this with vegetables. Another option is with other ingredients or seasonings that increase its flavor. 
The good thing about having this at home is it will last for a longer period of time. You don't need to buy from time to time. Besides that, canned goods are generally more practical, you just need to
Oatmeal and Cereals
These are the foods you can have for your kids when they want to eat their breakfast. There are a lot of people who likes to eat cereals whether they are an adult or a child. Oatmeal and cereals are very healthy to have as it is good for the heart and also very fulfilling nutritionally, especially when consumed with milk.
When you have this at home, you don't need to spend a lot of money when having your breakfast. When storing cereals at home, you need to have a container and make sure that it has sealed. Put this in a cool and dry place to ensure the cereal is always fresh and will keep its quality.
There are a lot of varieties you can try when you want to stock this at home. You just need to find out which ones you and your family likes.
Fruits and Vegetables 
This is very important to stock fruits and vegetables at home. If you want to make a healthy change in your lifestyle and you want to ensure that your family is getting the right nutrients, then you must stock fruits and vegetables.
When you have vegetables at home, you are able to do various dishes with this. You can try vegetables with meat, ground beef with vegetables and many more.
On the other hand, your fruits will serve as your dessert whenever you and your family finished a meal. Fruits can also be a healthy treat for your family. Next time when you're craving for that snack bar, why not grab a bowl of sliced fruits instead?
However keep in mind that fresh fruits and vegetables will not last a long time. You need to store this in a cool place particularly on the refrigerator, this is to preserve their quality and to keep them fresh. 
Bread and Other Kinds of Pastries
These foods are alternatives when you are hungry yet the food is not ready. You can eat this food whenever you want be it for your breakfast, snack, or even dinner if you are on a diet.
Biscuits and slices of bread can help you to boost your energy and are a good source of carbohydrates at the same time. They can also be combined with most foods to create a complete meal, when combined with meat and vegetables, they become a very filling sandwich.
Baking Ingredients
Baking is one of the best recreational activities you can do with your kids at home. Today, living and coping with the stay at home mandate is very important. When you have a stock of baker's ingredients at home you will all have the chance to make bread, cookies, biscuits, cakes, and other kinds of pastries.
Baking can also be a great family bonding method. You can teach your kids to be creative in creating their own personalized cupcakes. You can also teach them teamwork and communication because those two are very important in the kitchen and also in real life.
Having a different kind of baking ingredients at home help you to save money as you don't need to buy every time you have a celebration at home. Say, for instance, your child will celebrate her/his birthday you don't need to buy a cake as you can make it at home. Your kids will probably appreciate it much!
Meat
Knowing the fact that meat is a good source of protein and some vitamins, so you need to have this at home. Pork, chicken, beef, and salmon meat are just a few examples of the type of meat you can stock at home. If you want to buy these various kinds of meat on the market you should choose the one that is on sale for you to save money. 
When you have this at home you don't need to worry about what will be your main dish at lunchtime and dinner time, it'll be the meat.
Say for instance, if you have beef meat at home and some vegetables like broccoli and cauliflower you can make a delicious dish with these two ingredients. What you need to have are onion, garlic, and some seasoning. Next is you need to saute the beef meat on the said ingredients then add the broccoli or the cauliflower. Wait for the time that both meat and vegetables are tender and enjoy this with your family. 
However, if you want to store meat for a long time, you should start learning about food dehydration. Dehydrated chicken will lasts for months while still retaining their taste and nutrition profile quite well. This is really helpful when building food kits for long term prepping.
Condiments
It is very essential to have condiments at home as you can't cook a delicious and flavorful dish if you don't have condiments at home. These include ketchup, vinegar, tomato sauce, and even chili sauce. This will help you to reach your main goal to be an effective cooker at home.
Say for instance you to grill pork and chicken you need to marinate the meat so you will need soy sauce and vinegar as your condiments.
Nuts and Beans
Besides being delicious, beans are also a great source of protein and vitamins for your body. Because of that, it's very important for preppers to store beans in their food stocks. These can even replace beef as a source of protein if you're a vegan survivalist.
It's very easy to store beans, you just need a good quality container to put them and they're all set. If you want to store beans for a long time, we recommend storing them inside a vacuum sealed bag or a vacuum container. Dry beans and nuts can last for years inside a properly sealed vacuum bag.
---
The Importance Of Storing Food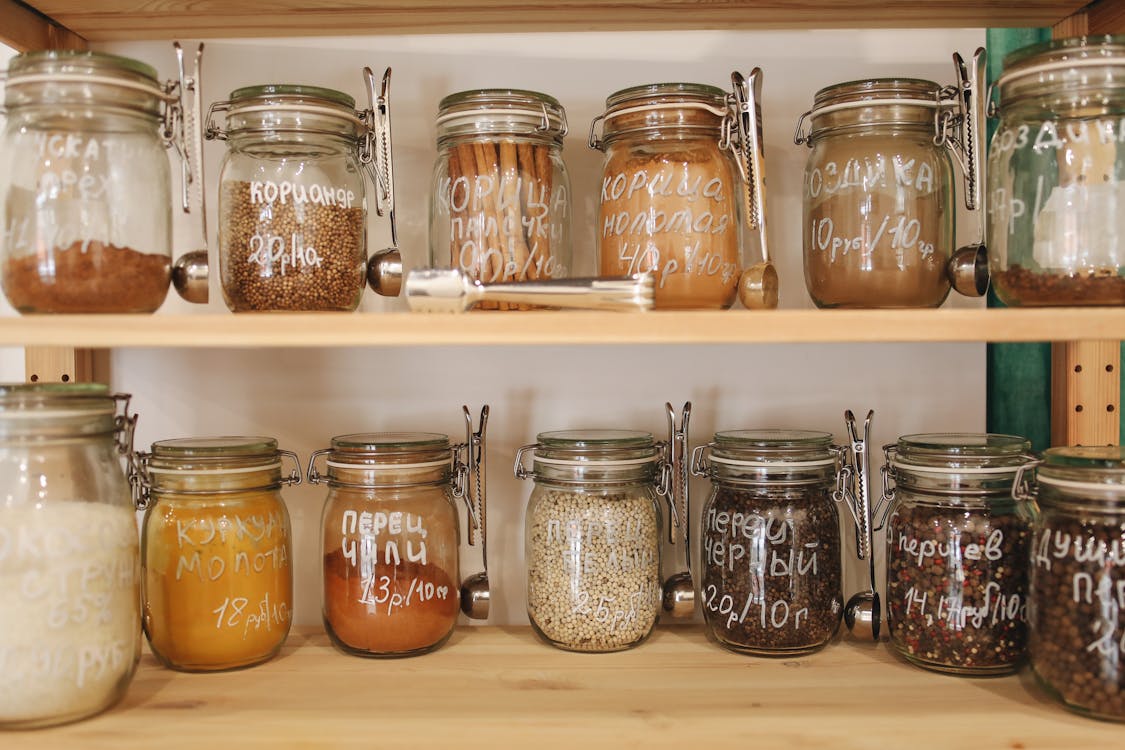 Cost Savings
There is nothing wrong with eating at a popular restaurant in your community especially if there is a special occasion to celebrate. The only thing that is not good is when you and your family do this as their habit. There is always a big difference to the expenses you can have eating in a good restaurant and just cooking your favorite dish at home.
When you decide to stock food at home, then you are allowing yourself to eat good food and at the same time save up a lot of money. So, in other words, storing food in your pantry is more economical or practical. What you can eat in a restaurant is you can also do this at home.
Another good thing about cooking food at home is you are able to have an eye to the ingredients that one of your family members is allergic to. 
Health Benefits
There are a lot of people who think that you can get the same nutrients when you decide to eat at home and in a restaurant. But, the fact is you can get more and better nutrients when you decide to cook and eat at home. It's not only on the physical aspects but at the same time on the mental health of an individual. 
If you have kids at home, it is always a good idea to eat with them. Through this, you are able to bond and develop more intimate relationships with them. Another eating together keeps every member of the family has the best communication.
For the health benefits, you can ensure that everything that when you have stock at home and you do the cooking, these are all fresh. It's not about bad-mouthing the restaurants out there but some of the food is over-processed, where it may harm your health if you do it continuously.
So, for you to be just in the safest place, you need to stock food at home!
More Convenient 
Aside from the fact that it's more practical to store food at home and cook it, this is also more convenient. When you want to eat outside, you need to think about your transportation and at the same time the distance from your place.
On the other hand, when you choose to cook at home as you have all the ingredients that you need in your pantry, it is more convenient. You don't need to spend a lot of time going to the place where you want to eat. Another is you can also save money and you don't need to take a taxi just to go there.
To prepare in every circumstance
A natural disaster is unpredictable so a lot of people choose to prepare and the effective way they think is to stock food at home. When you have food in your pantry you can easily get what your family needs whenever there is a natural disaster in your place. You don't need to take a lot of time to do groceries and when you can't go because of a disaster. 
It's always an advantage if you are able to prepare ahead of time, you never know when a disaster will happen right?
---
Final Thoughts
Foods are essential to the survival of every individual, you will not be able to survive without a constant supply of food and water. However, your supply of food might be disrupted either due to social unrest, criminal activity, or a natural disaster.
Because of that, stocking food at home is very important, especially for those of you that have an eye for prepping and being prepared for any condition. You can save a lot of money and you are not also exposed to the delicate environment. 
Whenever you can have the chance, you need to think about stocking food in your pantry, it is economical and convenient as well.
Would you like to try this for your next grocery?