Have you ever experienced a power outage when you are in the middle of an activity? Do you know how to light a home without electricity? Here are the life hacks you should try whenever you experience a power outage. 
Electricity is an essential thing across the globe. This helps the world to operate because it supports all of our activities, jobs, entertainment, and transportation. You are able to really appreciate importance of electricity when you experience a power outage.
Even then, according to a survey, there are places today that don't have the supply of electricity in their community.  Perhaps the reason is their place is too isolated so there is no power line yet. Another reason could be that it has been struck by disaster and the power lines are irreversibly cut.
If you live in these areas, you can't rely on government electricity to light your house. You need a solution that you can execute yourself.
Even if you don't live in those areas, it's still important to find ways to light your home without electricity. Maybe your place has a rolling blackout schedule or has an emergency power outage. Another reason, if there is a malfunction of the supply of electricity in your home. If the lights go out, you won't be able to do anything you want.
What Are The Alternatives To Light A Home Without Electricity
Here are several ideas you can try yourself to light your home without electricity. Keep in mind that sometimes, you need to combine these tips to properly light your home.
Rechargeable Light
Having a rechargeable light on hand is a must whenever you hear that a natural disaster is coming. You need to prepare these things, as it will help you a lot after the disaster. Especially when the power lines go out during the disaster.
Besides disaster scenarios, you can also use a rechargeable light whenever you experience a power outage at home. This will help you light your home whenever there is no electricity, be it due to a disaster or due to regular power outage.
There are a lot of brands of rechargeable light today that we can find in the market. When buying rechargeable lights, you need to look for several features. Firstly, you need to know if its durable or not and if there is any other features such as an electric fan, or an emergency radio. There are a lot of rechargeable lights today that can give you these additional features.
Another thing you need to look at is if it is powered by solar energy. Because there is no power in your area, you need to have an alternative power source such as a portable generator or a solar panel. If the rechargeable light has it's own solar cell, then it's a lot more convenient for your right?
Also, you should consider getting one which you can charge through a generator. This will help you a lot whenever you experience a power outage at home! 
Candles
Most people stock up candles inside their homes because it's very practical. When the lights go out, just light a candle and you'll have a dependable light source.
Whenever you are buying foods and things in the grocery store, you should also buy candles for emergency purposes if you don't have one already in your EDC pack at home. Unlike buying different rechargeable lights, this one is inexpensive and there is no expiration when using. 
However, if you choose this one to light your home, you need to be extra careful. Candles are open flame. You need to think first if the place suits for you to light a candle and if it will help you at all. There are a lot of cases in every part of the world wherein candles are the cause of a fire.
So, whenever you would choose to use a candle to light your home, you need to look after it for you and your family's safety. 
Solar Lamp
This is one of the most effective ways to light your home whenever there is no electricity. The good thing about this is you can charge this whenever and wherever you want as long as there is sunlight.
Solar energy is known as the cleanest source of electricity. Most of the solar lamp today has this features where you can charge your phone as well here. There are usually two available USB ports for you to charge your phone and other appliances.
Having a solar lamp is not only beneficial whenever there is a power outage but also great equipment whenever you want to do some outdoor activities. You can use this for camping, hiking, and even climbing adventures!
There are also solar lamps that are powered by a dynamo. This is important if you live in an area where it's cloudy or there is less sunshine. Having a dynamo means that you can charge the lamp even when there is no sun out due to night time or heavy cloud cover.
Flashlight
Most people have their own flashlight at home for emergency purposes. It can be powered by an AA+ battery, solar, or a rechargeable one.
When you have a flashlight at home and it is powered by a battery then you must stock batteries so you can use it whenever you want. You need to have a good amount of batteries because regular AA and AAA batteries will drain pretty fast if used consistently.
For the solar-powered flashlight, you always need to fully charge the flashlight by exposing it to sunlight. Having a full charge is important so that whenever you experience a power outage you can use the flashlight. This is a great choice if you live in a relatively sunny area.
Another option you can have is a rechargeable one, you can use this anytime you want as long as it's charged. What you need to do is to always charge it whenever there is electricity so that when you need it when an emergency comes, you can use it immediately. 
Another option is to buy tactical flashlights. Aside from providing lighting, these kinds of flashlight will also help you defend yourself and survive critical situations. This is one of the best gears to have in your everyday carry pack, be it in your jacket or on your vehicle.
Glow Sticks
This might not suffice the need for your light at home without electricity, but this is perfect to use whenever there are kids with you. Glow sticks are one of the sources of light with their glow-in-the-dark feature. So, as a result, your kids will be entertained and fascinated with the color this has.
Hence, there are different kinds of glow sticks and colors as well. Some can help you to read books and some are not enough and are just for entertainment. Getting this to light your home is an option, but an advantage to have this whenever there is a power outage in your area!
Kerosene/ Oil Lamp
Oil and kerosene lamps are one of the oldest and simplest ways of lighting your home whenever there is a power outage. Indeed this is one of the oldest source of light known to mankind, except for candles and an open campfire of course.
Oil lamps are very simple to use, what you need to do is simply put kerosene or oil on the lamp which you have. After that, you only need to light up the wick and the lamp will light the surrounding area perfectly. Having an oil lamp on your home will help you to keep it lighted during a blackout.
However, when you choose to use this, you need to be careful of any fire hazards. You need to keep an eye on the oil lamp at all times for your safety as it may cause a fire!
---
Emergency Light You Can Use Whenever There Is Power Outage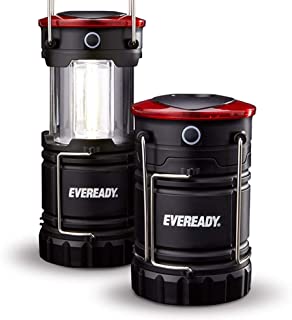 Eveready 360 LED Camping Lantern
The material of this camping light is lightweight plastic, yet it's very durable. This is powered by a battery, so you need to always store a decent amount of spare batteries at home. Having extra batteries are handy because whenever you need an emergency light you can always light one up
In terms of using this you besides for emergency purposes you can also use it for outdoor activities. Whenever you want to go on camping trip you can use this lantern because it has a bright LED light. When using this you can just simply hang it on a wall, on a paracord, or take it with you. 
This emergency light equipment for your home is small yet very efficient to use when there is no electricity. It can light up to 360 degrees of the room, no part will be left in the dark. There is a base hook and the magnet-base where you can simply use it on your tents. This camping lantern is very compact and it is really advantageous to have this at home or even in outdoor settings. 
What is the other good thing about this emergency light? You are able to have the 4 light modes include the following, red night vision mode, directional flashlight mode, flashing red strobe mode, and the 360 degrees mode. You can choose which mode to use based on your needs and want at any given time.
The Eveready lantern also lasts a long time. It will stay on for about 16 hours for the lantern mode. For the flashlight mode, you can use this for 9 hours straight. Indeed, this is a reliable source of light whenever you experience a power outage at home or for other emergency purposes! 
If you're in need of a portable battery powered lantern, the Eveready LED camping lantern is probably one of the best there is on the market today.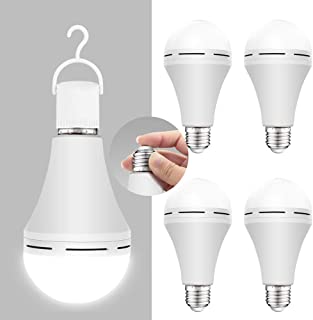 Emergency-Rechargeable-Light-Bulb
Do you ever wish that you could use your standard lightbulbs even when there is no electricity?
Well look no further, this rechargeable light bulb has a capacity of 15 watts and could light up your home when there is no electricity just like daytime. The type of light is LED which is known as for its durability, energy efficiency, and good-quality.
This rechargeable lightbulb is really beneficial to have at home whenever there is an emergency, it could be a power outage, malfunction of the supply of electricity at home, and you'd still have a fully functioning lightbulb.
This rechargeable light is just like the normal bulbs, the only difference is you can charge it beforehand so it'll stay on even when there is no electricity.
It also has a hanger so you can easily place this in multiple places. If you have a paracord, you can even hang this lightbulb from the center of the room so it can spread the light evenly.
All in all, this rechargeable light bulb is a great item choice to mitigate blackouts and fulfill other lighting needs.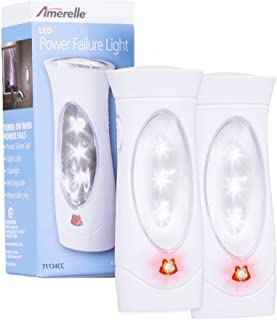 Amerelle Emergency Lights for Home
Amerelle emergency light is a great choice to have when you need a dependable source of light that doesn't rely on the electrical grid. You can pre-charge this so that it'll be ready in the event of a blackout.
This emergency lamp sports a set of clear white LED lights that are bright and power efficient. You should know that LEDs can save a lot of money as is it more efficient and cost-effective to use compared to regular light.
Whenever there is a power outage in your home, this light will automatically turn on and provide emergency lighting for over 7 hours non-stop.
You can also transform this emergency light into a handheld flashlight. This transformation is done using a retractable plug that you can toggle.
All in all, this emergency light from Amerelle is a great source of light during a blackout. If you're in the market for an automatic emergency light, look no further than Amerelle.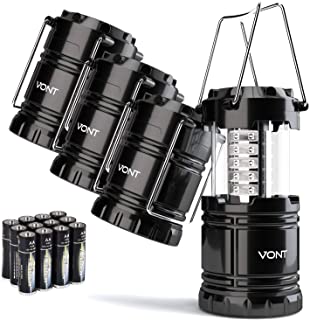 Vont 4 Pack LED camping lantern
Vont's LED camping lantern is one of the best camping lanterns on the market today along with Eveready and ultra bright. This collapsible lightweight LED lantern readily gives you illumination whenever you need it, be it during emergency situations or during simple camping trips.
This camping lantern uses replaceable batteries to power the lights. Because of that, you'll need to bring a lot of batteries to sustain it's operation. However, you won't have to worry about not finding a power source to recharge because batteries are self contained powerpacks.
You can adjust the light emitted by this lantern by collapsing the lantern. If you need the full brightness, you can fully extend it so that all of the LED is visible. This makes it easier to use it in multiple situations, including ones where you don't want to have too much lighting.
Vont's camping lantern is also built with military grade materials making it very durable. It is weather resistant and can handle being partially submerged in water.
All in all, Vont's camping lantern is a very good product that's rugged and ready to provide illumination for you in any condition.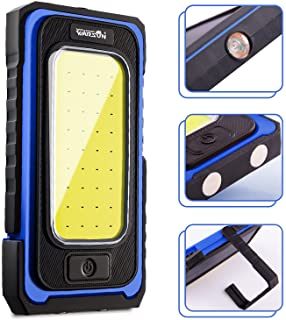 WARSUN LED work light
If you are looking for portable and easy-to-use rechargeable light at home when there is no electricity this is perfect for you! This emergency light consists of an LED lamp bead and also a COB panel.
The WARSUN LED light is both rechargeable and also solar powered at the same time. Because of that, you won't have any conditions where you can't recharge this light. You can use your computer, charger, power bank, and other universal type USB ports when you want to recharge it. This makes the light very versatile and an ideal companion to store in your EDC pack.
This emergency light has two different light sources which are the LED and COB panel. what you need to do is to long-press the switch to control COB and have a red light. It also has a magnetic base and also a power indicator to improve it's convenience. The indicator of this will help you in knowing the remaining power of this light. So whenever you can see that there is only one light remaining you need to charge it!
Due to it's rugged design, the Warsun is also waterproof and weather proof. You don't need to worry when using this as a source of light in stormy conditions or when your house is flooded.
All in all, the Warsun LED light is a brilliant piece of work that will surely help you light your home even when you don't have any electricity.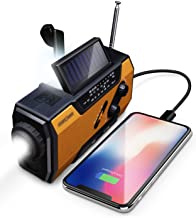 FOSPower 2000mAh NOAA Emergency Radio
The FOSPower is a multi-purpose type of emergency equipment. There is a radio, flashlight, weather alert and you can also recharge your mobile device here.
This emergency device is powered by AAA batteries, solar panel, 2000mAh, power bank, hand crank, and micro-USB charging. Because of that you don't have to worry about it being hard to charge, there is a lot of method to charge this quickly and efficiently.
What are the good things about this emergency light/weather radio? For starters, this emergency radio is water-resistant so you don't have to worry about using this in the rain or during flooding. Besides that, it also features a drop-proof design so you can be sure it's very rugged and durable. Whether you want to use this at home or for your outdoor emergency, this will suit your activities perfectly.
The FOSPower has two LED light sources, one is considered as the reading light and the other one is used as an emergency flashlight during an emergency. The best thing about this is it has an NOAA emergency weather feature where you are able to receive an alert if there is a natural disaster coming. Having this is also considered as your safety precaution!
Overall the FOSPower is a great combination of emergency radio and an emergency light all rolled into a weatherproof and shock-proof package. If you live in disaster prone areas, it's recommended to have one of these and an emergency hand crank radio for safety purposes.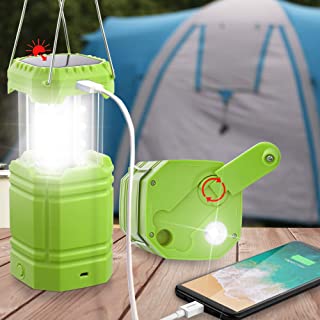 Ultrabright camping lantern
The Ultrabright camping lantern is an excellent lightweight camping lantern as well as an emergency light. This lantern is both rechargeable and also solar powered so you don't have to worry about running out of power. Even if you manage to run out of power, you can hand crank this lantern to give it a bit of extra juice.
There are 12 LED bulbs that can light up 360 degrees of the room around it. It also lasts quite long with an approximated running time of over 8 hours when running at full power. The light also has a brightness control function which has two categories, strong and low light which makes it very versatile and useable on all conditions.
This has a 2000mAh power bank with a USB charger which can help you to boost a dead mobile device.
The Ultrabright camping lantern is very easy to operate, portable, and compact at the same time. This is perfect for when you experience a power outage at home and also for your outdoor activities.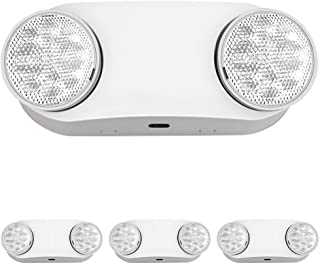 FREELICHT 4 Pack Emergency Light
The Freelicht emergency light operates just like the Amerelle, it latches to an electric source and automatically turns on when the power gets cut off.
This emergency light will guarantee your home is quickly illuminated during a blackout. If you have kids or elderly people, this will be very important because they might get hurt if they can't see where they're going.
The material of this emergency light is plastic and its style is modern. This has a special feature of high-impact resistance plastic that's also flame retardant at the same time.
Another good feature of this emergency light is it has adjustable LED lamp heads. You can control where the light faces so that you can shine light on critical areas such as the stairs or hallways.
Overall, having the Freelicht emergency light on your wall will guarantee that your house stays lighted during a blackout. However, due to it's size and weight, it's not recommended as an EDC lamp to carry around everywhere.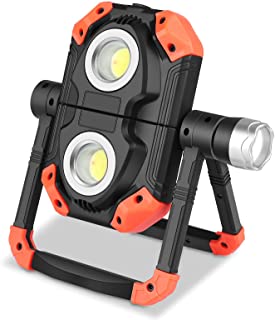 Neveika LED Work Light
Neveika's LED work light is a free standing, foldable, rugged work light that's waterproof and also weatherproof. This type of emergency light is intended to use for outdoor activities.
Its sturdy and durable design makes it pretty unique compared to other emergency lights. You can easily place this anywhere and rotate the lights depending on where you need the illumination.
The good thing about this is it's long battery time, considering that it's pretty small and has a bright light. This can last up to 8 hours with a single light and about 5 hours with double light. The Neveika has 4 power indicator which is responsible in giving the remaining battery power of this emergency light.
It has a 2000 cavity and 3 COB output which makes this emergency light powerful and will function well for outdoor illumination. Another features this has a double bracket vase which is known as safe and stable. You can put this on a metal surface at home as it has a magnetic handle. It is more convenient to use this when you have to repair some parts of your car.
All in all, the Neveika is a great work light that's portable, rugged, and also multipurpose. This can be used to light your home, your yard, and also for your emergency EDC needs.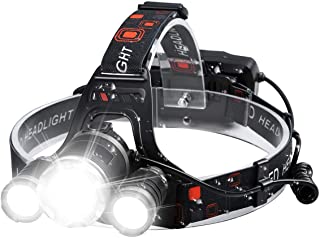 LED Head Lamp
We've talked about emergency lamps and work lamps for room lighting. How about a personal lamp to help you navigate the darkness during a blackout or a disaster scenario?
Enter the Beteray LED headlamp, this is a very cheap but high quality general purpose headlamp.
The material of this headlamp is made from ABS which is pretty durable and strong. This is powered by a lithium-ion battery and has 3 modes which are low, high, and strobe mode.
This headlamp is rated IPX-5 waterproof grade so you can safely use this during any weather. This has also a battery indicator where you can know if the battery is fully charged or not.
You can fully charge this headlamp within 3-6 hours. On a full charge, this headlamp can operate for a good 8 hours.
You can expect that it's lightweight and comfortable to use at the same time.  It has a weight of 4.9oz, so you won't really be disturbed by the headlamp.
The good thing about this headlamp is its multi-function. You can use this for outdoor sports such as running, cycling, camping, fishing, hunting or any other outdoor activities. You can also use this during a disaster scenario where your house has a blackout and you need quick illumination.
The main advantage of a headlamp over a flashlight is that you don't need to hold it. This enables you to do activities with both hands while still getting accurate and bright illumination from the headlamp.
All in all, the Beteray headlamp is a great personal EDC kit that's recommended to have. With this, you'll have a guaranteed source of light in the event of a disaster or a power outage.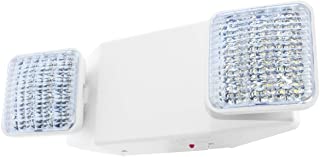 LFI- Lights
LFI emergency lights works on the same basic principle as the Amerelle and Freelicht lights. It is wired to a power outlet and will turn on if the lights go out.
One emergency lamp pack features 2 glare free emergency lights that has 12 LED blocks each. This gives it unprecedented brightness and illumination power in the event of a blackout.
However, due to it's bright light, it will only light up for about 4-5 hours during a blackout. If you expect longer blackouts, you should stock up on more traditional light sources such as a candle or an oil lamp.
The casing is made out of durable thermoplastic that's also fire retardant. Because of that, you don't have to worry about this being a fire hazard in your house.
If you need a simple and bright emergency light whenever there is a power outage the LFI might suit your needs.
---
Final Thoughts
Lighting is very important, without it we won't be able to do many things because we won't have vision. Because of that, you need to ensure that you and your family has a constant source of light, even during disasters. The tips and products outlined in this article will help you keep your house illuminated, even if there is no electricity.
However, keep in mind that most of these products need electricity, either by solar power, hand cranked, or using a portable generator. It is best if you combine these devices with a steady source of alternative power so tat you can be truly independent and prepared to handle anything.
Hopefully, you can get a lot of insight into how to light your home without electricity or during a blackout by reading this article. At the end of the day, you need to be prepared for anything to be a successful prepper.