Lots of shooters like to reload their own shells. Besides having better quality control, reloading your own shells can save you a lot of money. This is true because pre-primed and loaded shells are more expensive compared to buying their components in bulk. Over the course of a thousand rounds, these small savings adds up to create a huge nest egg.
However, reloading your own shells is not easy, you need to take into account a lot of things. Things like how much gunpowder to insert into your cartridge or what depth should the primer be placed at. These things take a lot of time and skill.
One of the most important steps in reloading your own bullets would be measuring the gunpowder. If you pack too much gunpowder into your shells, you'll waste money on excess gunpowder. However, pack too few and the bullet might not fire as it should.
This is why it's very important to get the best powder scales for your reloading purposes. It will ensure that you'll always use the correct amount of gunpowder, eliminating waste.
In this article you'll learn more about the importance scales, how to use them properly, and what to look for in a powder scale. To top it off, we'll also be reviewing the 5 best mechanical beam scales on the market today! If you prefer to use digital scales compared to mechanical beam scales, you can read our review about them right here.
TOOL
BRAND
EXPERT RATING
CHECK PRICE

Our Top Pick!


Hornady Lock and Load Balance Scale

Check Price

RCBS 98916 M1000 Mechanical Scale

Check Price

Redding Reloading – Powder & Bullet Scale #2 Master

Check Price

RCBS M500 Mechanical Scale

Check Price

Ohaus 30393272 5-0-5 Reloading Scale

Check Price
Importance of Accurately Measuring your Gunpowder
Before talking more about powder scales and more specifically mechanical powder scales, first you need to understand why it's important to accurately measure and weigh your gunpowder. For shooters that load their own shells, having a gunpowder scale is critical to ensure accuracy and savings.
As said before, gunpowder affects the firing characteristics of a shell. Inserting the exact amount of gunpowder ensures that your bullet has a good firing characteristic. In critical situations, having a bullet that's accurate and fires well is a lifesaver.
Another reason would be to reduce gunpowder waste and save money. If you put excess gunpowder, you've just wasted that powder. Wasting gunpowder means that you're slowly losing the money you saved by loading your own shells.
If saving money is the prime reason you reload your ammo yourself, then by all means get a high quality mechanical beam scale for reloading.
Besides cost savings and firing characteristics, a lot of shooters prefer to have direct control of their bullet's manufacturing quality. If they reload it themselves, that means they can closely monitor the quality and craftsmanship of each loaded bullet.
If you're a gun enthusiast and relate to any of the reasons above, then it might be a good idea for you to buy a high quality mechanical powder scale.
---
How to Choose the Best Mechanical Beam Powder Scale for Reloading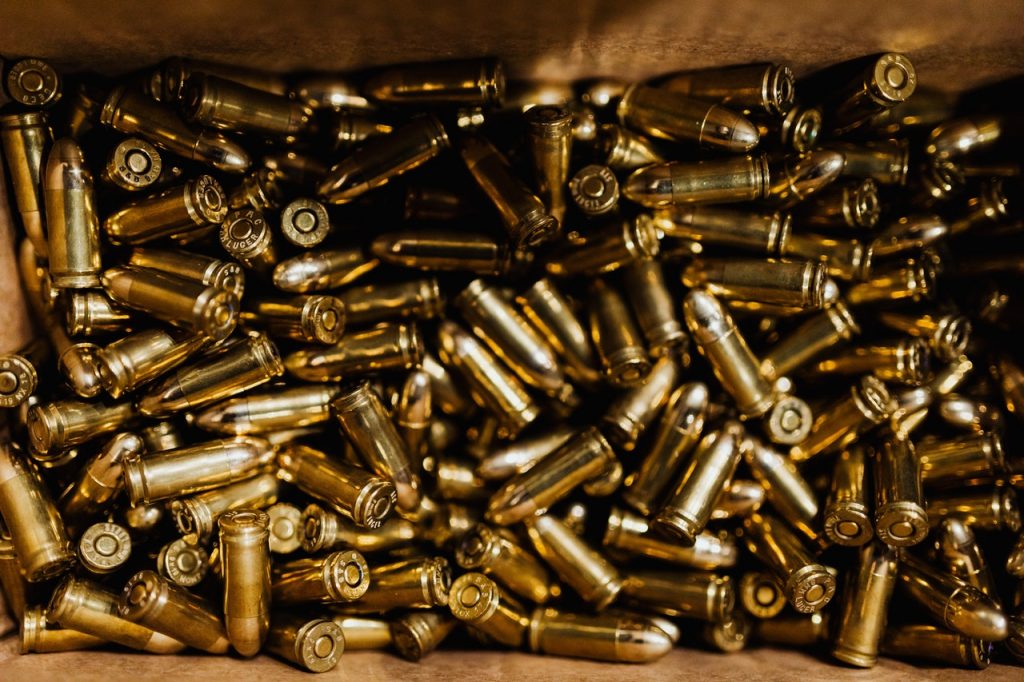 Choosing the right mechanical powder scale for your reloading needs heavily depends on what you need and how much you're willing to pay. If you're an enthusiast, your needs might be different compared to the casual weekly shooter.
Because of that, it's very important for you to analyze what you need, what situations you're likely to face, and what you're comfortable with using for a long time. Because a powder scale is a decent investment, it's recommended to buy the best and cry once rather than buying the cheapest and crying later.
In general, there are 5 things that people tend to analyze and pay attention to when buying a powder scale for reloading. These things include
Type
Sensitivity
Capacity
Durability
Price
Type of Scale
There are two types of powder scale for reloading that you can purchase: a digital one and a mechanical balance beam scale.
Digital powder scales or frequently known as an electronic scale measures your gunpowder electronically. Then, they output the weight in numbers on their LCD screen. Meanwhile, a mechanical beam scale allows you to weigh your powder manually using a counter-balance weight and a balance beam.
Some find the manual beams to be more accurate and more durable while others prefer digital scales for their ease-of-use and quick to read numbers. It's really just a question of what you like best and what you're comfortable with using on a daily basis.
When deciding what type of scale to use, make sure to account for your usage needs and other factors such as weight and versatility. Don't be fooled into buying something you don't need just because it looks nice and 'might' be useful in the future.
Sensitivity
No matter which type of scale you choose, you want to look for one that has a high sensitivity. An ideal number to shoot for would be 1/10 grain accuracy. This will ensure that you'll be able to measure with great precision and keep wasted powder to a minimum.
Besides sensitivity, make sure that the labels and weight indicators are easy to read an interpret. A highly sensitive scale will be pretty useless if you can't read how much your gunpowder weights correctly.
However, be mindful that the sensitivity of a mechanical scale highly depends on it's beam scale. It also depends on your ability to correctly read the numbers on the scale. In general, a mechanical scale will not be as sensitive as a digital scale but will be able to maintain that sensitivity better in poor environments.
Capacity.
Capacity is the amount of powder you can weigh at once with your scale. Whether you are planning on reloading a small number of shells or a big batch, flexibility with how much you can weigh is important. Make sure you get a scale that has sufficient capacity for your weighing and reloading needs.
Durability
Durability is very important for just about any product, but it becomes even more important for items that you use regularly. If you're a shooter who likes to reload your own cartridge, having a durable and long lasting powder scale is very important.
Having a durable powder scale helps you save money because you won't have to replace it often. Besides, you'll also need a durable scale if you frequently bring your scale with you on the move. Mechanical scales usually have better durability compared to digital scales because it doesn't have many electronic components that are easy to break.
However, keep in mind that the even the best powder scale will quickly fall into disrepair if not cared for correctly. In general, clean the scale after each use and store it in a cool and dry place when not in use.
Price.
Price is a top concern for almost any buyer. Most of you want the highest quality scale, but you also want to get one that's fits your budget right? Because of that, when deciding which powder scale to buy, you have to weigh in the benefits of extra features and durability with the extra cost associated with it.
Sometimes, buying the cheaper brand is better if you don't need the extra features that much. This way, you can allocate your budget on more important items that you may need. But for some, it's important to get the best quality scale you can buy for their accuracy and durability.
---
The Best Mechanical Powder Scale – Top 5 Picks
OUR #1 CHOICE
OUR TOP PICK: Hornady Lock and Load Balance Scale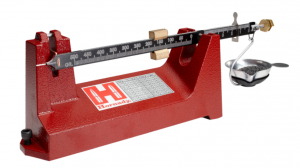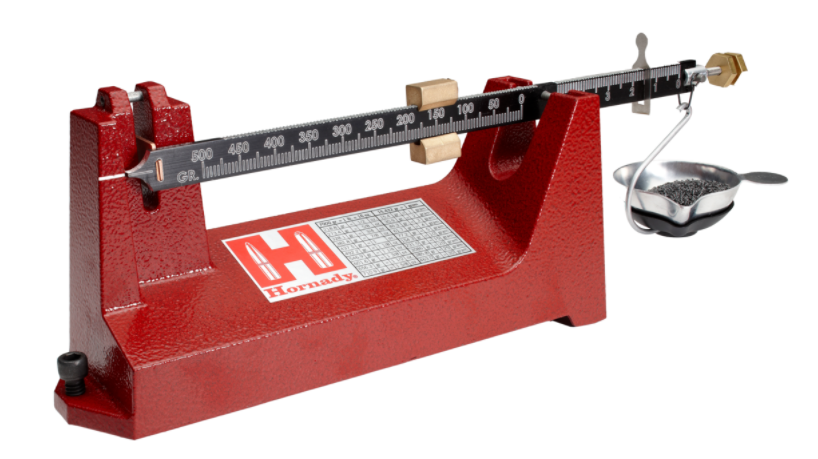 Product Name: Hornady Lock and Load
Product Description: The Hornady® Balance Beam Scale is an essential tool for any firearms aficionado that likes to reload their own shells. Its classic, time-proven manual balance system provides a measurement range from 0 to 500 grains with 0.1 grain sensitivity, and will easily handle most reloading tasks. A magnetic dampener provides fast, accurate measurements. This is supplemented by the balance bar that is laser etched, easy to read, and will not flake or peel. You can easily identify how heavy your gunpowder is.
Brand: Hornady
Offer price: $$
Sensitivity

Capacity

Durability

Price
Summary
Hornady is one of the biggest household names in firearms and gunsmithing tools. Besides ammo which Hornady is best known for, they also make great reloading kits, including reloading gunpowder scales. The Hornady 050109 Lock-N-Load Balance Beam Scale is a well made mechanical scale constructed from red-painted cast iron. This makes it heavier than many other comparable 500-grain scales. However, it also makes it more stable, so you don't have to worry about spilling your powder. The cast iron construction also makes it very durable and long lasting, it'll continue to serve you accurate measurements for years to come if you take care of it well.
This is one of the simplest reloading scales on the market today, basically, this is a no-frills scale. It is built to look very much like a teeter totter, where you are able to determine the measurement by monitoring the leveler. The Hornady mechanical powder scale is equipped with a black beam and a brass poise that's very visible. The markings are also very easy to read and it's also easy to use the aluminum pan to weigh in gunpowder.
Even though it has a simple design, the Hornady Lock and Load is one of the more precise scales on the market. This scale boasts an accuracy of about 0.1 grain. With this accuracy and sensitivity, the Hornady Lock and Load can compete with the best mechanical and digital scales on the market.
In addition to that, the back end of the beam has a magnetic damper that keeps it from floating around. Once you've adjusted the weight, the beam will settle into place without wobbling too much. When you need to calibrate this scale, there are two options. A small aluminum counterweight rests on top of the beam for fine adjustments. For larger adjustments, there's a brass hex nut that can be screwed in or out on the tip of the beam.
Overall, the Hornady Lock and Load is one of the best if not the best mechanical balance beam scale on the market today. At it's price point, the combination of accuracy, durability, and build quality is very hard to beat. 
Pros
Durable and long lasting construction
Very easy to use quickly and effectively
Accurate and sensitive measurements
Excellent value for money
Easy to adjust and balance due to the 
Cons
Takes some time to get used to measuring powder with this scale
Minor quality control issue on a few units
RUNNERS-UP
RCBS 98916 M1000 Mechanical Scale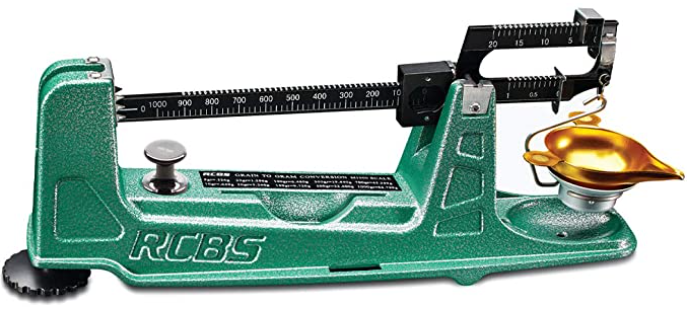 The RCBS 98916 M1000 mechanical scale is a high quality reloading scale that's well designed, easy to use, and has a large capacity of about 1000 grain. This is perfect for people that wants to accurately measure a lot of gunpowder for refilling a powder hopper or just a lot of cartridges.
This mechanical reloading scale has a highly visible scale number so that it's easy to weigh your gunpowder. The beam itself is black, with a black poise. A little more contrast between the scale and the beam would have been nice here, but it's not a deal breaker.
The measuring bowl itself has a long spout, which makes it easy to pour into small openings such as cartridges. The grooves on the scale are also well designed so that they'll hold in place without skipping from one value to the next.
The base is big and beefy, and is constructed from highly durable cast iron. It has a wedge-shaped design, with the fat end of the wedge at the back. This makes the M1000 well-balanced and pretty stable, so it'll be difficult to tip over once it's been securely placed.
This allows you to measure anything with perfect accuracy and stability. With it, you'll be able to level the scale easily either in your workbench or outdoors.
Calibration in the M1000 is performed with a simple thumb screw. You simply tighten or loosen it as needed until the beam is level and zeroed correctly. There is also a pair of counterweights available to help you calibrate and level the scale. There's a smaller weight on the bottom for fine adjustments, and a larger one on top for bigger adjustments.
The M1000 also has a great accuracy according to mechanical scale standards. It can accurately measure up to 1/10 grains or a margin of error of about 0.1 grains.
This is one of those scales that a person can buy and hang on to for years. It is built of durable materials that will enable you to use the scale for years to come. Truly one of those purchases that you can hang onto for decades if cared for well.
Overall, the M1000 is a well built mechanical powder scale that's accurate, easy to use, and very durable. If you're in the market for a quality mechanical reloading scale, you can't go wrong with the M1000.
---
Redding Reloading – Powder & Bullet Scale #2 Master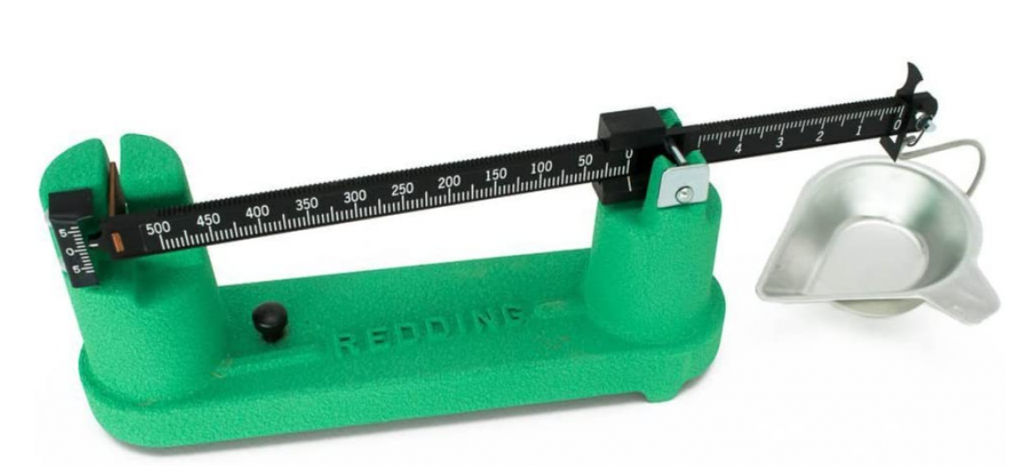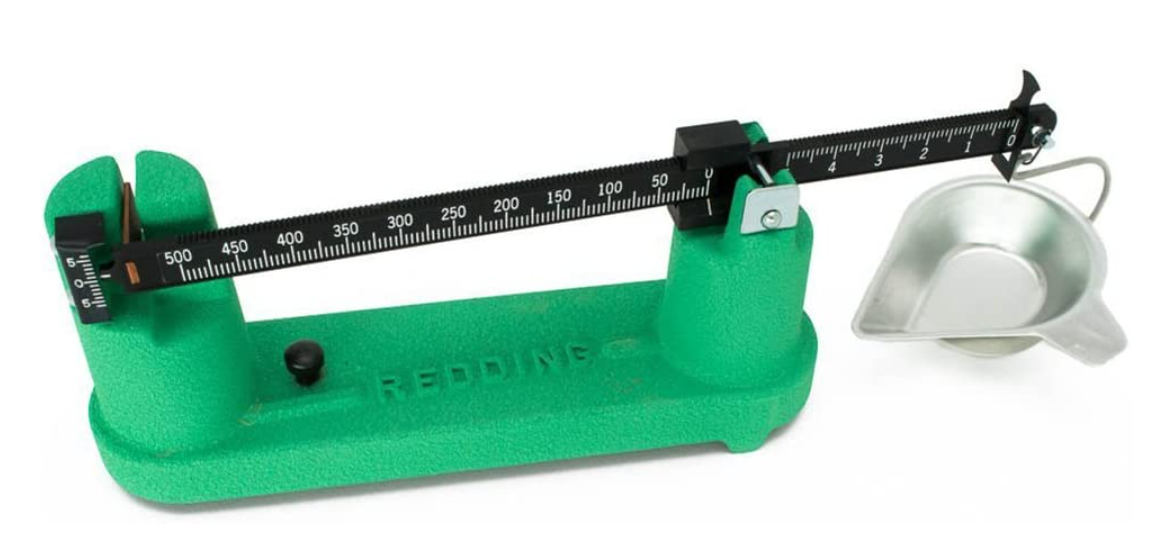 If you're looking for a smaller sized mechanical reloading scale that provides you with great accuracy, the Redding Scale #2 is one you should look out for. This scale is very compact and lightweight, much smaller compared to most balanced beam reloading scale on the market.
The scale itself weighs less than a pound, making it very easy to take with you anywhere you go. In fact, you can even fit this inside a small bag or a case that you bring when shooting or hunting. The small size and weight makes this an ideal EDC beam scale to carry along with your firearms and supplies.
Even though it's light and compact, it still has a respectable capacity. The Redding Reloading scale can measure up to 505 grains of powder. This ensures that you can still measure a decent amount of gunpowder accurately anywhere you go.
This scale is also very accurate and sensitive, it has a listed accuracy of about 1/10 of a grain. Because of that, this is one of the most accurate mechanical powder scales on the market today. With this, you'll be able to accurately measure your gunpowder and avoid any waste.
It's also well designed and very easy to use, even for starters. It's built with an extremely simple double counterpoise system that's easy to use and understand. Re-zeroing of the scale is very quick, it only takes a couple of seconds before the scale is ready to be used again.
If you're worried about your mechanical scale breaking down, don't. The redding scale is extremely durable and can handle a lot of wear and tear. This durability is possible due to it's sturdy build and simple utilitarian design.
Overall, the Redding reloading scale is a high quality mechanical powder scale that's well built, accurate, and also very lightweight. If you're in the market for a lightweight powder scale that's easy to use and very accurate, this scale by Redding is one to look out for.
---
RCBS M500 Mechanical Scale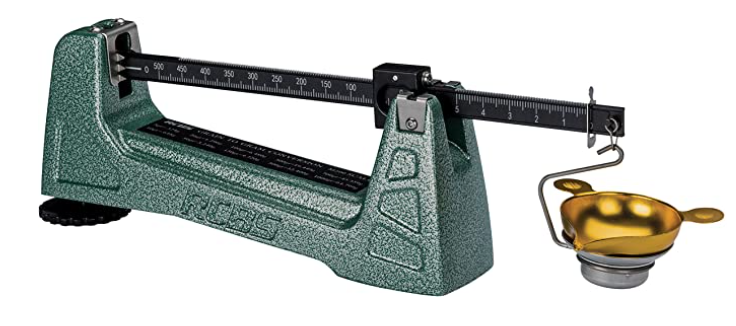 If you're looking for a high quality mechanical scale from RCBS that's lighter and more compact, the RCBS M500 is a great choice. This mechanical powder scale has all of the hallmarks of it's larger brother, the M1000 and is lighter and more compact!
This scale weighs a measly 1.2 pounds which is ideal for people that are looking for lighter mechanical scales that they can carry anywhere. Just like the redding reloading scale, this is one scale that you can pack up in your bug out bag or as your EDC vehicle gear.
However, due to it's compact size and light weight, the M500 is only able to weigh up to 500 grains, on par with the Redding scale above. To get the best accuracy, it's recommended to only weigh up to 300 grains of gunpowder using the M500. This can be a big problem if you need to accurately weigh a lot of gunpowder quickly and efficiently.
The M500 is made out of the highest quality materials and is quite well built. This ensures that you're getting a durable scale that will last for a long time.
This scale is also well designed and very easy to use. You'll love the fact that the leveling knob is underneath the scale, making it easy for you to stabilize the base. This allows you to stabilize the scale quickly so that you can accurately measure your gunpowder in uneven terrain.
The M500 is also very sensitive, it has a lister accuracy of 1/10 grain which is on par with the best of the mechanical and digital scales. The granulation marks are also clearly labelled so that it's easier for you to get an accurate measurement.
This scale, like the Redding master scale above is also has a high quality magnetic damping that helps it settle down and zero out quickly. This ensures that you can weigh a powder quickly and accurately without having to waste time zeroing the scale.
Overall, the RCBS M500 mechanical reloading scale is one of the best mechanical powder scales at it's price point. It has many features, is well constructed, and will provide you with accurate measurements up to 300 grains.
---
Ohaus 30393272 5-0-5 Reloading Scale
Ohaus might not be a brand that's synonymous with firearms and gunsmithing. However, they're very well known in the industrial world. This brand produces all kinds of high quality measuring equipment for industrial and home purposes.
Luckily, Ohaus also manufactures reloading scales, a very high quality one at that one of them is the 5-0-5. The Ohaus 5-0-5 is one of the most well built and durable mechanical reloading scale on the market.
The Ohaus reloading scale comes with a 500 grain capacity. The beam is made of black aluminum, but has black and white faceplate to increase visibility. A black poise clearly indicates the weight of your gunpowder to ensure you don't waste any. It also has a lockable micrometer that makes the scale a lot more accurate and easier for you to see the weight.
This scale is made out of an extremely rugged die cast foundation to ensure a stable footing. It's also equipped with a leveling foot that provides tremendous stability. You can be sure that nothing short of an earthquake will disturb you when you're weighing your powder.
The base is not the only rugged part of the Ohaus 5-0-5, the whole scale is made out of highly durable and rugged cast metal. This ensures that the scale will last for a long time without breaking down and retain it's accuracy if you take care of it well.
Besides being easy to use and very stable, the Ohaus 5-0-5 reloading scale is also very accurate, it claims to have an accuracy of about 0,1 grain. Because of that, you won't have to worry about wasting any more gunpowder due to inaccurate powder weighing. To ensure consistent measurements, calibration is performed with a pair of aluminum weights. One is larger and one is smaller, so you can make both fine and coarse adjustments to your scale.
Overall, the Ohaus 5-0-5 is a great mechanical powder scale that will help you accurately weigh your gunpowder and prevent waste.
---
Frequently Asked Questions when Buying a Powder Scale
Here are several frequently asked questions (FAQs) by buyers when they're looking for a powder scale. See if your question has already been answered!
Q: Why reload your own ammunition?
Answer: People reload their own shells for a variety of reasons, the most prevalent of which are cost savings and quality control. However, once they get started, many people like the process of reloading their own ammunition. This is most likely owing to a closer relationship with their bullets.
There's something fulfilling about firing a bullet that you built from the ground up. From weighing the gunpowder through inserting the primer and eventually firing the shot, everything is done by hand.
Reloading their own ammo can be a relaxing and stress-relieving experience for some people. You essentially sit down, put on some soothing music, and spend your time making your own ammunition. Some people may find this to be a worthwhile way to spend their free time.
Of course, these scales aren't the only equipment you'll need while reloading your own ammunition. Hand priming tools, reloading dies, and reloading presses are examples of reloading tools.
Q: Why you need a reloading scale?
Answer: If you're going to reload your own shells, you'll need a high-quality reloading scale. You won't be able to correctly measure the amount of powder in each cartridge if you don't have it.
Furthermore, being unable to precisely assess the amount of gunpowder on hand can lead to waste. The savings you obtain from reloading them yourself will be wiped off. As a result, having a dependable and accurate reloading scale is critical when reloading your own ammunition.
Q: What is "zero out" on a scale?
Answer: When it comes to scales and weighing objects, the term "zeroing out" is widely used. In simple terms, zeroing out refers to resetting the scale to zero by accounting for weights that should not be measured.
Using a metal tray to contain the gunpowder you're trying to weigh is an example of this. You simply want to weigh the powder; you don't want the weight of the metal tray to influence the results.
To exclude the metal tray from the equation, you must first zero out the scale by taking into account the weight of the metal tray. A button to zero out a digital scale, such as the ones we discussed in this article, is frequently present. Those who don't usually have a complex procedure specified in the manual.
Q: Why does everyone measure powder in grains?
Answer: The reason for this is simple, grains are a lesser unit of measurement than grams. Using grains rather than grams, people can more correctly determine how much gunpowder should go into a round. To make rounds with the least amount of difference in performance, make sure they all have the same amount of charge.
One way of having the smallest variation between batches is to use the smallest measuring standard, which in this case is grains compared to grams.
For your information, 1 gram equals 15 grains. As a result, saying 10 grain of gunpowder is easier than saying 2/3 gram. People like to utilize grains to speed up the measuring process, despite the fact that it is not an International Standard measurement but rather an imperial and US-specific unit.
Q: What else can I measure with the reloading scale other than powder charge?
Answer: A reloading scale is basically just like any other scale on the market. The only difference is the capacity and the accuracy of it to be able to measure in grains accurately. Because of that, your reloading scale can be used to measure just about anything.
However, if you're a shooting aficionado that's going to use this scale frequently it's important to not use it for other purposes. Even the smallest amount of residue from other substances may corrupt your gunpowder and make it unusable.
Q: Digital vs mechanical reloading scale – Which to choose?
Answer: The choice between a digital and mechanical scale depends on what you're comfortable with using. many people would pick a digital scale simply because it's the easiest to use. Once you zero out the scale, you won't have to do anything except put your powder and see how heavy it is.
Some type of combination dispenser-scale also automatically dispenses powder into the scale. You simply choose the amount of powder you wish to have and it will provide that for you.
However, digital scales are very sensitive to the environment around you. Sometimes, it'll fail to zero out or have slight variations in measuring accuracy due to humidity and electrical current errors. If you want a bulletproof scale that you can store anywhere without too much worry, choose a mechanical scale.
These are much easier to zero, and provide less issues for you. They're also a lot more stable and resilient to adverse environments. Plus, you don't have to worry about any kind of power source. Sadly, the overall accuracy of a mechanical beam scale is not as high as a digital scale due to human error and poor visibility.
Q: How accurate are mechanical reloading scales?
Answer: Mechanical reloading scales have incredible accuracy. Even though most people say that they're less accurate compared to digital scales, it's mostly due to human error when identifying the numbers on the beam. Sensitivity wise, it's close to a digital scale.
However, mechanical reloading scales are more stable and accurate in adverse conditions. Vibration and moisture will hamper digital powder scales more compared to mechanical ones.
Q: How to take care of a reloading scale?
Answer: Like all tools, it's very important to take good care of your reloading scale so that they'll last for a long time. If you don't take care of them, they'll lose accuracy and sensitivity due to accumulating rust and dust.
If you buy a mechanical powder scale, you're lucky they aren't as hard to maintain as digital scales. They're more rugged and easier to store due to having no electronic parts. However, this doesn't mean that you can neglect to take care of them.
For starters, you should store your scale in a place that's secure and out of harms way. This reduces the chance of the scale being knocked over or bumped against. The more wear and tear you scale receives, the lower it's accuracy. You should also store it in a place where it's dry and cool to prevent rusting. This is important for mechanical scales that have a lot of moving parts.
You should always clean your scale after using it to prevent rusting and other types of harmful residue. This can be done by simply wiping down the scale after every use to eliminate residue. You can even use alcohol rubs and soap to clean the tray if you're not sure if the residue has been eliminated.
Simply treat your mechanical reloading scale with the utmost respect and it'll continue serving you accurate measurements for years to come.
Q: What is the best mechanical powder scale for reloading?
Answer: Like everything, the answer to this question is… it depends. Which mechanical powder scale to choose highly depends on what you like, what's your budget, and what you need. All of the tools listed in this review are high quality mechanical scales that are top notch. However, all of them has different strength, weakness, and price points.
It's up to you, the buyer to choose the best one depending on your needs and wants. However, we still recommend the Hornady Lock-and-Load as one of the best if not the best mechanical reloading scale due to it's accuracy, versatility, and value for money.