Camping in very cold or even extremely low temperatures is an exhilarating experience. This is especially true if you do it deliberately.
Many seasoned campers will go out of their way to go outdoors when temperatures drop. Cold weather sleeping bags for backpacking are indispensable gear if your sense of adventure lures you to the cold.
These conditions provide the adventurous backpacker a chance to test their grit and gear in the harshest weather. In today's available camping equipment, many products are designed to withstand very low temperatures.
There is no shortage of outfits, tents, and sleeping systems that provide warmth and safety for icy conditions.
| Product Image | Product Name | Expert Rating | Check On Amazon |
| --- | --- | --- | --- |
| | US Military 4-PC Weather Resistant Modular Sleep System | | Check Price |
| | Hyke & Byke Katahdin 15 & 0F 625 Fill Power Hydrophobic Sleeping Bag | | Check Price |
| | Naturehike Ultralight Goose Down Sleeping Bag | | Check Price |
| | Zooobelives 10 Degree F Hydrophobic Down Sleeping Bag | | Check Price |
| | Hyke & Byke Quandary 15 Degree F 650 Fill Power Hydrophobic Down Sleeping Bag | | Check Price |
| | Kelty Cosmic 20 Degree Down Sleeping Bag | | Check Price |
What Is A Camping Sleeping System?
Sleeping comfortably and safely is the secret to having a better time outdoors. It is a trial and error journey and sometimes takes years of effort and thousands of dollars trying to get it right.
A sleeping system is by far the most important gear you could have in your backpack. So just for a bit, let us dissect this simple but so crucial element that spells the difference between a fun or uncomfortable camp experience.
For purposes of this post, let us define a sleeping system as the elements of what you will be lying on for sleeping. It does not include the type of shelter you will be in, even though this will largely determine the tolerances of your sleeping system choices.
Shelters could range from minimalist examples like tarps or tents, to elaborate enclosures like RVs (recreational vehicles), your car or SUV, and even cabins. You can read more about shelters and other key elements of survival in our 5C's of survival mega-post.
The Sleeping Bag Is Your Ticket to Comfort
The sleeping bag is of course the foundation of the sleeping system. For winter camping and backpacking in sub 20 degrees Fahrenheit temperatures, a rated winter bag is essential.
The temperature rating needed for cold-weather backpacking will depend on the overall conditions. True expedition sleeping bags can be rated all the way down to -40 degrees Fahrenheit or even colder.
Other parts of the sleeping system help your overall comfort, and we will go over them briefly.
This post however will attempt to identify the best cold weather sleeping bags you can purchase for your next backpacking adventure. It will be your single most important acquisition that will guarantee a memorable camping trip. Not just for you but your camping buddies as well.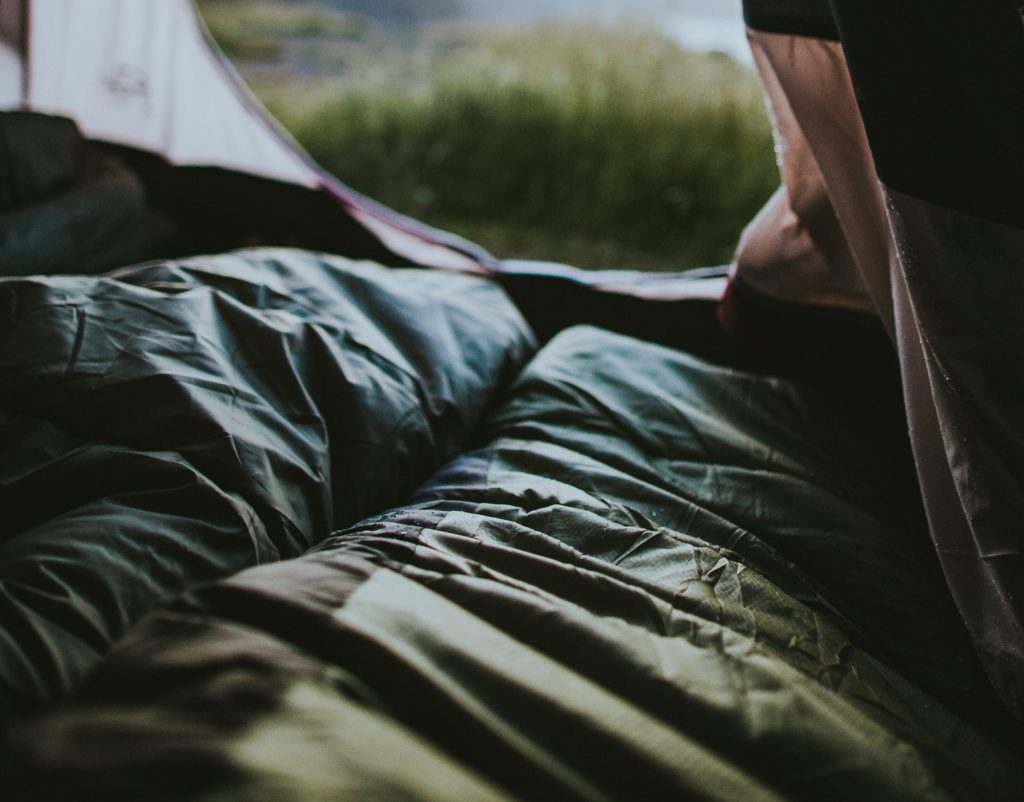 The Main Elements of a Sleeping System
Since we said earlier that a sleeping system is confined to what you lie on, the main components of such a system are:
The Sleeping Bag
When buying a sleeping bag, choose a style and temperature rating appropriate for your destination's conditions. Avid backpackers and campers will often have several sleeping bags in their arsenal.
Car camping bags are usually cut wider and rectangular. They provide more roll-around room, which is great for comfort. They are however less efficient for retaining body heat and not ideal for extra-chilly evenings.
Some rectangular styles are even often unzipped to use as a quilt or comforter on milder nights.
Backpacking sleeping bags, on the other hand, take advantage of both shape and material to overcome chilly temperatures. They are mummy-shaped, tapering at the legs for a closer, warmer fit.
These type of sleeping bags are also usually of lighter weight since you will be carrying them in your backpack. Many backpacking sleeping bags are made with duck or goose down that compresses better than synthetic fill.
Snuggling into your sleeping bag at the end of a long hike is one of the best pleasures of backpacking.
Today's sleeping bag technology offers excellent warmth for its lightweight. They are also engineered to stay dry and work in many types of extreme conditions.
The sleeping bags featured here are prime examples of what today's modern technology offers.
The Sleeping Pad
A sleeping pad is indispensable if you are serious about camping. It is also referred to as a thermal pad, ground pad, sleeping mat, or roll mat.
It is a lightweight pad, often used in combination with a sleeping bag. Its purpose is to provide added comfort and thermal insulation.
Sleeping pads not only provide a cushioned lying surface for added comfort. They also provide vital insulation from cold ground temperatures.
Essentially, there are three types, namely air pads, closed-cell foam pads, and self-inflating pads. During in-car camping, weight is not a problem, hence thicker, wider pads or mattresses can be used.
When backpacking and weight is always an issue, an ultra-lightweight air pad or the closed-cell pad are better choices.
Pillows
One cannot underestimate the importance of good head support like a pillow. Take a small foam one or inflatable camp pillow. There are sleeping bag models that have a pocket to hold a pillow or bunched up clothing, such as a sweater or jacket.
Sleep Wear
Thermals are excellent for adding extra warmth and are an invaluable primary layer. Consider eye covering too that is especially useful when sleeping in northern latitudes in summer or in campsites with security background light.
As for extraneous noise, earplugs can effectively dull noises such as ambient natural sounds to a snoring tent mate.
Sleeping Essentials and Cold Weather Sleeping Bags
Those are the elements of a good sleeping system by today's backpacking standards. The combination of a sleeping bag, sleeping pad, pillows, and clothing will all determine your overall comfort. Knowledge of this is crucial if you plan camping in extreme cold.
Now that we got that out of the way, let us shift our focus specifically on the best cold weather sleeping bags for backpacking that are available today.
---
COLD WEATHER SLEEPING BAG BUYING GUIDE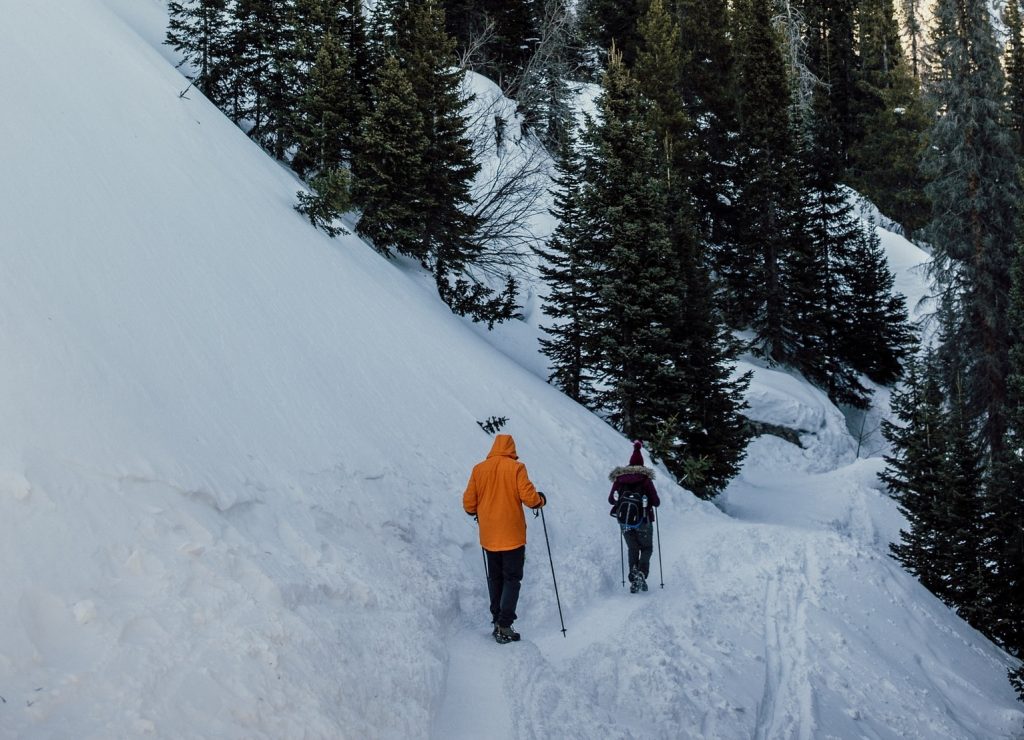 How to Select the Best Cold Weather Sleeping Bags for Backpacking
First, let us get more in-depth about the best cold weather sleeping bags for backpacking. There are in general, two kinds, namely camping bags and backpacking bags.
To differentiate them, camping bags have much more space to move around in, whereas backpacking bags are tighter on purpose and are lightweight.
As mentioned earlier, outdoor enthusiasts will surely own many sleeping bags for different conditions. However, if you only must have one bag, opt for a backpacking style since this will be more versatile.
Sleeping Bag Temperature Ratings – How to Understand Them
Fortunately, you can always unzip a bag that gets too warm. Conversely, you cannot make a zipped up sleeping bag warmer if it cannot insulate effectively.
Since that is the case, you should select a sleeping bag rated for lower temperatures than the lowest nighttime temperature you anticipate.
There are also other strategies to do in case it gets too warm, like removing your thermals. If you expect to use your bag during the colder months of the year, get a sleeping bag that is rated for colder environments.
What the temperature rating of a sleeping bag means is the lowest outdoor temperature it will tolerate to still be able to keep you warm.
These ratings presume that you are in warm clothes and are also using a sleeping pad (which is standard these days), functioning as an insulating layer between the cold ground and the sleeping bag.
Furthermore, the cold tolerance of one person differs from one person to the next.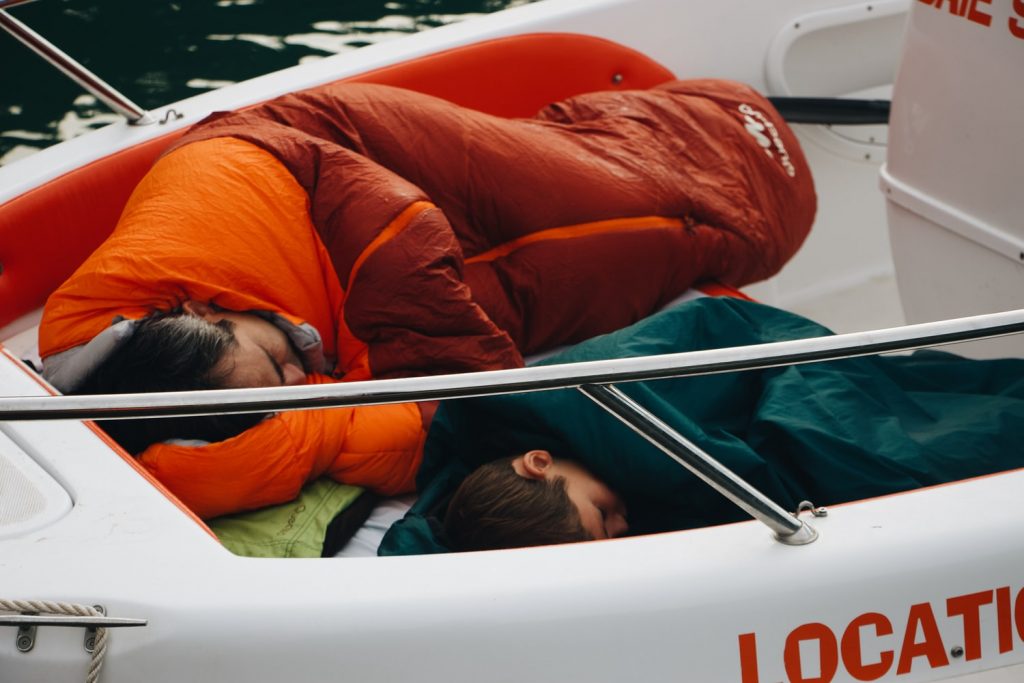 Finally, ratings are not exact, with deviances from different brands. Hence, this number is not really very precise, but rather a ballpark figure. Having said that, the temperature rating is still the best peg when shopping for a cold weather sleeping bag.
The other gauge is the real litmus test: when you do actually sleep in it in the cold outdoors.
Here are some temperature figures to help you choose the right sleeping bag
Summer Temperature Rating: +35° Fahrenheit or higher
Spring and Fall Temperature Rating: +10 to +35° Fahrenheit
Winter Temperature Rating +10° Fahrenheit or lower
Again, these ratings on cold weather sleeping bags for backpacking are not that accurate. They just give you an idea of the capability a manufacturer may have in mind.
The Sleeping Bag Shape
For the most part, campers will desire a bag that offers generous stretch room for a comfortable slumber. This is why the garden-variety sleeping bag is a simple rectangular shape.
A sleeping bag generates heat by trapping the warmth radiated by your body. The science behind this is the less space there is, the more efficiently you warm up and stay that way.
The shape of a sleeping bag hence plays a vital role in achieving this principle. Its form and size either contribute to this process or hinders it.
True, sleeping bags with more room such as rectangular-shaped ones give you wiggle area, but may not keep you as warm.
On the other hand, mummy-shaped bags though more restrictive, are great at trapping heat and consequently are excellent for colder temperatures.
Here are the different sleeping bag shape variants
Rectangular Shape
As discussed, this bag shape provides plenty of room for the entire body. The comfort comes primarily from the generous space, but this roominess also traps heat less efficiently.
Rectangular bags can also be unzipped and used as a comforter or quilt blanket.
Semi-Rectangular Shape
The semi-rectangular shape is also called the modified mummy or barrel shape. This encompasses a variety of shapes.
It is a compromise between roominess and warmth and will do in moderately cold temperatures or if you have a warm shelter.
Mummy Shape
As this is the most restricted shape, it is also the warmest. To achieve optimal warmth and reduce weight, this bag style fits snugly. Its fit is so tight that it is cocoon-like. As you roll over the bag twirls with you. You cannot roll inside it.
Double Bags
The double sized sleeping bag is meant for two people. It is a great option for couples who plan to sleep together and share their body warmth.
Another way of achieving a double bag is to use two rectangular bags that can zip together. The two sleeping bags need to be identical models so the zippers align perfectly.
Children's Sleeping Bags
These are bags similar to either a rectangular, semi-rectangular or a mummy-shaped bag. They are just smaller in proportion to snugly fit children at varying stages of their growth.
Choosing a Sleeping Bag Insulation Type
Insulation options are essentially either a down fill or synthetic fill. As far as the ethics of sourcing down fill is concerned, manufacturers take steps to monitor the treatment of geese and ducks that provide down.
Here we examine the benefits of each insulation type for your consideration.
When checking out the different sleeping bags, there are three essential kinds of material used as insulation. Each one has its own properties offering specific benefits and disadvantages.
Goose-Down
Goose down insulation can be expensive, but vast majorities of backpackers like it. This insulation type tends to be warmer and more hardwearing than synthetic insulation.
It also can compress into a very compact package, taking up minimal space in you backpack.
Another benefit is it is extremely lightweight. The downside to goose-down insulation is if it gets wet. Once wet, its insulating ability is lost.
Water-Resistant Down
Water-resistant down is goose-down insulation that undergoes treatment to protect the feathers against moisture.
This is perhaps the best of all worlds, combining the portability of down with the advantages of staying warm even when the sleeping environment gets damp and moist.
The main downside to this insulation type is cost, as this is the priciest insulation material. If you have a deep pocket, then no doubt go for this option.
Synthetic Fill
Fills made of synthetics are usually of polyester. This insulation type will keep you warm while not breaking your wallet. They are also effective at resisting damp conditions and keeping you dry.
Another advantage is synthetic sleeping bag insulation is quite tough and hypoallergenic.
So what are the downsides?
Sleeping bags made with synthetic fill are a bit bulkier and heavier. This makes for a heavier backpack and it does not fold down into a very compact item.
If you're a lightweight packer that hates bulky items, steer clear of synthetic fill sleeping bags.
Other Sleeping Bag Features To Consider
Sleeping Bag Shell and Lining
The outer material of your sleeping bag is the shell, and the inner material is the lining.
The outer fabric is made of a tough polyester or nylon and has durable water repellent properties. This will protect the insulation from dampness and fight cold water from soaking into the fabric.
The lining, conversely, should distribute the body's moisture and heat during the night while inside the bag. The materials will typically be soft, warm, and comfortable in texture.
Sleeping Bag Hood
A hood you can pull over your head can make a bag much warmer. This feature is likely on bags rated for lower temperatures.
These built-in hoods often have drawcord you can tighten. It keeps your head nice and warm, along with the rest of the body.
Zipper Details
Most sleeping bags come with more than one zipper slider. This makes it easier to regulate ventilation.
Likewise, some bags avoid zipper jamming by covering the zipper with a guard along its entire length. Other designs employ a fabric cover for the zipper itself.
Inner Stash Pocket
Some sleeping bags ingeniously have a convenient zippered stash pouch inside for things like a watch or smartphone.
This allows you to access some vital items without unzipping the bag and releasing much-needed warmth.
Pillow Pocket
Some sleeping bag brands have a small pocket attached that can convert into a pillow. Simply fill the pocket with some soft material like a jacket, and you have an instant pillow.
And now, for our king of the hill sleeping bag and some other great options!
Our Top Pick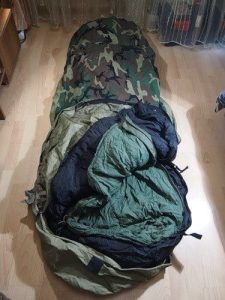 Product Name: US Military 4-PC Weather Resistant Modular Sleep System with Waterproof Gore-Tex Cover
Product Description: This is the real deal! It is a U.S. Army modular sleeping system that is one of the best rated sleeping bags on the market. This bag can tolerate temperatures up to -50 degrees! The sleeping bag comes with a green patrol bag, the black intermediate cold weather bag, a woodland camo bivy cover, and a stuff sack. These two mummy-style sleeping bags are used independently or together in colder environments. The patrol bag has a +30 degree rating while the black intermediate cold weather bag has a -10 degree rating. Both bags are usable with the vapor-permeable bivy cover. When combining all three components namely the patrol bag, cold weather bag, and bivy cover it is rated at -10 degrees. When used with the other insulating layers of the extended cold weather system, it has a rating of -50 degrees. All the bags are made of water-resistant rip-stop nylon and are non-flammable and machine washable. The Woodland Camo Bivy Cover uses waterproof and windproof 3-layer GORE-TEX fabric. It comes with a snap fastener and slide fastener. The sleep system has an anatomically designed foot box that contains double the insulation as the bag sewn-in. A quilted chest collar stops air drafts down and up entering the hood. A reversible double-pull slider permits bottom to top ventilation. An antilocking slide fastener self-repairs if snagged. A draft flap stops heat loss and the hood is adjustable for heat retention.
Build Quality

Materials

Value For Money
Summary
Trust any military-grade item to set the bar for quality and features. This sleeping bag system is versatile and can be used in not just cold but milder conditions as well. Great build quality, and excellent value for your money. 
Pros
Versatile
Great in extreme cold
Cons
A bit heavy for backpacking
Hyke and Byke Katahdin 15 and 0F 625 Fill Power Hydrophobic Sleeping Bag with Advanced Synthetic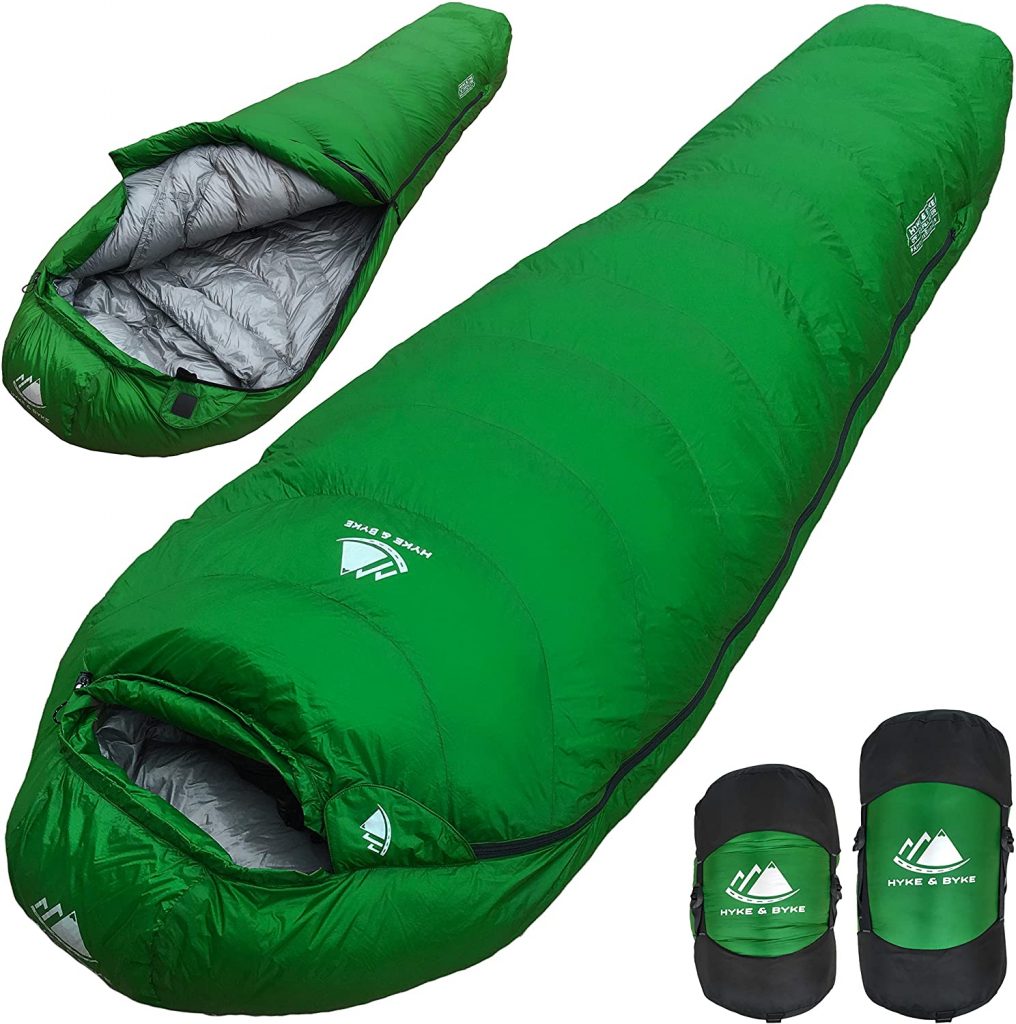 The Hyke and Byke Katahdin is a synthetic fill sleeping bag that has phenomenal cold resisting property. This bag has a warmth level similar to down, is very lightweight and also compact.
Typically synthetic insulation tests to be 300 – 400 fill power, but the Advanced Synthetic tested to a loft equivalent of 625 fill power. This is superior to many down sleeping bags on the market.
This 0-degree bag is ultralight, compact, and is like a 625 fill power down sleeping with better moisture resistance and durability.
This fill is quoted as "the closest synthetic insulation to natural down ever developed." According to the Outdoor Industry Association.
The microscopic air clusters in the advanced synthetic produce a "loft" that keeps heat, resulting in a warm bag. The extreme Limit is 10 Degrees F, Lower Limit (men) is 15 Degrees F, while the Comfort Limit (women) is 32 Degrees F.
The bag is also very sturdy, made of superlight water repellent 400T 20 D ripstop nylon fabric liner.
Other features are an anti-snag slider, wide shoulders and large foot box, oversized YKK zippers, a snag-free velcro, drawstring, and horizontal baffles. It comes with a compression stuff sack case.
The bag comes in three size options. Short (Individuals up to 5'6″), Regular (Individuals up to 6′), and Long/Tall/XL (Individuals up to 6'6″).
---
Naturehike Ultralight Goose Down Sleeping Bag 750/550 Fill Power for Adults and Kids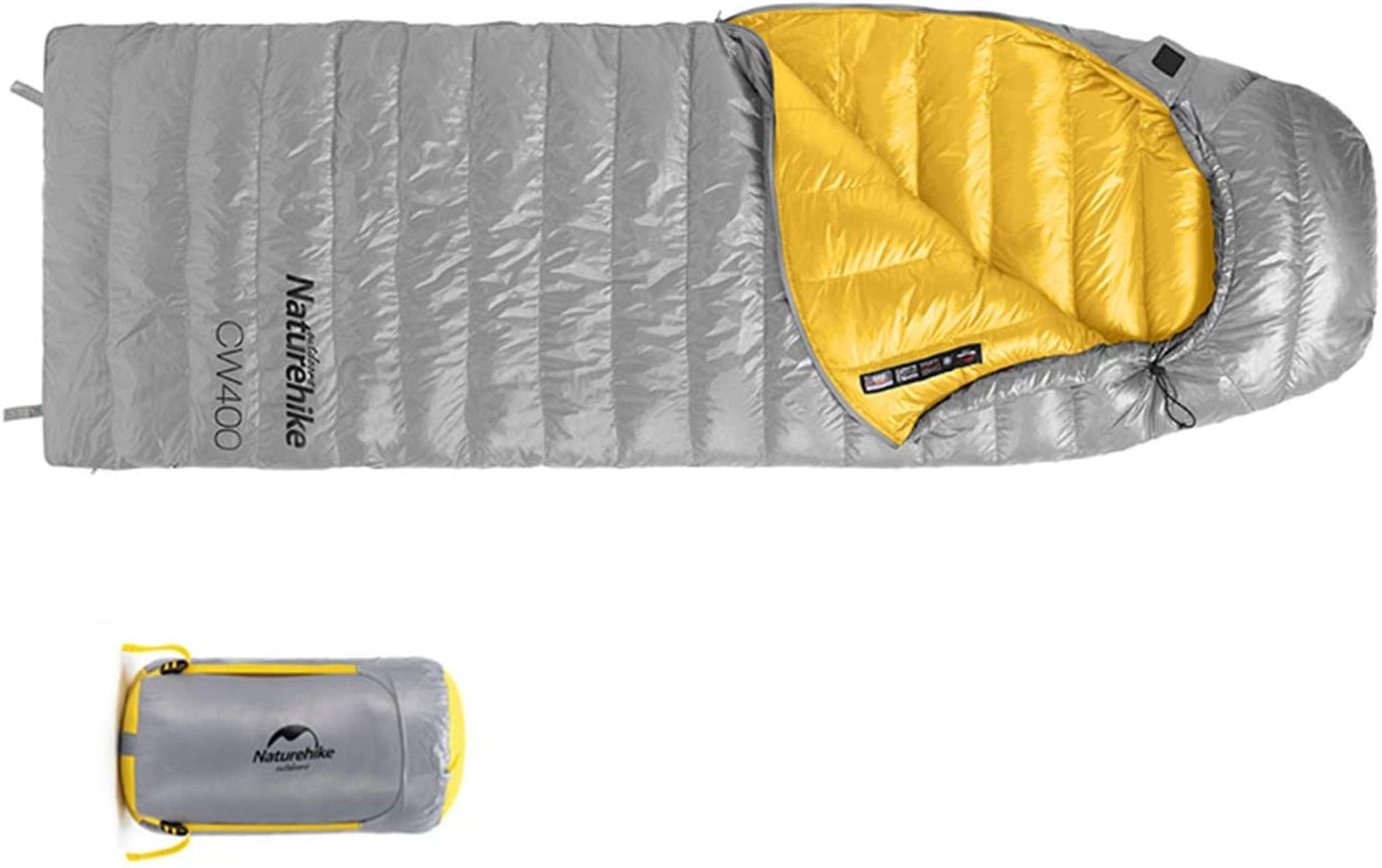 This bag employs a unique design combining both mummy and envelope shapes to get the best of both worlds.
It has an upper mummy body that fits the head better in warmth, while the lower body has space for leg movement. You can unzip the zipper in the bottom of the sleeping bag to get fresh air to your lower extremities.
If it is not that cold, simply fully open the sleeping bag to use as a blanket or pad. There are two sizes available, medium 82.7" x 29.5" and large 86.6" x 33.5".
These sleeping bags are down filled using premium 400g white goose down. It is of 90% down content, has no impurities or odors, and is safe and healthy for both kids and adults.
The 750/550 fill power ratings are published as: Comfort: 41℉- 59℉(750FP) / 44.6℉- 68℉(550FP); Lower Limit: 32℉(750FP) / 35.6℉(550FP).
These are also very lightweight at only 1.95lbs for the medium model and 2.2lbs for the large. Every sleeping bag comes with a compression sack and storage bag.
The packed size dimensions are 13.8" x 6.3" for the medium bag and 13.8" x 7.1" for the large bag. It saves you so much backpack weight.
They are long-lasting, hard-wearing made with premium quality 400T 20D ripstop nylon material that is both sturdy, comfortable, and waterproof. The zippers are top quality YKK.
The bags are easy to carry for all sorts of outdoor activities like camping, hiking, mountaineering, etc. It is also great for indoor use.
Naturehike has an excellent customer service reputation, in case you have issues or questions. Their goose down sleeping bags could be an excellent choice for your next outdoor adventure.
If your current cold weather sleeping bag is too big or heavy for a backpacking trek, try these sleeping bags. They are well-designed and have a superior weight-to-warmth ratio.
---
Zooobelives 10 Degree F Hydrophobic Down Sleeping Bag for Adults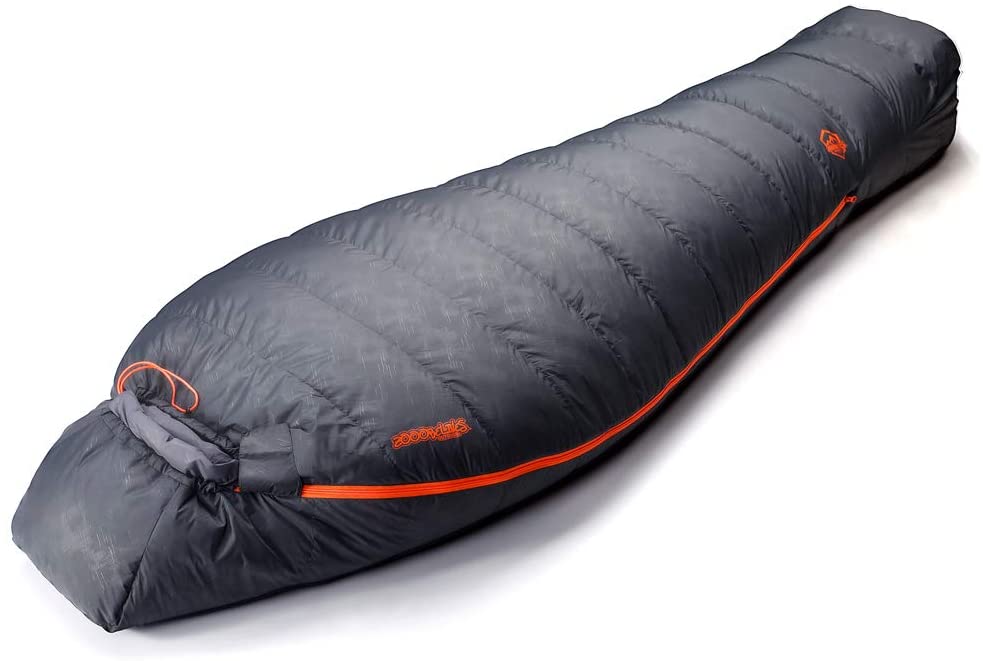 You are ensured of warmth and dryness in this generously spaced yet compact, four-season 10 degrees mummy bag. It is filled with 550+ fill power, 35oz quick-drying, water-resistant down for coziness at most humidity levels, guaranteeing comfort and warmth all through the night.
The tested temperature rated the bag at 10 degrees F for true four-season comfort.
Other features are an insulated face muffler, anatomic 3D foot box, contoured mummy hood, differentiated neck and hood cords to simplify adjustments, and flexible baffles at the body's core working in conjunction to optimize warmth for greater thermal efficiency.
The bag also has an inside stash pocket under the collar for your stuff.
The 35oz 550 fill-power white duck down is both breathable and warm. The extreme Limit is 0 Degrees F, Lower Limit is 10 Degrees F, and Comfort Limit is 30 Degrees F.
It is of long-lasting and durable quality, made of superior hydrophobic down that repels moisture but traps heat.
This sleeping bag uses strong 320T ripstop nylon shell fabric, treated with a quality water-repellent finish to repel moisture and ensure a durable, long lasting bag.
The full-length, 2-way YKK zipper employs an anti-jam slider to avoid snags, making getting in and out effortless.
The sleeping bag is lightweight and comfortable, measuring a full-sized 83" x 31" x 20" for a mummy bag. It folds into a compact 8.7" x 13.8" and weighs a mere 3.86lb, making it excellent for backpacking or hiking.
Zooobelives is a relatively new brand, and they pride themselves in providing outdoor products of top quality at an affordable cost.
---
Hyke & Byke Quandary 15 Degree F 650 Fill Power Hydrophobic Down Sleeping Bag with ClusterLoft Base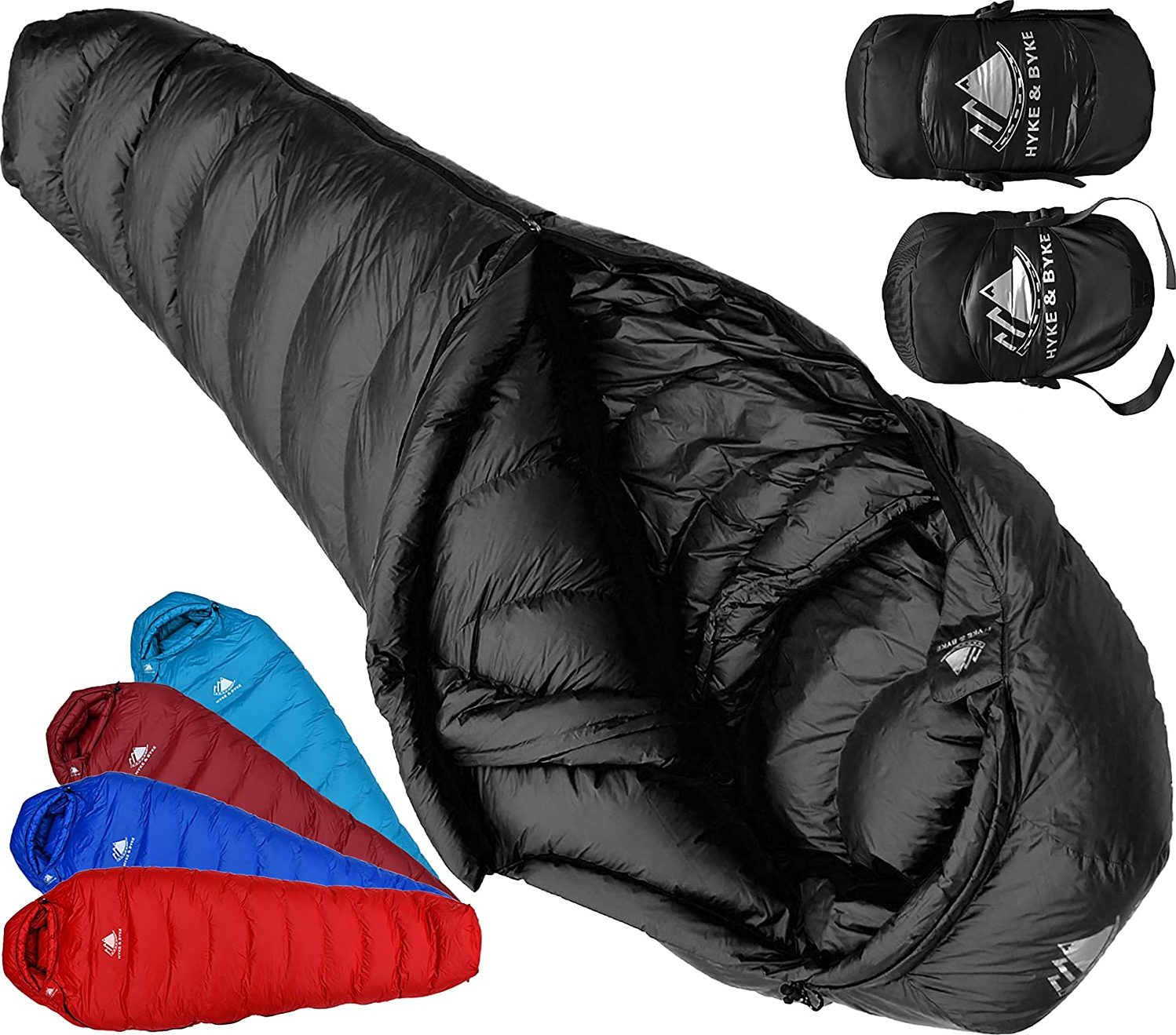 These bags are expertly designed for hiking, backpacking, and camping. They are of excellent weight-to-warmth ratio and are an ideal sleeping bag choice for saving space and weight.
The Hydrophobic Down insulation capabilities guarantee warmth and the use of waterproof fabrics ensures you stay dry.
The microscopic air clusters in down feathers produce a "loft" that keeps heat, warming you in temps from 20 to 40 degrees.
You will also be able to walk farther since this one of the lightest 15-degree mummy down sleeping bags available, tipping the scales at just below 3 pounds.
It uses ultralight water repellent 400T 20 D ripstop nylon fabric liner combined with oversized YKK zippers and an anti-jam slider.
The design employs a wide shoulder space and roomy foot box, snag-free velcro, drawstring, and horizontal baffles, A compression stuff sack case for storage and packing is standard.
In case you need it in sizes the bag comes in the following options:
Short: 72″ long, 26″ shoulders, 21″ at the hips, 11″ at the toe box (bottom), and 56" of shoulder girth. Short size bags are recommended for heights of 5′-6″ tall or shorter.
Regular: 78″ long, 28″ shoulders, 22″ at the hips, 11″ at the toe box (bottom), and 59" of shoulder girth. Regular size bags are recommended for heights of 5'-7" to 6′-1″ tall.
Long: 87″ long, 32″ shoulders, 26″ at the hips, 14″ at the toe box (bottom), and 64″ of shoulder girth. Long size bags are recommended for heights of 6′-2″ to 6′-6″ tall.
If you're looking for an all rounder cold weather sleeping bag with multiple size options and spacious sleeping position, the Hyke and Byke Quandary is a great choice.
---
Kelty Cosmic 20 Degree Down Sleeping Bag

The Kelty Cosmic 20 Degree sleeping bag is best suited for 3-season backpacking and camping.
This bag uses Drawdown technology, representing a breakthrough in down insulation. Regular down is treated to a molecular-level polymer, producing a hydrophobic finish on each individual down plume.
This treatment makes Drawdown stay dry longer, loft better, and dry more quickly than untreated down. The bag thus keeps you warmer in any environment.
The water-resistant down insulation and its many features make this sleeping bag an excellent value.
It is an ideal bag for late fall camping, but, this is not a 20-degree bag. Perhaps the limits of this bag are 35 degrees (F) weather at night.
This sleeping bag uses 600-fill Drawdown insulation, known for its efficiency in retaining heat and compressible abilities. The down has an extremely soft, easy feel, and is one of the best materials for the warmth-to-weight ratio of any insulation.
A draft tube is at the back of the 60″ two-way locking anti-jam zipper, while an insulated hood boosts the thermal effectiveness of the Cosmic 20 Degree sleeping bag. A liner made from polyester taffeta gives lots of internal comforts.
Other notable features of the bag are a small pocket to keep things within reach and a naturally shaped foot area.
All in all, the Kelty Cosmic is a great cold weather sleeping bag for 3 seasons camping. However, this sleeping bag won't be able to handle temperatures below 35F well.
---
Frequently Asked Questions
Q. What Are Temperature Ratings in Sleeping Bags?
Answer: All sleeping bags have temperature ratings, which indicate the minimum temperature that the bag is designed to handle. Many manufacturers provide an upper limit, comfort level, and lower limit temperature rating.
When looking to buy a cold weather sleeping bag, find out the lowest temperature in the area where you are going to set up camp and pick the bags that are rated to that temperature.
Q. Is a Sleeping Pad Really Necessary?
Answer: Yes. In today's standards, sleeping pads are essential to insulate you from the cold emanating from the ground. Your sleeping bag will work more as claimed by the manufacturer if you have a sleeping pad.
Q. Why Not Bring A Thicker Sleeping Bag For More Warmth and Comfort?
Answer: No problem doing that if you were car camping. However, when backpacking, you need to be carrying a light load, so light and compact bags are preferred.
During survival situations, carrying a heavy sleeping bag on foot will expend more energy and slow you down, thus reducing your chances of survival.
Q. Are Sleeping Bags Unisex?
Answer: Yes. What determines the bag for you is more the length, width, and shape, not gender.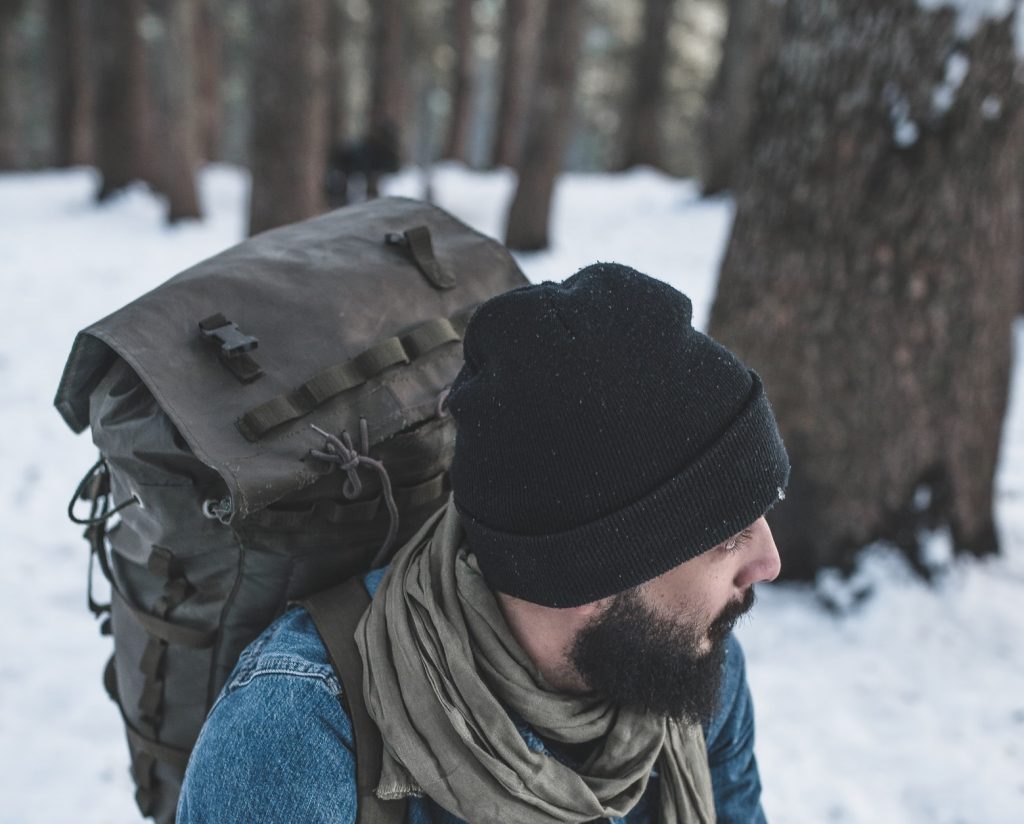 Final Thoughts
Backpacking is a great outdoor activity, but you must have the right gear. If you yearn for a cold-weather adventure, bring the right equipment for a comfortable trip.
A sleeping bag is an essential piece of gear, and there are various models suited for different temperatures and sizes of individuals.
Choose the right one in combination with other camping gear and you will have a comfortable night of sleep.
The sleeping bags available today are far superior to bags during your parent's time. They combine lightweight materials with superior heat-trapping technology.
They are also extremely compact, making them ideal for a backpacking trek with friends or family. Winter need not stop you anymore from pursuing an outdoor escapade 365 days of the year.